Providing Education on Manufacturing and the Environment
Nippon Steel finds it important to be involved in educating young people and their teachers, who are helping prepare our future generations. We try to help them better understand the appeal of "monodzukuri (product-manufacturing)" and our various initiatives on the environmental issues.
Demonstrating the joy of product-manufacturing through "Tatara Ironmaking"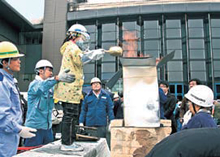 With the aim of showing children the joy of product-manufacturing, Nippon Steel has been holding demonstrations on "tatara ironmakingTatara ironmaking is a traditional Japanese method of making iron that uses iron sand as the source material. A bellows is used to help burn charcoal for producing iron. It is said that this method was transmitted to Japan from the Korean peninsula in the latter half of the 6th century. The technology was perfected during the middle of the Edo period. From the Meiji era, production using the modern steelmaking process employing a blast furnace began, and as a result, commercial production using the tatara method stopped in 1923." – Japan's indigenous ironmaking technique – at our steelworks and nearby schools in Japan every year.
Support of community-based education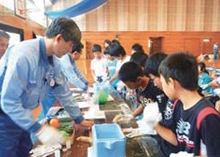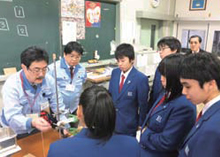 Nippon Steel has been engaged in unique community-based environmental education support programs and educational activities on "monodzukuri (product-manufacturing)." For example, we organized a scientific stand at Kimitsu Works, where our younger employees introduced the fascinating properties of iron and the mechanism of electricity generation to primary and secondary school children. Our employees at Oita Works gave "travelling scientific lectures" at local primary and secondary schools. Nippon Steel's head office staff took part in an Energy and Environmental Workshop held by Masugata Junior High School in Kanagawa Prefecture, showing an example of waste plastics recycling at Nippon Steel to demonstrate the steelmaking industry's environmental initiatives.
Nippon Steel also donates to Tohoku University's endowment and supports its activities on behalf of children in the areas affected by the Tohoku Earthquakes and Tsunami of 2011. The fund aims at spreading knowledge on prevention and reduction of damage from natural disasters and developing the ability to judge risks of such disasters.

Internship programs
For many years, Nippon Steel has been offering internship opportunities to students at steelworks and research centers to help them learn our business and gain some work experience. In FY2013, a total of 211 students from universities and technical colleges participated in the two-week programs at our steelworks throughout Japan, and the program was favorably received.
"Training Programs for Educators at Private Companies" for enhancing teacher understanding of the steelmaking industry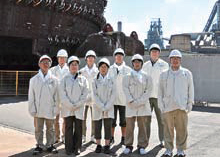 Every summer we support the "Training Programs for Educators at Private Companies" sponsored by the Japan Institute for Social and Economic Affairs, so that teachers can better understand how the steel industry is contributing to society and can better appreciate the fascination of product-manufacturing. In 2015, we hosted some primary, secondary, and junior high school teachers at our Kashima and Nagoya Works for the tours of our facilities and our human development activities.