Use of ICT
Information and Communication Technology (ICT) and Digital Technology are rapidly becoming indispensable in people's lives.
Nippon Steel believes that they also have become a critical element that encourages business innovation and affects corporate competitiveness. We are therefore focusing on how to make best use of ICT.
Integration of ICT departments
The ICT System Planning Departments, each of which had belonged to each works, were integrated on April 1, 2021 with the objective to promote digital innovation as advocated in the management strategy, and for optimal construction, maintenance, and operation of systems. Accordingly, the AI Solution Section was established to expand and improve AI and optimization technologies, as well as advanced ICT that supports digital innovation, across Nippon Steel. The now integrated system division keeps abreast of the ever-evolving ICT trend, draws a medium- to long-term road map on use of ICT, in accordance to the management strategy, and seeks for efficient ICT introduction across the Company. The Division alone has over one hundred persons involved in systems work. In addition, NS Solutions (NSSOL) – a Group company and one of Japan's top-level IT services companies – has over 10 times more staff than in Nippon Steel steel-related divisions who are engaged in actual system development, maintenance, and management.
ICT realizes a new workstyle
We are establishing a Smart Platform, which enables us to 1) make communication anytime, anywhere, with anyone, 2) use ICT, including the Robotic Process Automation (RPA) and the Self Business Intelligence (BI), to reduce to a bare minimum our employees' primary and incidental tasks at their work stations, and 3) support their intelligent work.
Basic to the Smart Platform is use of mobile devices (i.e., smartphones, tablets) in all working environments. We began distribution of mobile devices to on-site workers in fiscal 2017 and have almost completed it and better and more efficient safety checks have become possible. The instant input and output of actual site/product information is leading to greater assurance of stable quality and stable operation and at the same time raise yield and productivity by preventing trouble.
Moreover, using the on-site workers' feedback and suggestions on new ways of using the devices, smarter production sites are being created. At Muroran Works, we have started verification of a self-operated wireless network, in anticipation of adopting local 5G communication.

In the case of distributing mobile devices to office staff and engineers, in addition to on-site workers, we are accelerating efforts to complete it in the head office within the current fiscal 2021 and at all steelworks by early fiscal 2022. We are thus promoting efficient operation by use of telework as a new workstyle and for enhanced functionality. As an internal network, based on the Zero Trust concept has already been set up, in addition to expanded adoption of web conferences and electronic contract and enhanced workflow systems, we were able to smoothly introduce working at home after the COVID-19 outbreak and have since been seamlessly continuing business.
Going forward, we intend to create an integrated data platform for collection and management of data, which is a key to digital innovation. Our goal is to enable all employees to perform their "strength in connecting," and "strength in maneuvering" data at best. We are establishing an environment where all our employees can access information needed accurately at the right time. NS-DIGTM, a platform for comprehensive data analysis, will also be introduced to support intelligent production. In addition, KAMONOHASHITM, NSSOL's AI development tool, will be adopted so that even our Citizen data scientists who are not system experts can develop AI models. Further, AIRON-EDGETM, a base of edge computing, will facilitate easy adoption of AI models at worksites, by use of the container technology. These platforms will allow us to realize digital innovation at an early stage. We are hence promoting efficient development, use, and optimization of the information systems across the Company.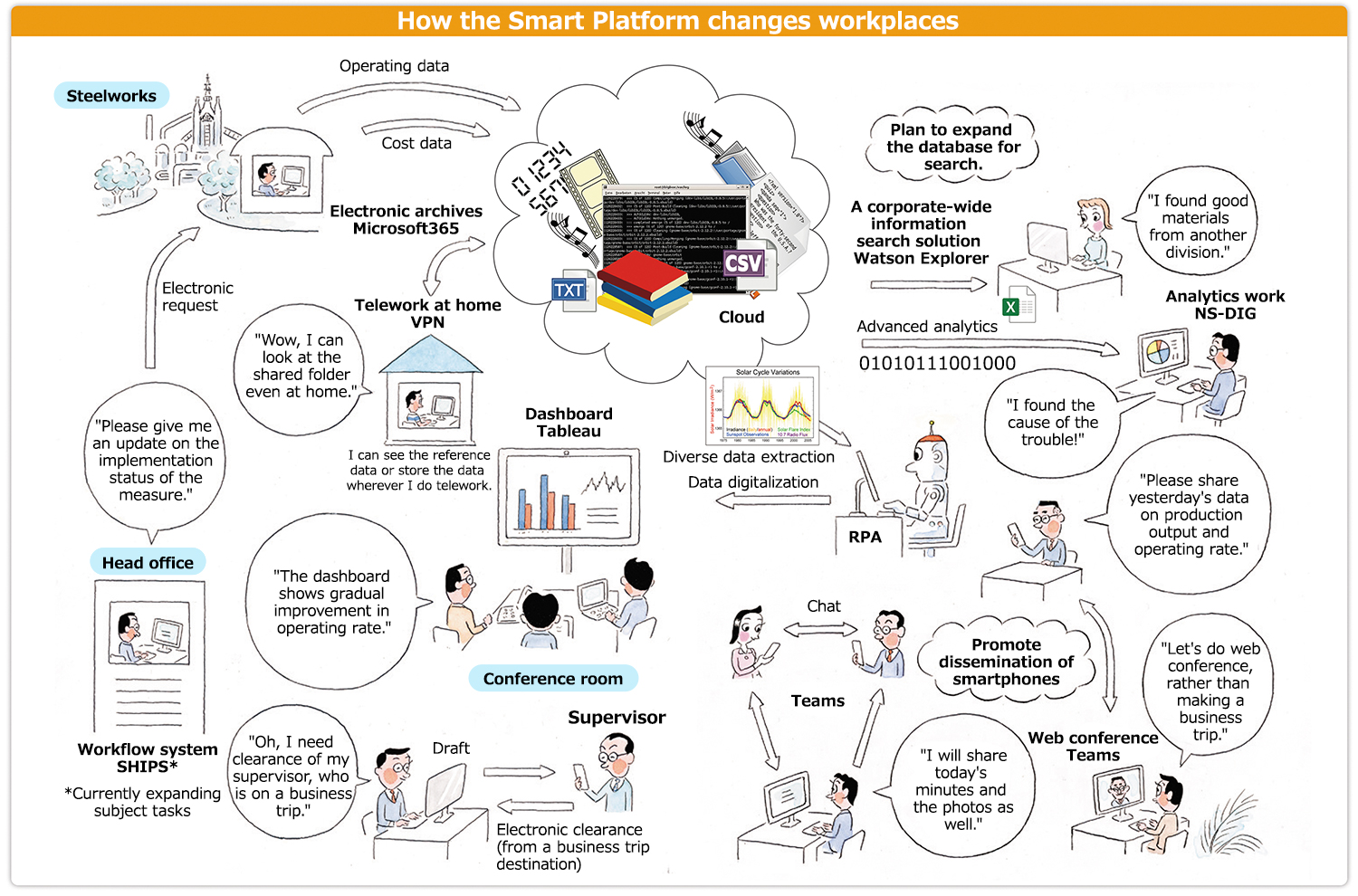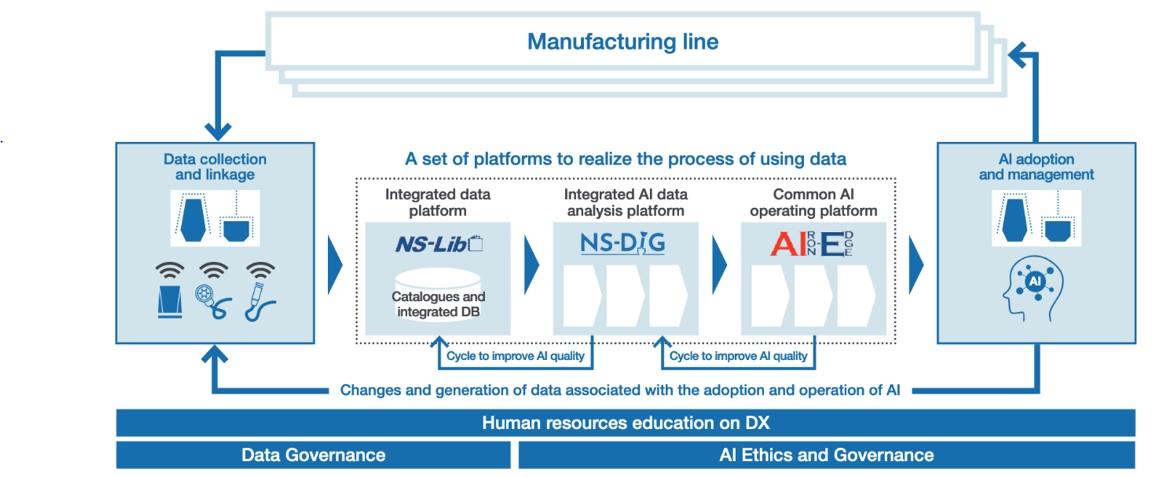 Cybersecurity
Cybersecurity is becoming ever more important in the new workstyle using ICT: Information is exchanged in all different forms, in all kinds of situations and fields. As teleworking becomes a part of normal business life, mobile devices can all too easily create a torrential flow of data, and that data is stored and analyzed by using the cloud, we find it important to provide a reliable cybersecurity environment for all employees. We are therefore offering continuous e-learning opportunities on security, and training sessions on targeted attack e-mails, to promote employees' enhanced IT literacy and resultant sensitivity to cybersecurity. Moreover, in addition to the conventional centralized cybersecurity measures, we are implementing the latest security measures that incorporate the Zero Trust concept to always verify security before being connected.
Cybersecurity of the entire Nippon Steel Group must also be ensured. The Nippon Steel Group - Computer Security Incident Response Team (NSG-CSIRT) is steadily increasing the number of member companies to 17 as of June 2021. We are also enhancing cybersecurity measures of our overseas Group companies and promoting enhanced IT literacy of overseas employees through education programs and training sessions, to ensure strong cybersecurity for the entire corporate Group.