Nippon Steel Carbon Neutral Vision 2050
As a part of our widespread efforts toward achieving a decarbonized society, by adopting "Nippon Steel Carbon Neutral Vision 2050 – A Challenge of Zero-Carbon Steel" as our own new initiative, Nippon steel will consider and implement various measures as a top priority management issue.
Challenge of Zero-Carbon Steel
We have decided to actively work to achieve zero-carbon steel as a top priority management issue, and have established a new "Key Phrase" to summarize our environmental management and an "Activity Logo" to represent our activities as our "Environmental Brand Mark". We will make a concerted effort to tackle these extremely difficult issues.
Key Phrase

Activity Logo
Zero-Carbon Steel: Our CO2 emissions reduction scenario
2030 Target
30% or more reduction in total CO2 emissions vs. 2013
[Means]
Actual implementation of the COURSE50 in the existing BF and BOF process
Reduction of CO2 emissions in existing processes
Establishment of an efficient production framework
Vision 2050
Aim to become carbon neutral
[Means]
Mass-production of high-grade steel in large size EAFs
Hydrogen reduction steelmaking (by Super-COURSE50 use of BFs; direct reduction of 100% hydrogen)
Multi-aspect approach, including CCUS* and other carbon offset measures,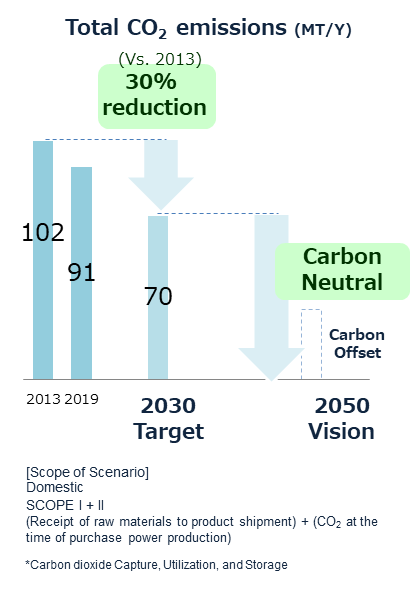 Carbon neutral steelmaking process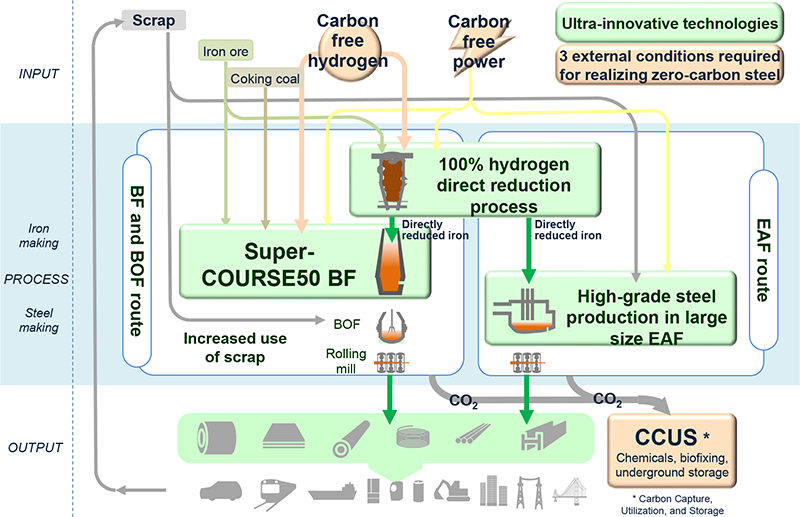 Our roadmap of CO2 emissions reduction measures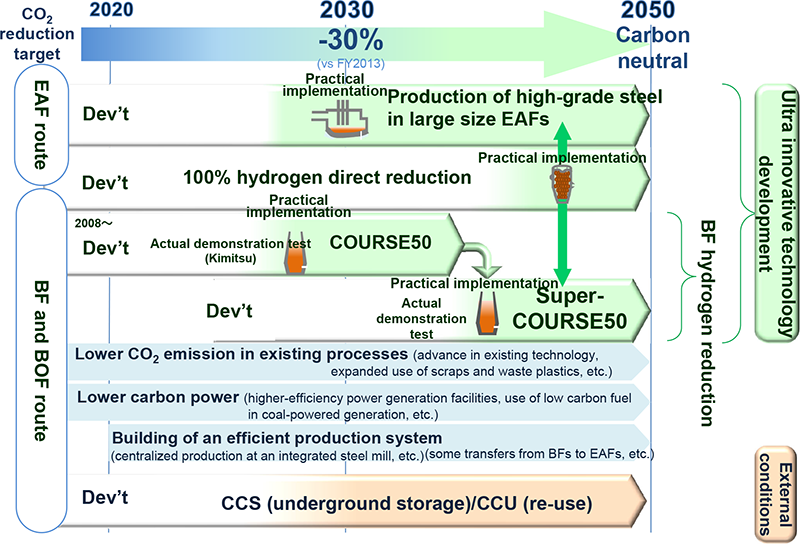 Technological challenges for ultra innovation and external conditions required
Production of high-grade steel by use of large size EAF
Technological challenges
External condition
Realization of

carbon free power

at a competitive cost
CO2 emission reduction by hydrogen reduction in BF (COURSE50, Super-COURSE50)
Technological challenges
External condition
Realization of CCU (CO2 reuse technology), CCS (CO2 underground storage technology)
Large-scale supply of

carbon free hydrogen
100% hydrogen direct reduction process
Technological challenges
External condition
Large-scale supply of

carbon free hydrogen
Challenges to realize zero-carbon steel and collaboration with society
Take on the challenge to develop and practically implement ultra-innovative technologies ahead of the other countries to realize zero-carbon steel, as Nippon Steel's top priority issue, which is essential for Japan's steel industry to continue to lead the world and to maintain and strengthen the competitiveness of Japanese industry in general.
3 factors to increase costs for the zero-carbon steel project
Huge R&D costs
Huge CAPEX for practical implementation
Increase in operational cost, even if inexpensive carbon free hydrogen and zero-emission power are to be secured
The production cost of crude steel may more than double the current cost.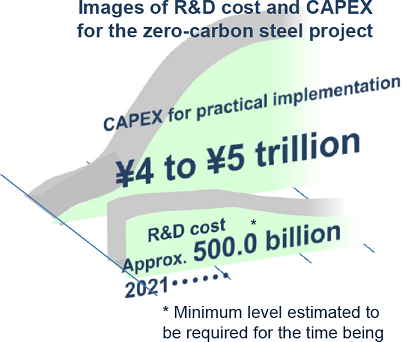 3 collaborations required for realizing zero-carbon steel
A national strategy to realize a "virtuous cycle of environment and growth"


Long-term and continuous government support for R&D in the field of breakthrough innovation etc.
Establishment of inexpensive and stable large-scale hydrogen supply infrastructure
Realization of carbon free power at an international competitive cost
Promotion of national projects for the development and commercialization of CCUS

Realization of government's comprehensive policies to secure equal-footing in international competition, strengthen industrial competitiveness, and lead to business chances

Formation of consensus on the issue of cost bearing by society


Establishing a system for society as a whole to bear the enormous costs of realizing of zero-carbon, such as R&D costs, CAPEX for replacing existing facilities, and significant increase in production costs.