Various Support Activities in and out of Japan
Nippon Steel cooperates and supports a wide range of activities in academic and educational areas, and for art and culture, sports, local communities, welfare, and disaster support.
Disaster support in and out of Japan
We assist recovery from large-scale disasters arising in various parts of the world.
Recent Major Support Cases
Period
Disaster
Amount of support (million yen)
Former Nippon Steel Group
Former Nippon Steel Group
FY2011
Great East Japan Earthquake
700
210
FY2009
Haiti Earthquake
(Unconsolidated) 5
3
FY2008
Iwate-Miyagi Nairiku Earthquake
(Unconsolidated) 3
2
Sichuan Earthquake, China
24.55
20
Support for international exchange activities
Kansai Association Switzerland-Japan
Nippon Steel supports a Japan-Switzerland youth exchange program.
The Kansai Association Switzerland-Japan was founded in 1982 with the aim of promoting exchange between the two countries and contributing to mutual understanding and friendship.We have been the primary source of support and management of its activities.
The primary activity is a program of youth exchanges between the two countries, which are sponsored jointly with the Osaka Board of Education. Six middle-school students from either Osaka City or Switzerland spend three weeks of their summer vacation in Switzerland or Osaka City. A group from Switzerland goes to Osaka one year, and one from Japan goes to Switzerland the next. During their stay abroad, the students have a home stay and visit their own embassy, the Ministry of Foreign Affairs, and other public institutions. The year after being sent, their families become hosts to receive Swiss students, and vice versa. Since the program launch in 1984, a total of 215 students have been sent abroad from both countries.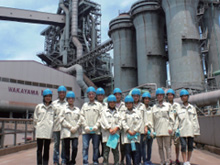 The youth exchange students visit the Wakayama Steel Works