Nippon Steel's Environmental Initiatives
Five priority areas for achieving the SDGs
In order to achieve the SDGs, we have identified five priority areas based on our Basic Environmental Policy and are working on various environmental issues.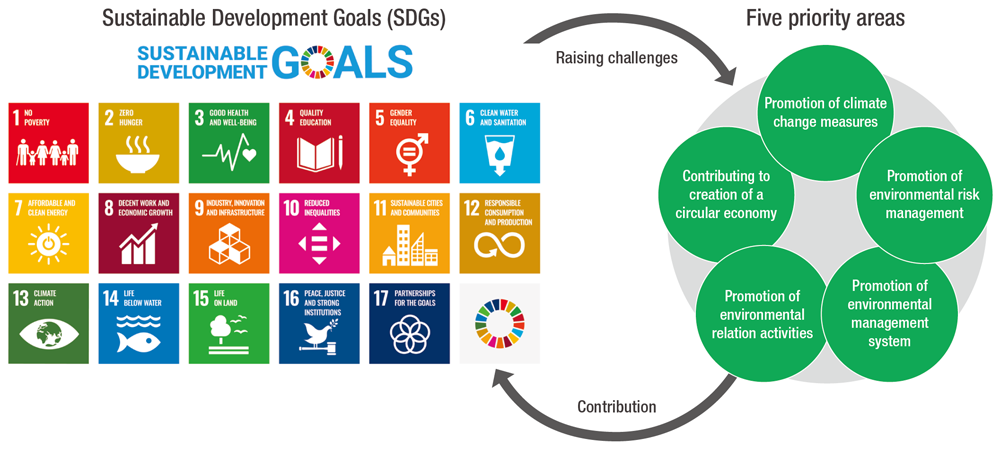 Specific initiatives in five priority areas
Recognizing that efforts in the five priority areas are important for the realization of a sustainable society, we are steadily implementing measures in each of these areas.
In particular, since we announced the Carbon Neutral Vision 2025 in March 2021, we have been actively working on climate change measures as the most important management issue.
Promotion of climate change measures
Ensure progress toward the Carbon Neutral Vision 2050

 −Provision of two types of value

     High-performance steel products and solutions (Eco Products)

     Decarbonization of steelmaking process (Eco Process)

 −Establish a Green Transformation (GX) Promotion System

 −Cooperate with society, make policy proposals, and work in industry organizations for achieving carbon neutrality

Transfer and diffuse decarbonization technologies overseas (Eco Solutions)
Make efforts to address climate change in the field of resource recycling
Make efforts to adapt to climate change
Disclose information according to recommendations of the TCFD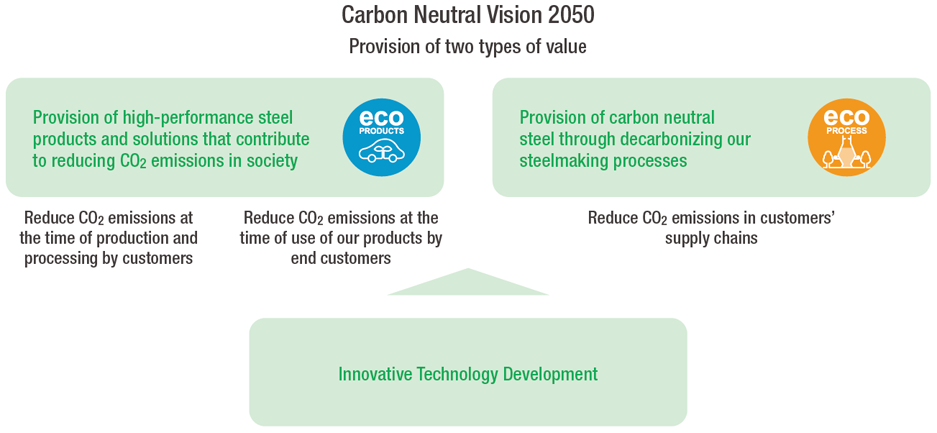 Contributing to creation of a circular economy
Expand efficient use of resources and energy
Promote internal zero emission
Accelerate recycling of waste generated in society
Promotion of environmental risk management
Conserve air environment
Conserve water environment
Respond to other environmental risks 

(soil, chemical substances and wastes)
Promotion of environmental relation activities
Work on biodiversity conservation
Disclose and have dialogues centering on environmental information in an appropriate and timely manner
Communicate actively on environmental issues
Promotion of environmental management system
Establish an environmental management organization
Work at managing and improving the level of environmental management
Groupwide environmental management