Efforts made through collaboration with society and other industries
Contributing to worsening waste plastic problems
Nippon Steel recycled 100% of plastic containers and packaging used and collected from households, using a coke oven and a chemical recycling method. Specifically, after thermal decomposition (in the coke oven), 40% is collected as hydrocarbon oil and recycled into plastic products; another 40% is collected as coke oven gas and used as energy at a power plant within a steelworks; and the remaining 20% is coke and used in the ironmaking process.
We have established a system to receive waste plastics from local governments nationwide and are handling about 200,000 tons per year, equivalent to roughly 30% of waste plastics collected all over Japan.
Our method of using coke oven has an extremely high recycling efficiency and a great treatment capacity, contributing to a circular economy in many regions. Thecumulative amount processed in fiscal 2000–2020 was approximately 3.48 million tons, equivalent to 11.10 million tons in terms of reduction in CO2 emissions. Recently, we have begun to recycle chemical fibers and food trays mainly into plastic products, under the same recycling method. Furthermore, as the Plastic Resource Recycling Promotion Law enacted this year calls for collection not only of container packaging plastics but also waste plastics in bulk collection, we are also working hard to develop technologies including increased treatment to meet these plastics processing needs.
This expanded use of waste plastics has been incorporated in our "Carbon Neutral Vision 2050" measures to combat climate change, and is presented as one of the examples of the efforts of Nippon Keidanren (Japan Business Federation) activity in its "Recycling Economic Partnership."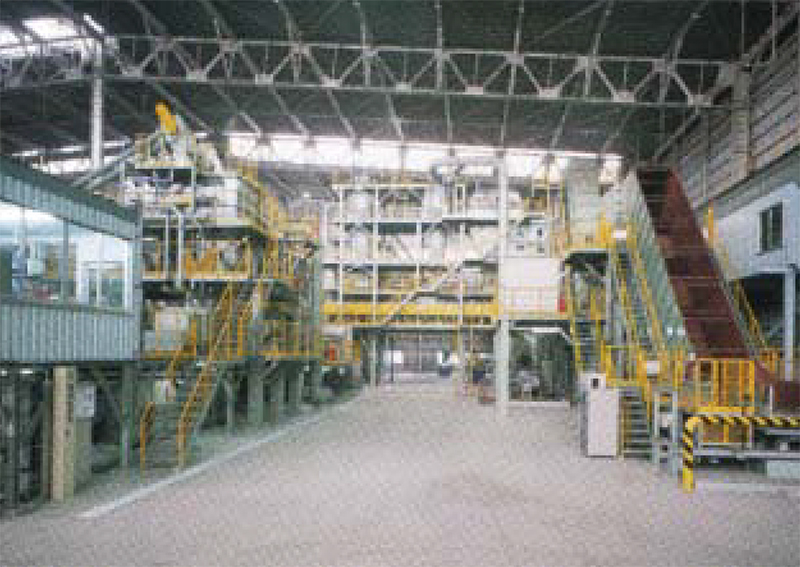 Waste plastic recycling facilities
(Kyushu Works Yawata Area)
Thermal decomposition enables 100% effective re-use of plastics
*If you are viewing this document on a smartphone, enlarge the figure and use it.