Promotion of in-house zero emissions
Efficient use of resources and energy
We use industrial water and energy resources such as electricity and fuel in producing steel products, which are mainly made of iron ore mined overseas, coal used as a raw material for reducing iron ore, and iron scrap recycled by society.
Nippon Steel's steelworks use 100% of by-product gas generated in the steelmaking process, as fuel for heating of steel or as energy for an onsite power plant. Concerning water resources, 90% of water used in cooling and cleaning of products and manufacturing facilities are reprocessed and repeatedly used. These are examples of our efforts to make maximum use of limited resources and energy, without waste.
Promotion of in-house zero emissions
By-products generated and final disposal
In the iron and steel-making process, over 600 kg of by-products, such as steel slag, dust, sludge, and used refractory bricks, are generated for each ton of crude steel produced. In fiscal 2021, Nippon Steel produced 38.68 million tons of crude steel and generated 24.93 million tons of by-products. We are committed to recycling these by-products both in and outside the company, maintaining the high recycling rate of 99%. Although the final disposal amount has not reached our target (partly due to the effects of the structural measures), we will continue efforts toward achieving the fiscal 2025 target.
By-product recycling rate
Nippon Steel's final disposal amounts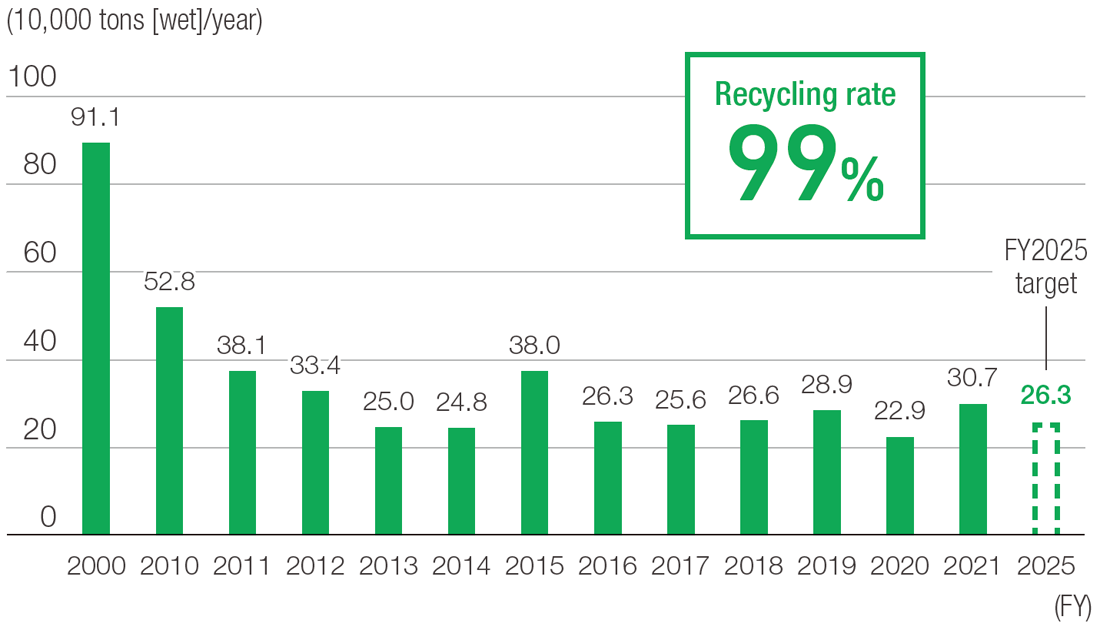 Effective use of steel slag
Almost all Steel slag Slag is a by-product that is separated and recovered from molten metal during metal refining. It is used as road base material and raw material for cement. is effectively utilized. Approximately 70% of blast furnace slag is used for blast furnace cement, while steelmaking slag is used for materials for road base layers, civil engineering work, soil improvement, marine environment improvement, fertilizer, etc.
"Blast furnace cement," a mixture of pulverized blast furnace slag and ordinary portland cement Hydraulic cement. Gypsum is added to clinker produced by calcinating raw materials containing silica, alumina, iron oxide and lime, and then the mixture is made into powder., contributes to a 40% reduction of CO2 emissions during manufacturing, since the cement clinker burning process can be omitted. The blast furnace cement also excels in long-term strength and is registered as Eco Mark-certified product. The steel slag products help reduce natural crushed stone mining and have the energy saving impact during cement manufacturing. As a result, they are designated as a "designated procurement item" under the Act on Promoting Green Procurement, and have been certified as recycled products by some local governments.
Nippon Steel's pavement materials, KATAMA™ SP, are advantageously used in keeping with the characteristics of steel slag which hardens by reacting with water. They are used for forest roads and farm roads, as well as for weed preventive pavement to be installed near mega-solar panel installations and other locations.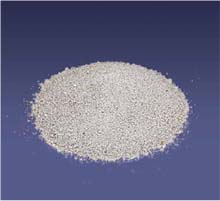 Granulated blast furnace slag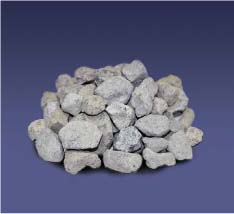 Steelmaking slag
Geo-Tizer™ made of steel slag can be mixed with soft soil (mud, such as surplus excavated soil from construction sites or farmland soil) to reform the soil to make it usable. Unlike conventional soil-improvement materials (i.e., cement and lime), this soil produces less dust, significantly reduces CO2 emissions, and is less expensive, enabling reduction of construction cost. The remediated soil is outstanding in compacting and can also be easily excavated, as it does not excessively solidify.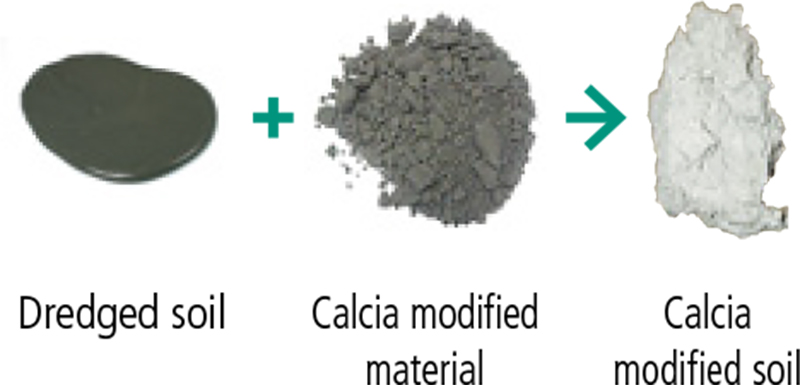 Geo-Tizer™
Calcia modified soil — a mixture of steelmaking slag calcia modifier and dredged soil — has been used to improve the marine improvement, such as by backfilling deep-dug seabed areas and creating shallow bottoms and tideland. In addition, Nippon Steel's Vivary™ iron supply units, which are composed of steel slag and humus made from waste wood, provides iron needed for seaweeds to flourish, promoting regeneration of an area of the sea bed that had lost much of its living organisms.
Moreover, as steel slag contains nutrition that helps plants grow, it is also widely used as fertilizer, contributing to improving farming productivity.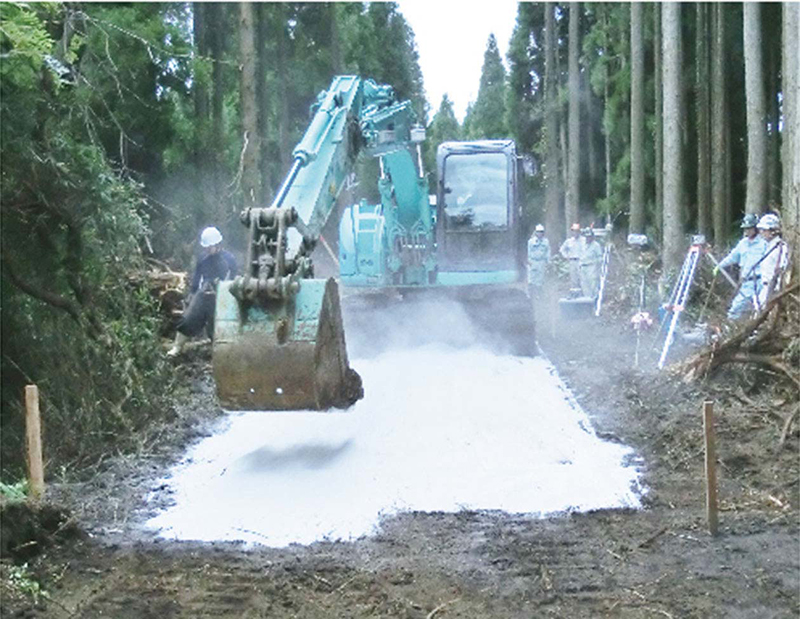 Geo-Tizer™ is in the granular form and easy to handle with less dust.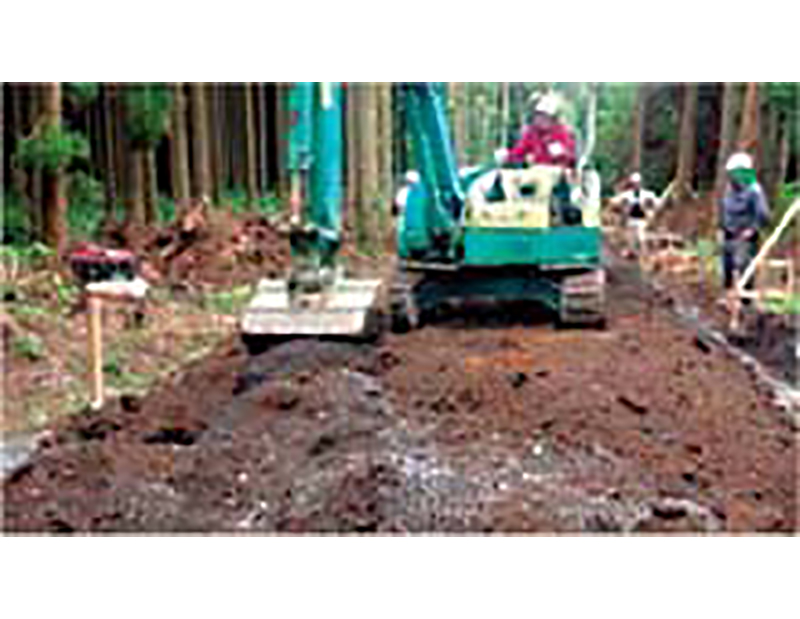 Conventional modified materials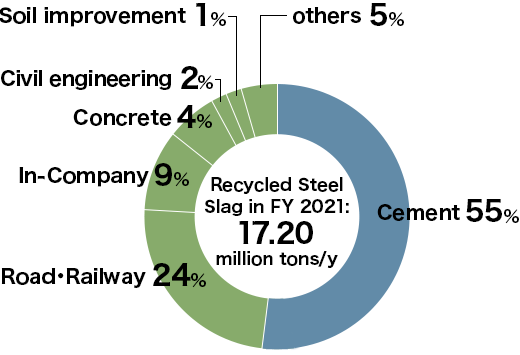 Recycling of dust and sludge
To recycle the dust1 and sludge2 generated in the iron and steelmaking processes, for them to be used as raw materials, Nippon Steel operates a dust reduction kiln (RC: Resource circulating oven) at East Nippon Works Kashima Area and a rotary hearth reduction furnace (RHF) at East Nippon Works Kimitsu Area, Setouchi Works Hirohata Area, and Hikari (NIPPON STEEL Stainless Steel Corporation). This enables us to recycle all internallygenerated dust.
1 Fine dust collected with a dust collector
2 Semi-solid slurry recovered from industrial wastewater or sewage treatment
By-products and recycling (FY2021)
By-product
Amount generated
(wet weight – million tons)
Recycling application
Recycling rate
Blast furnace slag
12.78
Blast furnace cement, fine aggregate, road base, etc.

100%
Steelmaking slag
5.65
Road base, civil engineering materials, fertilizer, etc.

99%
Dust
3.13
Raw materials for use in-house and also zinc refining

100%
Sludge
0.43
Raw materials for in-house use

88%
Coal ash
0.52
Cement raw materials, construction materials

100%
Waste furnace materials
0.35
Reuse, etc.

68%
Others
2.07
In-house use, others

100%
Total
24.93
Total recycling rate

99%