INVESTORS
Consolidated dividend annual payout ratio target: around 30%
Factors to be considered to return the profit to shareholders include:

capital requirements for investments to raise corporate value,
our performance forecast,
consolidated and non-consolidated balance sheets.

The level of the first-half dividend is determined based on consideration of interim performance figures and forecasts for the full fiscal year performance.
Dividend of FY2021
In accordance with the basic profit distribution policy described above, Nippon Steel paid a dividend of \70 per share at the end of the first half. Regarding the fiscal year-end dividend, based on the improvement in business performance since the previous forecast announcement and with a view to maintaining a high-level return to shareholders from the next fiscal year, management has decided to propose an increase of \20 per share from the previous dividend forecast in the third quarter results announcement (February 3, 2022), and a year-end dividend of \90 per share (the annual dividend is \160 per share, substantially exceeding the previous highest amount) at the General Meeting of Shareholders.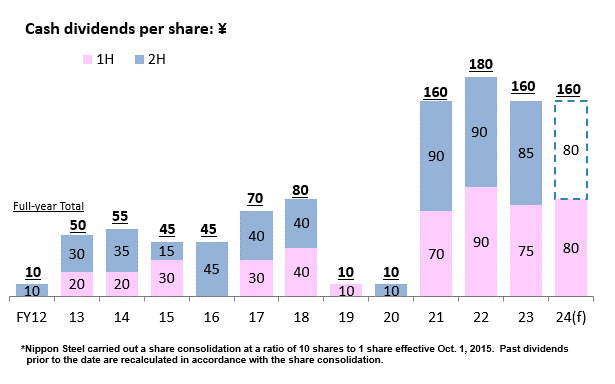 Dividend of FY2022
Nippon Steel has not determined a dividend plan for fiscal 2022. The dividend forecast will be announced as soon as disclosure is possible.