INVESTORS
Consolidated dividend annual payout ratio target: around 30%
Factors to be considered to return the profit to shareholders include:

capital requirements for investments to raise corporate value,
our performance forecast,
consolidated and non-consolidated balance sheets.

The level of the first-half dividend is determined based on consideration of interim performance figures and forecasts for the full fiscal year performance.
Dividend of FY2018
Regarding the fiscal year-end dividend, in accordance with the policy described above and as announced at the time of third quarter performance result (February 6, 2019), it was approved to distribute a year-end dividend payment of ¥40 per share bringing the dividend for the full year to ¥80 per share and representing a consolidated payout ratio of 28.4%) at the 95th General Meeting of Shareholders. The effective date of the dividend was Wednesday, June 26, 2019.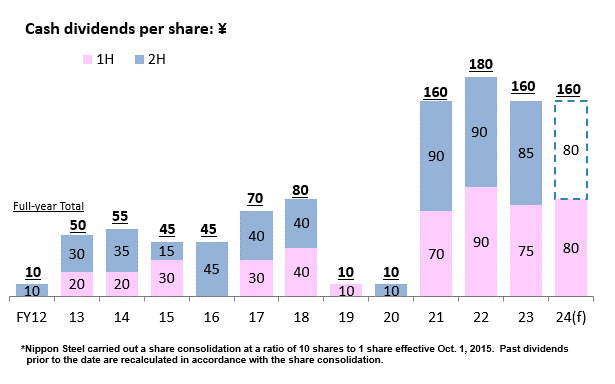 Dividend of FY2019
We have not determined a dividend distribution plan for FY2019 due to the inability to establish reasonable earnings forecasts. The dividend distribution plan will be disclosed when it becomes available.