INVESTORS
Consolidated dividend annual payout ratio target: around 30%
Factors to be considered to return the profit to shareholders include:

capital requirements for investments to raise corporate value,
our performance forecast,
consolidated and non-consolidated balance sheets.

The level of the first-half dividend is determined based on consideration of interim performance figures and forecasts for the full fiscal year performance.
Dividend of FY2019
In accordance with the basic profit distribution policy described above, Nippon Steel paid a dividend of ¥10 per share for the end of the first half. Regarding the fiscal year-end dividend, following the previously stated policy and after giving due consideration to full-year performance result and other factors, management regretfully has decided to forgo a year-end dividend payment, as announced at the time of third quarter performance result (February 7, 2020). The dividend for the full fiscal 2019 therefore is ¥10 per share).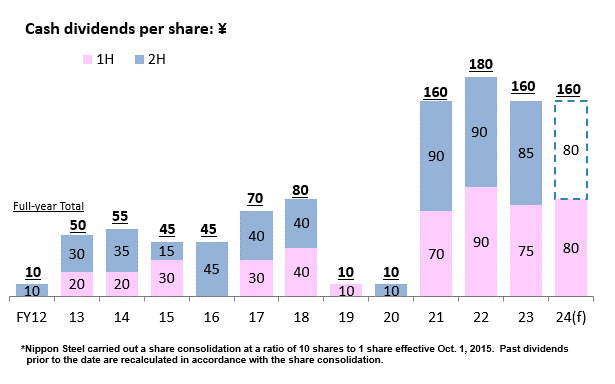 Dividend of FY2020
We have not determined a dividend distribution plan for fiscal 2020 due to the inability to establish reasonable earnings forecast. Management will promptly announce the dividend distribution plan for fiscal 2020 when the plan is able to be formulated with reasonable accuracy.