Promotion of innovative technology development
Striving toward improving its world's highest energy efficiency, Nippon Steel is taking on a challenge in the form of the "CO2 Ultimate Reduction in Steelmaking Process by Innovative Technology Project," in addition to making efforts to reduce CO2 by conserving energy at steelworks.
The COURSE50 Project (Technological Development and Innovative Steelmaking Process)
Since 2008, the COURSE50 has been developing technologies to lower CO2 emissions by 30%: a 10% cut in CO2 emissions from a blast furnace by adopting technologies to reduce iron ore by use of hydrogen and a 20% cut in CO2 emissions by adopting technologies to capture - separate and recover - CO2 contained in blast furnace gas. Concerning the former case, a 10% cut has been verified at a 12m3 experimental blast furnace at the Kimitsu Area of the East Nippon Works and we also undertook simulation for the size of an actual blast furnace, moving the project closer to adoption of this innovative reduction technologies in commercial-use blast furnaces.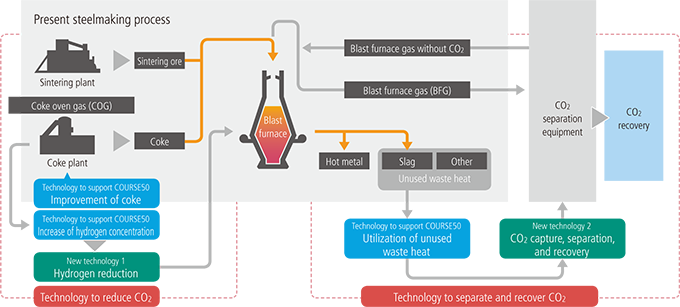 Technology development to sequester CO2 as useful substance
Carbon Capture and Utilization (CCU) has recently been highlighted as a way to recycle CO2 as a useful carbon resource. Through joint research with Tohoku University, we are developing a process to produce dimethyl carbonate (DMC) from CO2. DMC is widely used as raw material for high-performance plastics and as electrolytic solution for lithium batteries. Recently, we have developed a dehydration agent called 2-cyanopyridine, which enables low-pressure, low-temperature, high-efficiency reaction, resulting in an effective use of CO2. While the conventional production method requires phosgene, a toxic gas, a new method is safer with no use of phosgene. Our future target is to make an alliance between a steel plant and a plastic plant.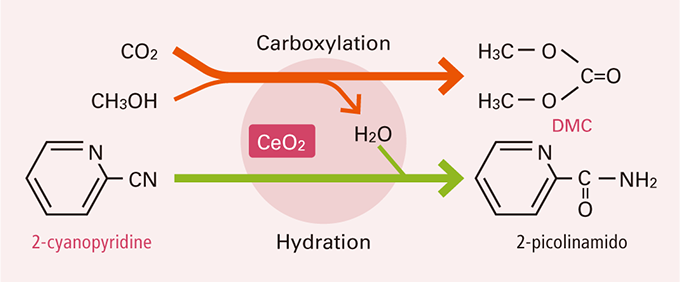 Project for the "Development of Zero-Carbon Steel Technologies" - hydrogen reduction steelmaking technologies
With the aim of achieving net zero emission in steelmaking process, we are taking up a challenge of developing hydro-gen reduction steelmaking technologies that replace coal with hydrogen as reducing agent. This was adopted as a national project and we are getting engaged in this public-private cooperative project.
A new hydrogen production process, which contributes to reduction inCO2 emissions
By developing a proprietary high-performance photocatalyst material, we aim at hydrogen production with zero emission through use of solar energy.
From "Creation of Sea Forests" to "Blue Carbon"
Nippon Steel has been working on scientific interpretation of the effectiveness and safety of using steel slag for the creation of sea forests. As an extension of such technology, we have launched a basic research project on blue carbon (the carbon captured and sequestered by oceans and coastal ecosystems), which has started to attract attention as a measure to ameliorate the effects of climate change. As the first step, we began by accumulating basic data by using our own large-sized water tank (Sea Lab), in which steel slag was used to form a shallow bottom, a tideland, seaweed beds, etc. to simulate the coastal environment and to see how much CO2 will be sequestered.