CO2 reduction through innovative technology development
We are advancing the development of innovative technologies toward the realization of carbon neutrality, and also taking on the challenge of hydrogen reduction steel technology development projects that enable zero CO2 emissions during steel production process in collaboration with the public and private sectors.
The COURSE50 Project (Technological Development and Innovative Steelmaking Process)
Since 2008, the COURSE50 has been developing technologies to lower CO2 emissions by 30%: a 10% cut in CO2 emissions from a blast furnace by adopting technologies to reduce iron ore by use of hydrogen and a 20% cut in CO2 emissions by adopting technologies to capture - separate and recover - CO2 contained in blast furnace gas. Concerning the former case, a 10% cut has been verified at a 12m3 experimental blast furnace at the Kimitsu Area of the East Nippon Works and we also undertook simulation for the size of an actual blast furnace, moving the project closer to adoption of this innovative reduction technologies in commercial-use blast furnaces.
*If you are viewing this document on a smartphone, enlarge the figure and use it.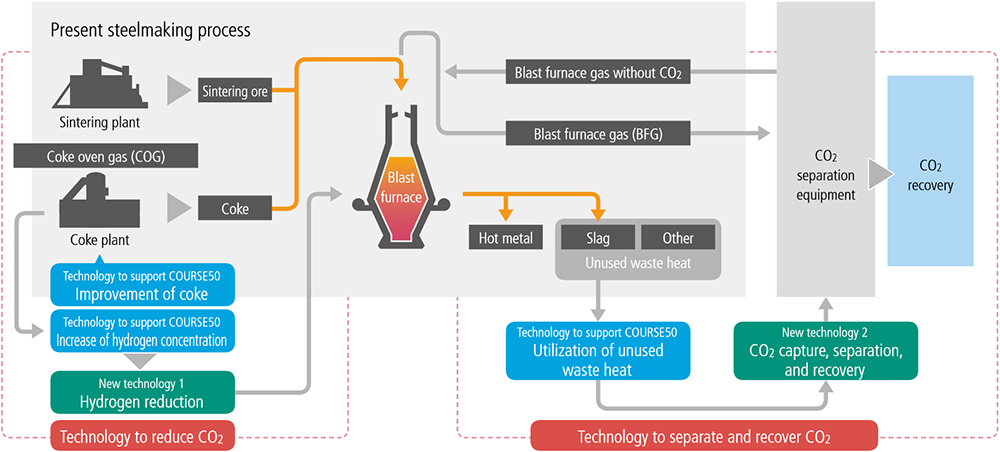 Environmentally Harmonized Steelmaking Process Technology Development "COURSE50": Structure and Features
Leading energy saving CO2 absorption process; achievement in non-steel business development of the COURSE50 technology
While being an innovative technology project, COURSE50 continues to promote development in the area of chemical absorption solution for CO2 collection, Nippon Steel Engineering succeeded in making functioning equipment named "Energy Saving CO2 Absorption Process" or ESCAP™ in the non-steel business domain, in which economic rationality, such as for the carbon dioxide gas business, works even in the development stage.ESCAP™ is a technology to separate and collect high-purity CO2 from atmospheric gas of low CO2 concentration, such as blast furnace gas in steelworks and emission gas from thermal power stations.
Compared to the conventional method, ESCAP™ has achieved an over 40% reduction in thermal energy cost.
ESCAP®
Energy Saving CO2 Absorption Process
*If you are viewing this document on a smartphone, enlarge the figure and use it.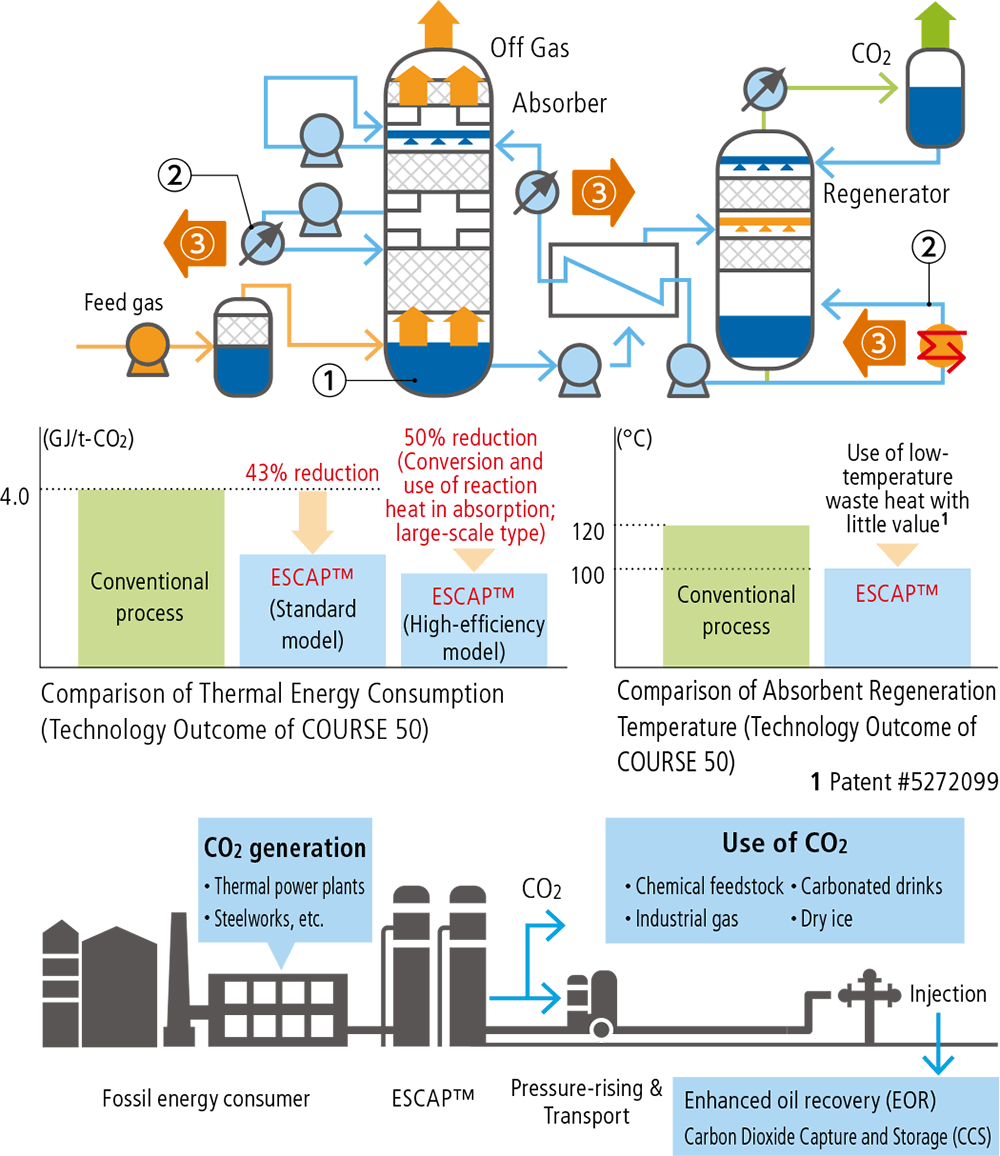 (1)Absorbent performance improvement
Used the absorbent jointly developed by NIPPON STEEL and the Research Institute of Innovative Technology for the Earth (RITE). Reaction characteristics and durability are substantially improved.
(2)Process optimization
Temperature and pressure are optimally controlled in the absorption process and regeneration (reboiling) process in order to maximize performance of the absorbent.
(3)Conversion and use of reaction heat in absorption(first in the world2)
Low-temperature reaction heat in CO2 absorption is converted to high-temperature and used as regenerated heat (jointly developed with the University of Tokyo).
2: Patent #5641194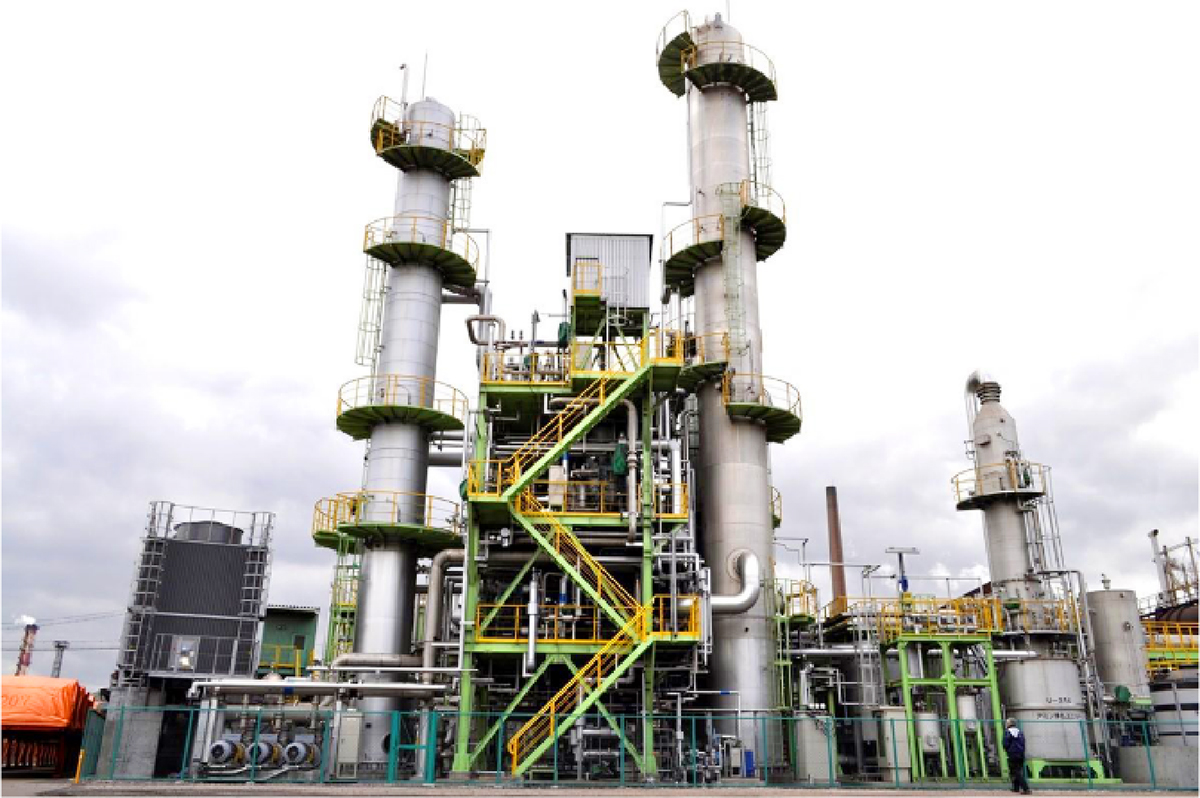 ESCAP™ No.1 Commercial Unit (Muroran)
This is the world's first facility to collect high-purity CO2 from the waste gas of a hot blast furnace by the chemical absorption method.
It has achieved efficient energy consumption as well as meeting the strict quality standard needed for use in the food industry.
Technology development to sequester CO2 as useful substance
Carbon Capture and Utilization (CCU) has recently been highlighted as a way to recycle CO2 as a useful carbon resource. Through joint research with Tohoku University, we are developing a process to produce dimethyl carbonate (DMC) from CO2. DMC is widely used as raw material for high-performance plastics and as electrolytic solution for lithium batteries. Recently, we have developed a dehydration agent called 2-cyanopyridine, which enables low-pressure, low-temperature, high-efficiency reaction, resulting in an effective use of CO2. While the conventional production method requires phosgene, a toxic gas, a new method is safer with no use of phosgene. Our future target is to make an alliance between a steel plant and a plastic plant.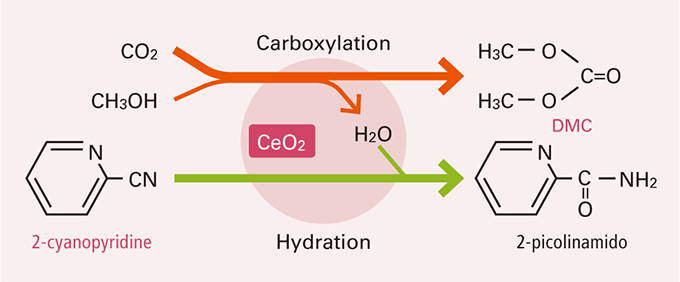 Reaction formula to synthesize DMC from CO2
From "Creation of Sea Forests" to "Blue Carbon"
Nippon Steel has been working on scientific interpretation of the effectiveness and safety of using steel slag for the creation of sea forests. As an extension of such technology, we have launched a basic research project on blue carbon (the carbon captured and sequestered by oceans and coastal ecosystems), which has started to attract attention as a measure to ameliorate the effects of climate change. As the first step, we began by accumulating basic data by using our own large-sized water tank (Sea Lab), in which steel slag was used to form a shallow bottom, a tideland, seaweed beds, etc. to simulate the coastal environment and to see how much CO2 will be sequestered.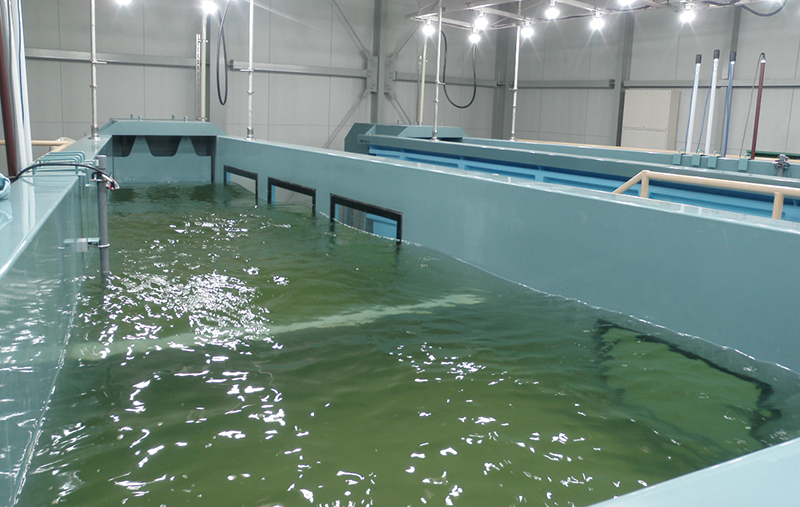 Sea Lab. (Marine environment simulator)
*If you are viewing this document on a smartphone, enlarge the figure and use it.

Use of steel slag to improve coastal environment and to fix CO2
Our development and technological prowess
R&D staff (non-consol.) 800
atents (non-consol.) Japan14,000 Overseas18,000