Research & Development for Global Warming Prevention
Striving toward improving its world's highest energy efficiency, Nippon Steel is taking on a challenge in the form of the "CO2 Ultimate Reduction in Steelmaking Process by Innovative Technology Project," in addition to making efforts to reduce CO2 by conserving energy at steelworks.
The COURSE50 Project (Technological Development and Innovative Steelmaking Process)
Since fiscal 2008, four blast furnace steelmakers including us, and Nippon Steel Engineering, have been working on the "CO2 Ultimate Reduction in Steelmaking Process by Innovative Technology for Cool Earth 50 (COURSE50) Project" which is aimed at developing dramatically new CO2 reduction technology. Its goal is to develop technology to reduce CO2 emissions in the steelmaking process by 30% through technology that reduces iron ore using hydrogen amplified coke oven gas to curb CO2 emissions from blast furnaces as well as technology that uses hitherto-unused exhaust heat to separate and recover CO2 from blast furnace gas. Following the Step 1 of Phase I (i.e., tests of the hydrogen reduction process at a test blast furnace in Sweden) which greatly contributed in the development of element technology, our main focus in the Step 2 of Phase I (fiscal 2013–2017), was to verify technology to reduce CO2 emissions from a blast furnace in a comprehensive manner. By using a 12 m3 test blast furnace constructed at the Kimitsu Works, in 2017 we achieved the 10% target in reduction of CO2 emissions from a blast furnace by combining the technology to control blowing that offsets the endothermic reaction of hydrogen with the control of raw materials. Concerning development of high-efficiency processes to separate and collect CO2, we were able to achieve the world top-class amount of heat per unit. We are now undertaking Step 1 of Phase II, mainly targeting scale expansion, and are leading R&D efforts of the COURSE50. Main areas of concentration include pursuit of potential use of hydrogen by using the test blast furnace; preparation for raising the scale of blowing; further enhancement in efficiency of CO2 separation and recovery processes; and development of highly-efficient heat exchanges.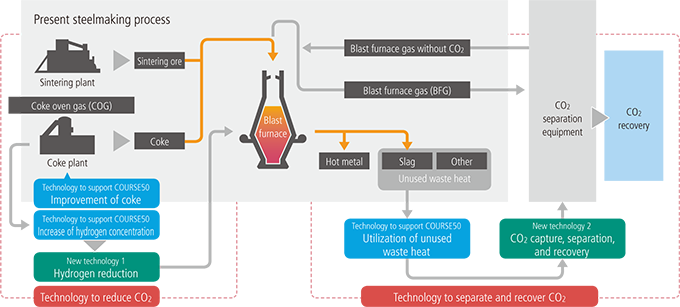 Technology development to sequester CO2 as useful substance
Carbon Capture and Utilization (CCU) has recently been highlighted as a way to recycle CO2 as a useful carbon resource. Through joint research with Tohoku University, we are developing a process to produce dimethyl carbonate (DMC) from CO2. DMC is widely used as raw material for high-performance plastics and as electrolytic solution for lithium batteries. Recently, we have developed a dehydration agent called 2-cyanopyridine, which enables low-pressure, low-temperature, high-efficiency reaction, resulting in an effective use of CO2. While the conventional production method requires phosgene, a toxic gas, a new method is safer with no use of phosgene. Our future target is to make an alliance between a steel plant and a plastic plant.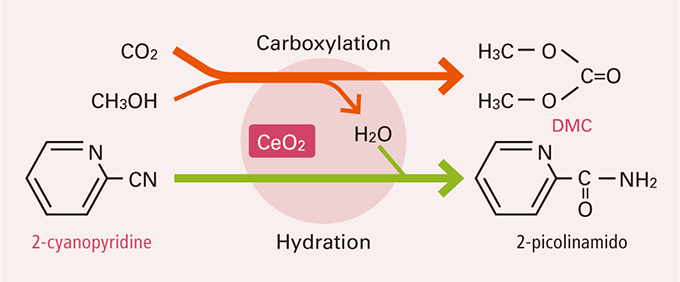 Development of a new hydrogen production process, which contributes to reduction in CO2 emissions
Many CCU processes require hydrogen in sequestering CO2 as useful substance. Through a joint research undertaking with the National Institute of Advanced Industrial Science and Technology, Nippon Steel has developed the technology of artificial photosynthesis to produce hydrogen through electrolyzing water. This technology converts Fe3+ to Fe2+ when oxygen is photocatalytically generated by solar energy. Fe2+ then enables production of hydrogen by using only about one-half of the electricity needed by ordinary processes. We have developed a new type of photocatalyst and have achieved the world's top-level efficiency. Looking ahead, we plan to enhance stability in photocatalyst and to refine the water electrolysis equipment so that we can go to the stage of a verification test.

From "Creation of Sea Forests" to "Blue Carbon"
Nippon Steel has been working on scientific interpretation of the effectiveness and safety of using steel slag for the creation of sea forests. As an extension of such technology, we have launched a basic research project on blue carbon (the carbon captured and sequestered by oceans and coastal ecosystems), which has started to attract attention as a measure to ameliorate the effects of climate change. As the first step, we began by accumulating basic data by using our own large-sized water tank (Sea Lab), in which steel slag was used to form a shallow bottom, a tideland, seaweed beds, etc. to simulate the coastal environment and to see how much CO2 will be sequestered.

New coke furnace at Nagoya Works using the next-generation coke-making technology ("SCOPE 21")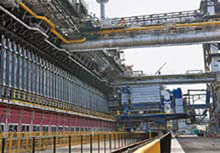 In May 2008, the first commercial model that fully embodies the world's first next-generation coke-making technology "SCOPE 21" was installed at the No. 5 coke oven of our Oita Works. It has been operating smoothly. Based on this experience, the No. 5 coke oven of our Nagoya Works began operation in June 2013, as the second commercial model.
"SCOPE 21" is the technology developed under a national project of the Ministry of Economy, Trade and Industry to better address resource and energy problems. It shortens cokemaking time, improves coke quality, and incorporates various other innovative technologies. It is expected to allow wider use of low-grade raw coal and bring about significant CO2 reduction. According to the assumptions of the JISF's action plans for a low carbon society, released by the Nippon Keidanren in January 2013, CO2 reduction is estimated to be about 900,000 tons a year in total, if all coke ovens in Japan are replaced at the time of facility renewal by 2020.