Promotion and Enhancement of Environmental Management
Environmental management structure
Nippon Steel routinely follows the management cycle of PDCA, primarily through the work of the Environmental Management Committee1, which is held twice a year, to promote improvement of management. Positioning environmental risks as management issues, we have deployed a procedure that the Committee's activities are supervised by the Board of Directors, wherein environmental risks, related to climate change, air, water, and waste (among others), are given attention by the Environmental Management Committee that subsequently reports to the Board of Directors and the Management Committee. As a part of the enhancement of governance, environmental general manager meetings and environmental group leader meetings, with participation by all steelworks, are regularly held. In particular, Nippon Steel works to reduce risks related to sedimented dust, wastewater, and waste including activities. These efforts are based on the work of experts conferences held for each of these areas. In addition, the Environmental Management Committee conducts specific risk management activities concerning climate change, as it involves significant risks in the longer term.
Environmental management system
*If you are viewing this document on a smartphone, enlarge the figure and use it.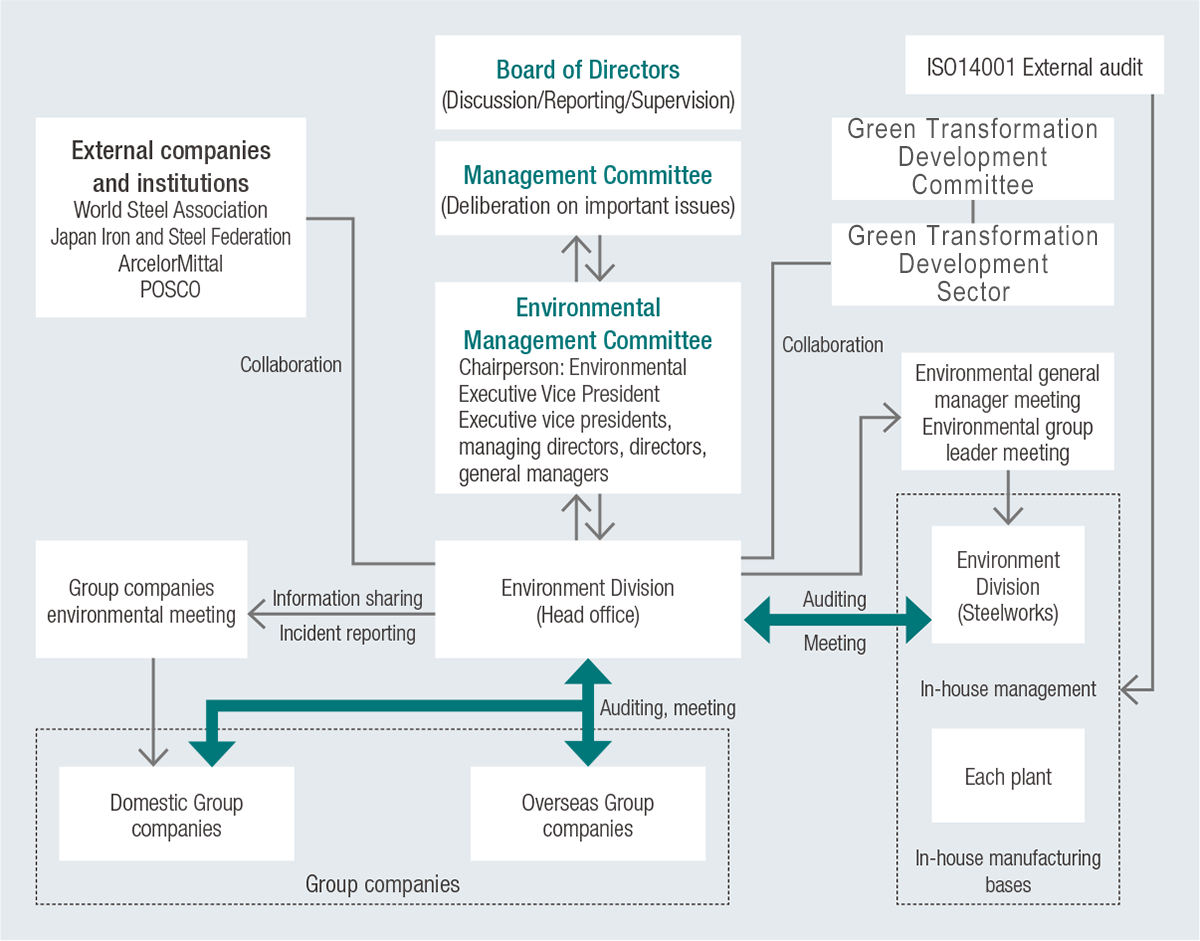 Annual environmental management cycle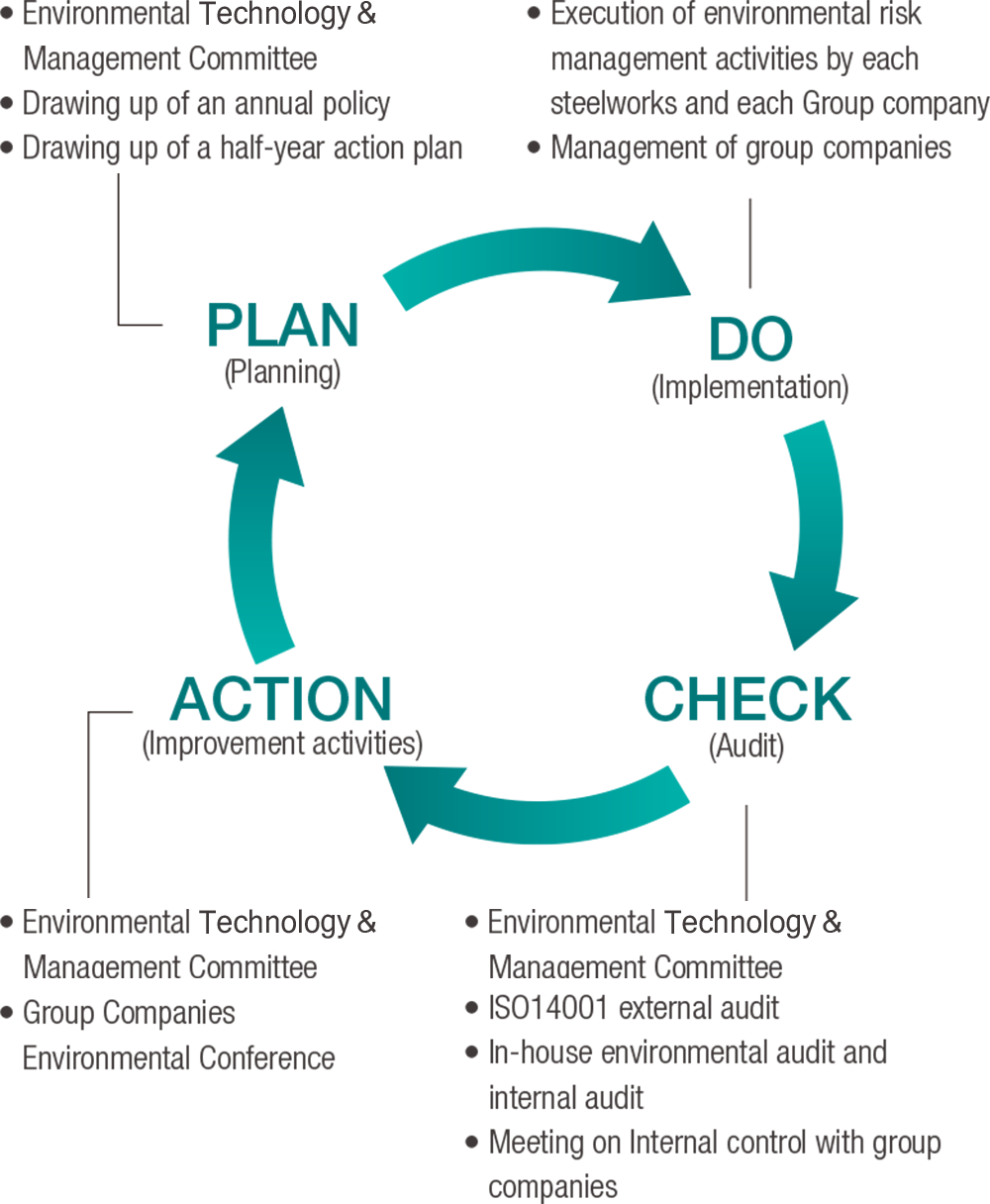 Environmental audits
In accordance with the international standard ISO 14001, Nippon Steel has built an environmental management system, with each steelwork general manager serving as the responsible person. Each year, in addition to an internal auditing of each steelworks and a management review by its general manager, each steelworks is audited by the Head Office Environment Department. Environment officers of other steelworks and facilities also participate in these audits to cross-check. In addition, periodical reviews are conducted by the ISO certification agency.
For the group companies (84 companies subject to environmental review) including those overseas, a direct interview is conducted by a member of the Head Office Environment Department to improve management levels. This is part of the corporate governance conducted by the Head Office Internal Control/Audit Department.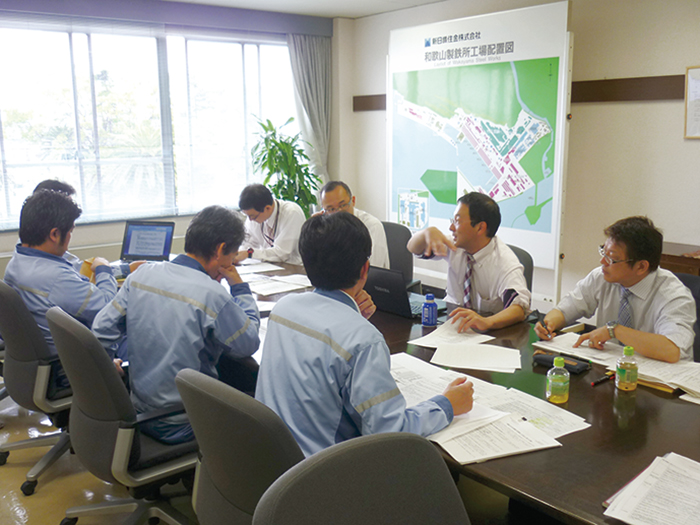 Internal audit (hearings)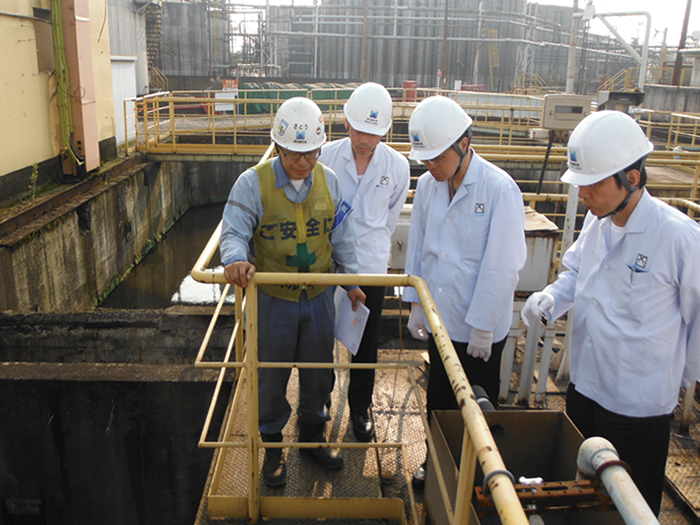 Internal audit (on-site patrol)
ISO14001 registration status (as of April 1, 2021)
Reviewed by JIC-QA=Japan Inspection Corporation Quality Assurance
*If you are viewing this document on a smartphone, swipe to the sides to flip the pages.
Environmental meeting for affiliate companies
From the group companies in Japan, Nippon Steel has identified companies (59 companies) with certain environmental burdens and holds semi-annual environmental meetings for those companies. In the meetings, the latest trends of environmental laws and regulations are studied, cases of environmental initiatives are reported, and other information is shared to reduce environmental risks.
Environmental education
Nippon Steel regards environmental management as an important basis for our business and continuously provide environmental education to each rank of new employees, mid-level engineers, and managers on the subject of basic environmental policies, medium-term environmental management plans, environmental compliance, etc. In addition, a seminar on the environment is given by the general manager of the Head Office Environment Department at all steelworks and facilities. We encourage our employees to acquire national qualifications, such as those of pollution prevention managers and energy managers, as well as to take ISO 14001 internal auditor training.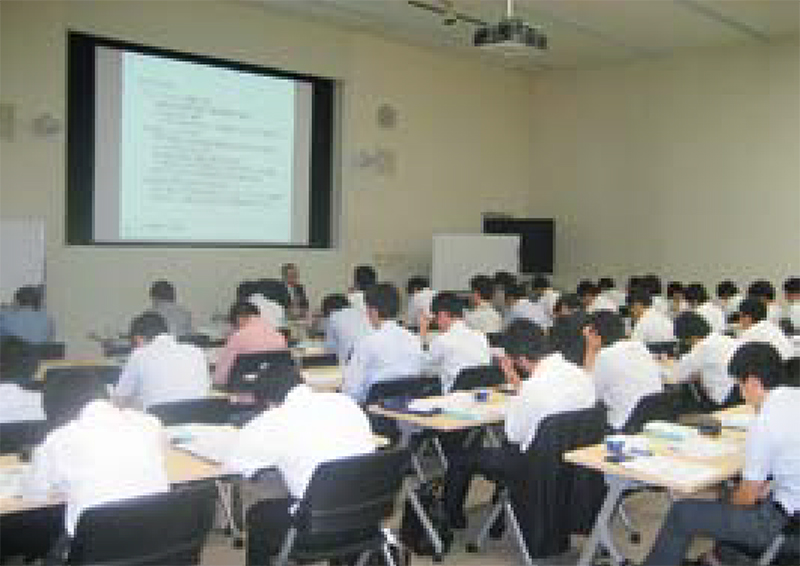 Environmental education (training for mid-level engineers)
Status of compliance with the environmental laws and regulations
In fiscal 2020, Nippon Steel was not ordered to pay any penalty for violation of legalobligation or rules concerning the environmental laws and regulations. We are committed to operatebusiness in compliance with laws and regulations.