Contributing with eco-friendly products
Our Group's products have advanced functions and reliability, which are based on our superior technological capabilities, and are used in diverse areas including energy, transportation and construction equipment, and household products. They typically help our customers become more efficient while making their products lighter or lengthening product life. That translates into the saving of resources and energy, and into a reduction in CO2 emissions at the point of use at our customers, thereby contributing to lessening the environmental impact.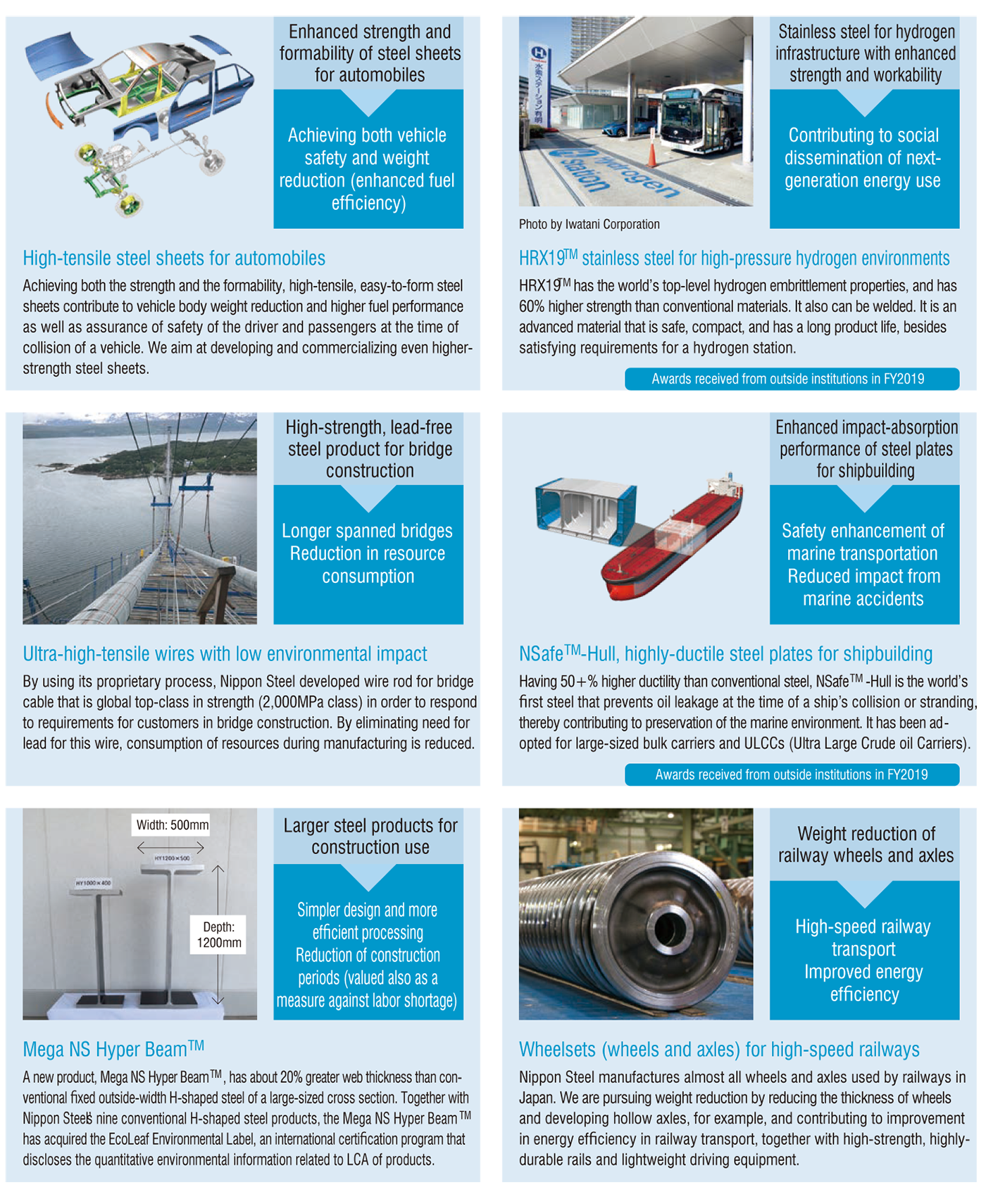 Nippon steel's steel products support diffusion of renewable energy
SuperDyma™, suitable for the supporting mount for solar power panels
SuperDyma™ is an eco-friendly building material that is highly corrosionresistant and lasts four times longer than conventional products. In particular it has recently been adopted for the supporting mount of solar power panels in various parts of Japan.
KATAMA™ SP use for solar power generation sites
KATAMA™ SP is a simple pavement material that makes use of steel slag's characteristics of compacting in reaction to water. Due to its weed control effect, KATAMA™ SP is used for pavement at mega-solar panel power stations, to help maintain power generation efficiency and reduce mowing.
Steel materials (floating platforms, mooring chains) for offshore wind power generation
Unlike onshore wind farms, which cause wind noise and emit low frequency wavelength sound, offshore wind farms are drawing attention as Japan, an island country, has a long coast line and strong offshore wind tends to be steady. The Nipponsteel Group is developing high-strength, corrosion-resistant steel material with good workability, as well as the construction technology, contributing to improvement of offshore wind farms.
Geothermal power stations and seamless pipes for geothermal power generation
Geothermal power generation is promising as renewable energy use of which results in low CO2 emissions. Nippon Steel Engineering in the Nipponsteel Group has been responsible for the construction of production equipment and pipelines on nine of 17 large-scale geothermal power plants in Japan. The company thus has abundant construction achievements and knowhow.
Leveraging the technology accumulated in manufacturing OCTGs for deep-sea underwater oilfields where the steel is exposed to a highly-corrosive environment, Nipponsteel also provides seamless pipes, suitable to be used in geothermal power generation, which also involves a similar high-temperature, high-pressure, highly-corrosive environment.
Steel pipes, contributing to boost efficiency in pumped-storage hydroelectric power generation
This is a power generation method to make upper and lower reservoirs and release the pumped-storage water in the upper reservoir to the lower reservoir through turbines to produce electric power. In order to raise generation efficiency, high-strength, high-grade steel pipes were required to withstand increased water pressure due to greater elevation of water. Nipponsteel has successfully developed and commercialized Japan's first 100kg-class steel used for a pressurized water pipe.