Soil and other risk management
We are taking appropriate measures in compliance with the Soil Contamination Countermeasures Act, guidelines issued by the Ministry of the Environment, local government ordinances, and so on. We report to the local government when performing landform modification work such as excavation which is required to be reported. We conduct pollution surveys when needed.
Starting in fiscal 2018, the Revised Soil Contamination Countermeasures Act is being enforced in stages will be expanded. We will continue to comply with relevant ordinances.
Noise, vibration, and odor
We comply with environmental rules and regulations and continue to promote measures against sources of noise, vibration, and odor.
Asbestos
Long before asbestos-caused health problems became a social problem, we banned purchase of asbestos and took steps to shift from asbestos to alternatives. The remaining portion of asbestos-sprayed materials within the works was disposed or contained, eliminating the scattering of asbestos fibers in the air. The products which contained non-diffusive asbestos and had been in existing facilities are gradually being replaced by alternative products at the time of repair. Since the enactment of asbestos-related regulations in 2006 we have complied with the rules calling for prior notification of plans to dismantle buildings or workplaces, the standards for isolating work area, and other requirements.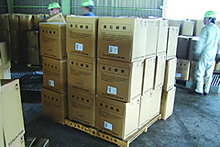 Storage of disposed asbestos (Kashima)