Fostering Personnel and Personnel Policies
Initiatives for Human Resources Development
Basic Policy for Human Resource Development
Nippon Steel's Management Principles state that "we develop and bring out the best in our people to make our Group rich with energy and enthusiasm," positioning human resource (HR) development as a top-level concept. A goal of HR development is to create people who can understand and implement our Corporate Philosophy and our Employee Action Guidelines. All our employees keep this in mind.
Nippon Steel's basic approach to HR development is for supervisors to transfer to their subordinates, through daily dialogues on the job, understanding and knowledge of criteria for judgment and of operational skills. In order to share this mind with all employees, the following "Basic Policy for Human Resource Development" has been established.
HR development is the job itself, and supervisors play an important role in HR development.
OJT training is a basis of HR development and is complemented by off-the-job training.
Supervisors share objectives and outcomes of HR development clearly with their subordinates.
Each individual strives for continual personal improvement for further growth.

Development of operators and maintenance staff
The operators and maintenance staff ceaselessly put into practice their accumulated skills in steelmaking and maintenance, from joining the Company on the assumption of long-term employment to retirement. They thus fundamentally support the Company's manufacturing worksites. Smooth transmission of technology and skills from veterans to younger workers is essential and a system that facilitates this is needed. Therefore, after identifying, through a supervisor-subordinate dialogue, the skill or skills to be acquired, a skill development plan is developed and carried out. The status of planning and skill transfer is monitored by using a skill map — a list of skills for each individual. If needed the plan and its implementation are modified.
In light of the ongoing diversification in recruitment sources (especially the increase in female employees and middle-career recruitment) in response to the rapidly declining working-age population in Japan, it is essential to promote the development of infrastructure and the creation of a workplace environment in which diverse personnel can be motivated and collaborate with each other. Specific efforts along these lines include the establishment of an environment and education on human rights and harassment. Off-the-job training (OFF-JT), which complements on-the-job training (OJT), is used throughout the Company by organizing the minimum skills and knowledge required by each rank of employees of Nippon Steel into a company-wide standard system. Through this, we work at measures to maintain and improve motivation of the elderly to continue working with health and motivation, and at education of workplace leaders to further increase their ability to add to and improve our knowledge base from the field ("field technology").
Development of office staff and engineers
Following the Basic Policy for HR Development, Nippon Steel uses a "HR Development PDCA" for office staff and engineers, who implement OJT-based HR development plans. Specifically, development plans are formulated for each person based on the corporate philosophy and organizational strategies, and are discussed by supervisors and subordinates. Implementation is routinely checked and, if needed, revised. This PDCA for HR development follows a one-year cycle, from April through March of the following year.
An employee's period of time from joining the Company to becoming a manager is divided into three steps: "Discipline", "Creation" and "Independence". Based on the OJT, work reporting sessions and training by rank are carried out at the milestones of the 2nd, 3rd, or 5th anniversaries of the start of employment.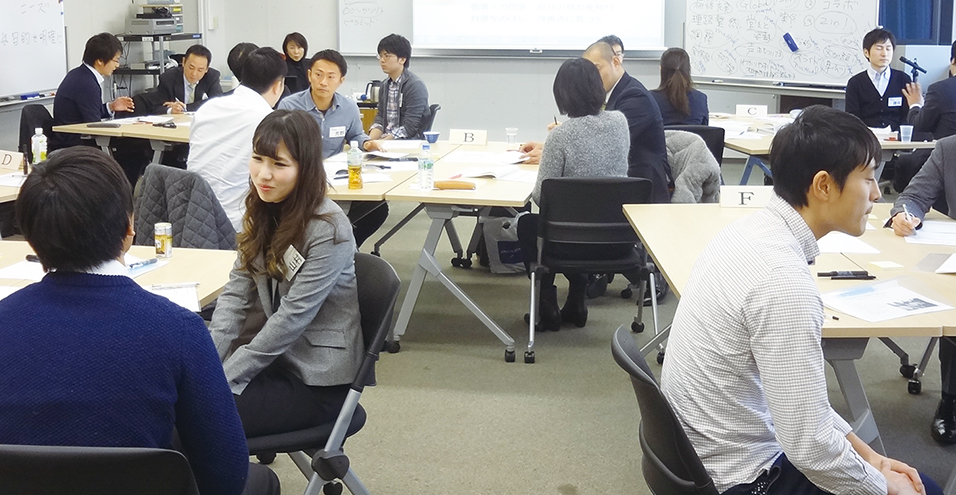 "Discipline"
In the initial few years, new hires learn the basics in each of our fields of expertise, and acquire the manners and basic patterns for work as a social person through each practice.
"Creation"
The employees in this step are assigned to perform a certain task from start to finish, develop their execution ability, identify their own field of expertise, and acquire a firm basic foothold in it.
"Independence"
Through experience of working according to their own responsibility, the employees develop their leadership skills. Together with development of skills, when they reach this phase they must also pay close attention to the development of their subordinates or junior colleagues.
In addition, various OFF-JT training courses are provided to learn specific skills and researches, which cannot be covered by OJT, and to acquire common skills required throughout the Company depending on the employee's qualification.
Development of staff who support technological advancement
With the aim of achieving world-leading technologies and manufacturing capabilities, basic courses in engineering are taught so that employees can learn the essential technologies needed to systematically acquire the skills required for steelmaking. In particular, the content of courses classified as process-specific technologies is at the core of Nippon Steel's technology. Most of the lectures on the underlying and advanced technologies are given by our own engineers.
Development of managers
The training courses are provided to managers match the managers' qualification and position, and are given so that they can acquire proper understanding of their responsibilities and authority as managers; knowledge, skills, and mindset that contribute to enhancing the management as supervisors; and group management capabilities. We gather managers in similar positions to cultivate each other and share experiences and opinions. In recent years, we have given increased attention to management education. We added new courses including one for line manager candidates to enhance line management skills on the manufacturing field, and one for new managers to ensure they have a correct understanding of their roles and responsibilities as managers, and acquire the required knowledge and management skills to conduct business.
Development of staff for roles in overseas expansion
Nippon Steel is actively expanding business to overseas growth markets and many Nippon Steel employees are working on these projects, together with employees of our joint ventures and local employees. At these bases, we also contribute to local communities by locally hiring employees and creating job opportunities.
Nippon Steel also has programs for employees who can contribute to our overseas business expansion. For global Group employees and managers, we have been standardizing English "dialog ability" for each qualification, and a language education system suitable for any level of English has been created for that. Further, for young managers, there are middle-management seminars designed for them to acquire the knowledge, skills, and mindset necessary for domestic and overseas business. For young employees, we offer opportunities to study abroad or work at overseas operational companies for a certain period. We also provide a course for employees who are assigned to work abroad and their family members.
Concerning development of overseas local staff, we also make efforts to transfer to them Nippon Steel's criteria for judgment and operational skills, mainly through OJT, in line with the Company's Basic Policy for HR Development. In the ASEAN countries and India, where our overseas Group companies are concentrated, training courses by rank, as well as OFF-JT courses for specific skill learning or for special subjects are conducted.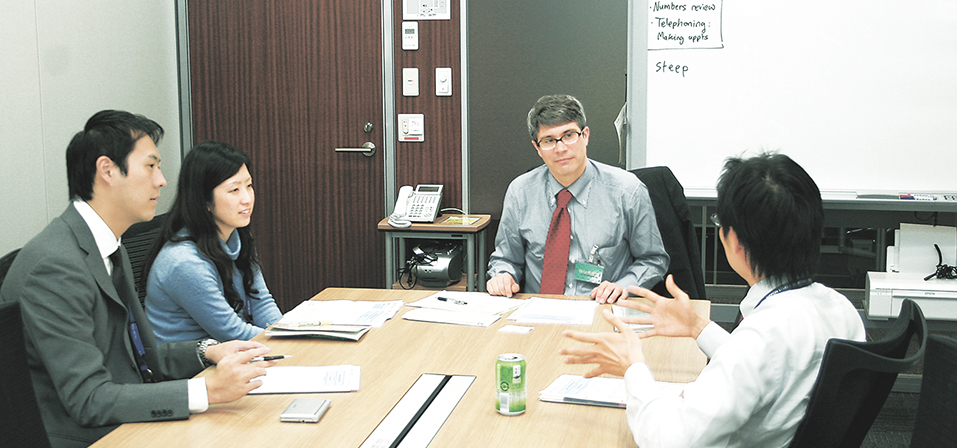 Development of employees who can contribute to digital innovation
We make extensive use of data and digital technologies for production and business process innovation and are promoting a Digital Transformation (DX) strategy combined with implementing measures to speed up decision-making and enhance our problem-solving.
Among our DX activities we have established a skills training program for employees to acquire data science knowledge and enhance competence in order to add strength to our professional staff in this area and strengthen cyber-skills among all employees. Management education courses are also given to reform managers' consciousness in order to promote DX in each department.