Top Message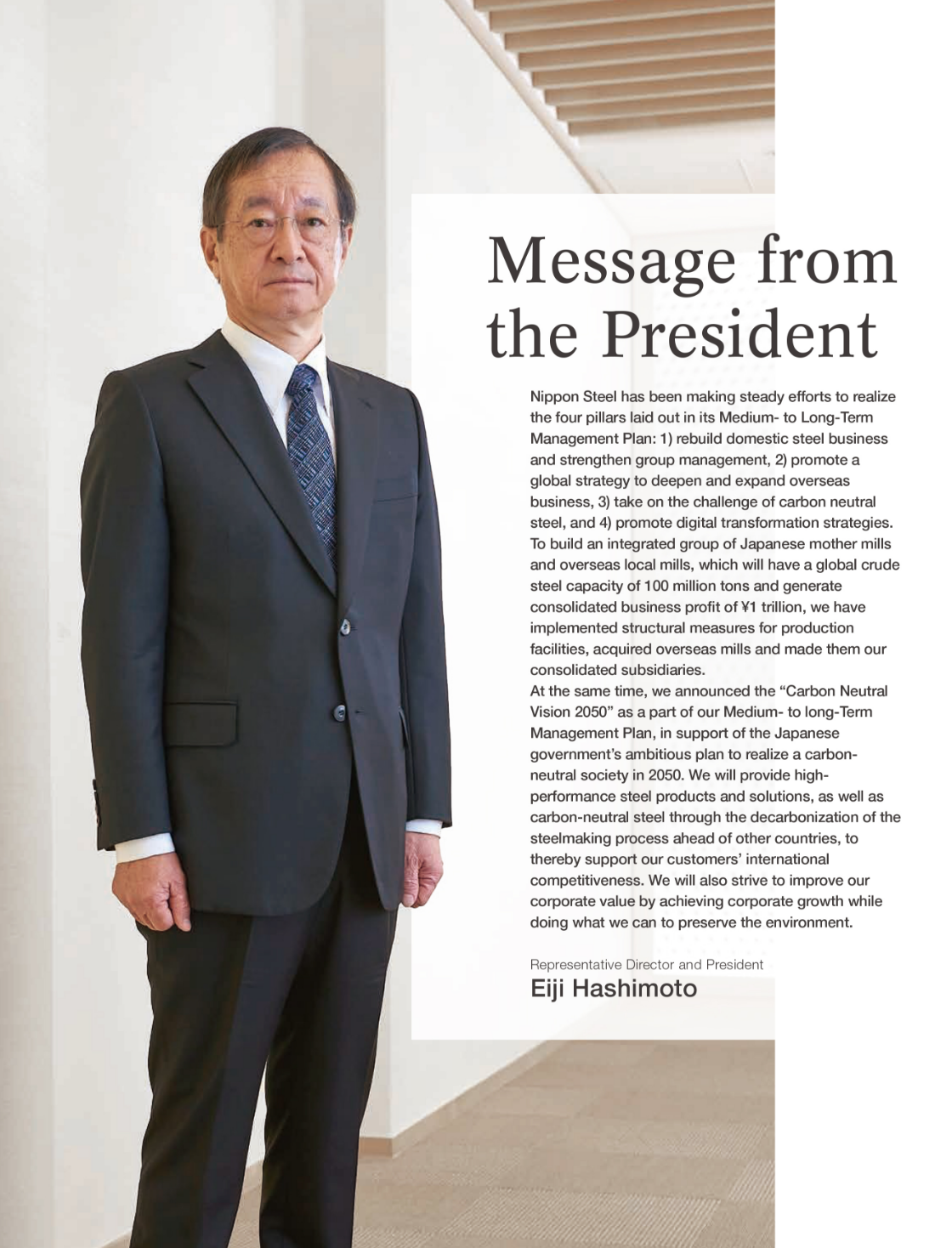 Efforts to restore profitability to date
Since becoming President in April 2019, swift recovery in profitability has been our first priority and we have made utmost efforts to achieve it, on both the hard side such as equipment, and the soft side such as management.
In fiscal 2020, we ended the first half with a loss due to a significant decline in demand that was caused by the COVID-19 outbreak, but in the second half, we made a significant turnaround to become profitable, due to the effects of various measures, as well as a recovery in demand.
In fiscal 2021, the business environment was extremely difficult, with substantial cost increases mainly in raw materials, and a significant reduction in demand mainly for automobiles, caused by the shortage of semiconductors.
In particular, in our core business, domestic steel crude steel production amounted to less than 39 million tons, which was nearly 10 million tons lower than 48 million tons in fiscal 2014 when we achieved our record high profit.
Overcoming the effects of such a significant volume decline, thanks to the effects of the various measures we have implemented, we increased profit in fiscal 2021, significantly renewing the record-high profit of fiscal 2014. We are pleased to have structurally strengthened profitability and to be able to declare a V-shaped recovery. (Fig. 1)
Our biggest challenge was to rebuild our domestic steel business. Under the policy to selectively concentrate on certain products and facilities, advance toward a sophisticated order mix, upgrade the remaining facilities, and make production more concentrated, we have implemented unprecedented large-scale structural reforms. And have done so ahead of the plan.
With the suspension of operations at four blast furnaces, we have streamlined capacity, which has then enabled us to carefully choose order intake and to make progress concerning the longstanding issue of improving direct contract-based prices for customers. (Fig. 2)
The implementation of these fundamental measures concerning both production and sales has enabled us to achieve higher profits than in fiscal 2014, even in the face of a worsening business environment.
We have also completed the withdrawal from unprofitable businesses by thoroughly selecting and concentrating our overseas operations.
By focusing on markets where demand is steadily growing, or sectors where our technology and products are being well utilized, profits from overseas operations have expanded significantly.
In addition, our financial and contractual interest in raw materials has also expanded on the background of the high market prices for raw materials, and the combined profit from such interest and the overseas business exceeded the profit of the domestic steel business.
We have thereby improved the profitability of our overall global steel business, at home and abroad.
Moreover, both the steel and non-steel group companies have steadily strengthened their profitability. (Fig. 3)
With our future target of achieving ¥1 trillion in consolidated business profit, we are initially focusing on establishing a business structure that will ensure ¥600 billionlevel profit regardless of the business environment.
In the core domestic steel business, the biggest challenges continue to be to rebuild stable production capacity at the minimum variable cost, and to maintain and secure appropriate margins in direct contract-based sales*. We will continue to make efforts on these matters.
* The price at which steel is produced and sold according to the customer's order.
Figure 1 Nippon Steel's business profit (consol.) and crude steel production (non-consol.)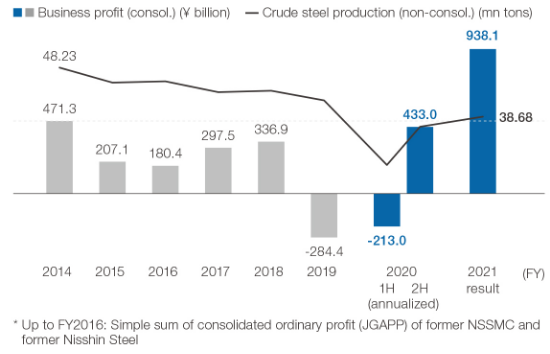 Figure 3 Breakdown of business profits excluding one-off factors
Figure 2 Progress in the structural measures for production facilities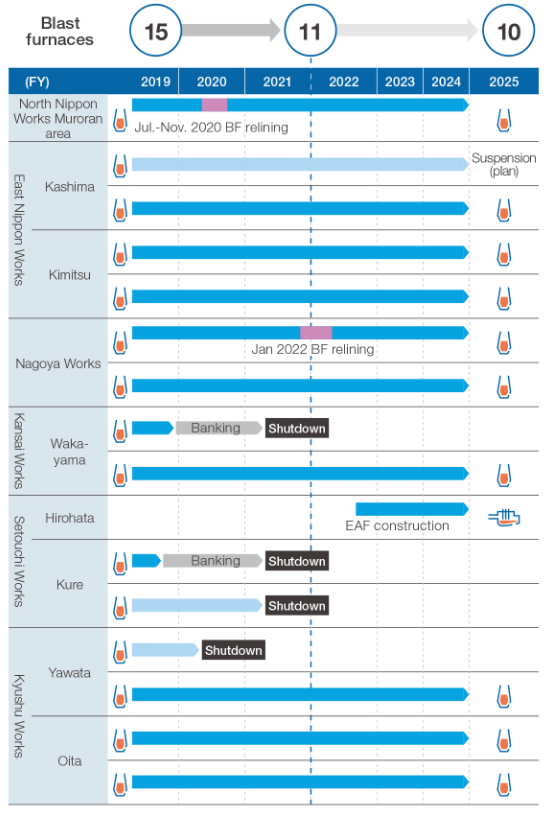 Progress of the Medium- to Long-Term Management Plan
The current situation and the longer-term outlook of the steel industry, and Nippon Steel's efforts
In fiscal 2022, in addition to the continuing risk of slowing economic growth in China, supply constraints, mainly on semiconductor-related goods, and rising energy and resource prices on the back of greenflation, Russia's invasion of Ukraine has been prolonged and widening in its effects, while elsewhere the sharp depreciation of the yen is deteriorating Japan's trade balance. We are thus facing an ever-more harsh business environment.
Despite the extremely uncertain environment, we will continue to strengthen our total management capabilities and maximize profit from the measures we have implemented so far, and aim to achieve a high-level of business profit, as in fiscal 2021.
Over the medium- to long-term, steel demand in Japan is expected to continue declining due to the shrinking and aging population, as well as customers' expanded overseas production.
Moreover, the expansion and infiltration of the "my country first policy" is leading to the review and change of global supply chains, and manufacturing industry is leaning toward the trend of "local production and local consumption" and "favoring domestic production." The COVID-19 pandemic has further accelerated these moves and there is concern that relations in the global market will undergo widespread and important change.
Further, competition in overseas markets is likely to intensify, mainly because demand in China, which accounts for over 50% of the world's steel production, is peaking.
Looking at the brighter side, from a long-term perspective, global demand for steel is expected to continue growing steadily, particularly in Asia, including India.
In addition, demand for high-grade steel is expected to grow substantially on the back of global efforts toward global carbon neutralization.
By providing products that make use of our technological and commercial capabilities, we are committed to helping reduce CO2 emissions in society as a whole. We will also steadily capture growing demand and establish ourselves as a leading company in the steel industry.
Four pillars of Medium- to Long-Term Management Plan
Rebuild domestic steel business and strengthen group management

Based on three key strategies: 1) shift to a more sophisticated order mix by actively investing in strategic products; 2) renewal and improvement of facilities to ensure that technological capabilities are linked to profits; and 3) strategic selection of products and equipment to streamline the production system and make it more efficient, we strive to establish an optimal production system for our domestic steel business, and strengthen the profit base by reestablishing cost competitiveness that surpasses our competitors and securing proper margins. (Fig. 4)

With regard to the structural measures for production facilities, all upstream facilities of the Setouchi Works Kure Area, the No. 1 blast furnace and related facilities of the Kansai Works Wakayama area, the steel plate mill of the Nagoya Works, and the No. 1 continuous casting machine, the large shape mill, and the UO pipe line of the East Nippon Works Kimitsu Area were shut down and their production was consolidated into competitive mills and lines.

The impact of these structural measures amounted to ¥20 billion in FY2021 (cumulative ¥55 billion since the announcement of the plan, compared to the target of ¥150 billion).

Moreover, we have aggressively invested in strategic products to shift to a more sophisticated order mix, and have also completed the relining of the No. 3 blast furnace of the Nagoya Works, and the investment in measures to increase production capacity and improve quality of electrical steel sheets.

In addition to completing the structural measures for production facilities, we are working on flexibly responding to changes in demand and supply of the global steel market (shortening business cycles) and steadily improving our base operating capacity (cost reduction by continued efforts for more stable operations and facilities, and variable cost reduction through further improvement in operational efficiency, etc.). We also pursue improvement of direct contract-based pricing for customers.

Promote a global strategy to deepen and expand overseas business

Overseas business operations have evolved and expanded through progress in selective concentration.

As part of measures toward achieving 100 million tons of global crude steel capacity per annum and ¥1 trillion business profit, we acquired G Steel Public Company Limited and GJ Steel Public Company Limited ━ the only integrated steel producers with electric arc furnaces and hot strip mills in Thailand ━ and made them our subsidiaries.

In India, we are expanding capacity at ArcelorMittal Nippon Steel India as part of efforts aimed at expanding integrated production capacity in overseas areas of demand. These developments have resulted in achieving record-high overseas business profit, which far exceeded the previous record-high and surpassed the projected amount for fiscal 2021, the first year of the Medium- to Long-Term Management Plan. (Fig. 5)

Figure 4 Optimal production system and shift to a more sophisticated order mix

Figure 5 Contribution of the overseas business in consolidated business profit

Take on the challenge of carbon neutral steel

We are making efforts from two aspects: Provision of high-performance steel products and solutions to reduce CO2 emission of the society as a whole, and the development of three breakthrough technologies to decarbonize steelmaking process. They are 1) hydrogen reduction in large-sized blast furnaces, 2) 100% hydrogen use in the direct reduction process, and 3) high-grade steel production in large-sized electric arc furnaces.

Our targets are to achieve a 30% reduction in CO2 emissions in 2030 compared to the level in 2013 and carbon neutrality by 2050. This is consistent with the goal set by the Japanese government and the most ambitious one among our global peers. (Fig. 6)

We have established an organization specifically to promote these initiatives; it is headed by the Executive Vice President, and we are actively considering specific measures including the utilization of the government's Green Innovation Fund. We plan to start supplying carbon neutral steel in 2023.

Carbon neutrality cannot be achieved by success in meeting the steel industry's challenges alone.

The governments support for R&D and equipment installation, the establishment of an infrastructure to supply hydrogen, the realization of carbon-free power sources, and the establishment of a system for society as a whole to bear the enormous costs associated with these are all prerequisites. Close collaboration with a wide variety of parties is indispensable.

We will continue making recommendations and requests in various places to realize these.

Figure 6 Nippon Steel's contribution to the Japanese government's plan on CO2 emissions reduction

Promote digital transformation strategies

Digital transformation is another area we are accelerating our efforts, with the aim of becoming a digital advanced company in the global steel industry.

By using our vast and sophisticated data and digital technology, we will reform our production and business processes, and accelerate decision-making and improve our problem-solving ability from the management level to the front line.
Looking ahead
We declare in our Management Principles that we are dedicated to pursuing world-leading technology and manufacturing capabilities, and to provide products and services that benefit society.
This precisely echoes our basic idea of sustainability. We recognize that sustainability initiatives are top-priority issues and form part of the base that supports the very existence and growth of our company.
We are determined to steadily execute and follow through regarding materiality in sustainability issues, by checking the Key Performance Indicators (KPI). We will strive to achieving sustainable development goals (SDGs), improving our corporate value, and contributing to the realization of a sustainable world.
I would like to thank all our stakeholders for their continued understanding and support of Nippon Steel.