Top Message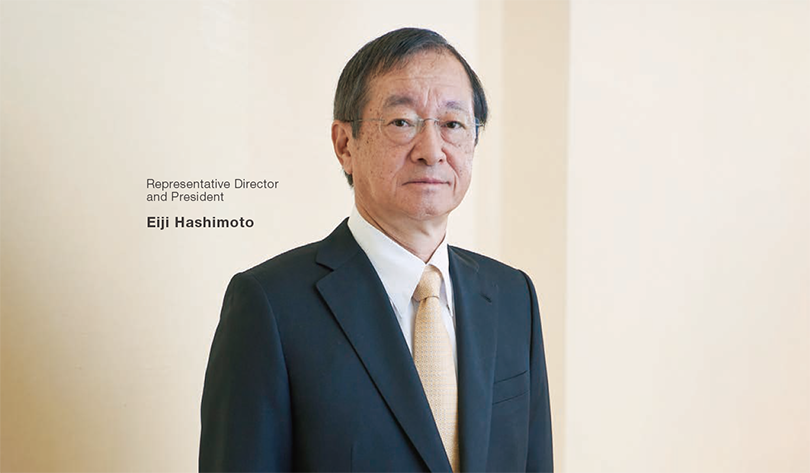 Message from the President
In March 2021, Nippon Steel announced a new medium- to long-term management plan, with the aim of continually growing to become "the best steelmaker with world-leading capabilities" that contributes to Japan's industrial competitiveness from the present and into the future. With the subsequent efforts to restore profitability, the foundation for achieving this plan has been prepared. By steadily implementing this plan, we intend to achieve our target of a global crude steel capacity of 100 million tons by combining the efforts of our strong domestic mother mills and overseas local mills.
We are also taking up the challenge of reducing CO2 emissions through the development of breakthrough technologies and other efforts, as a corporate and industrial leader on the path to a decarbonized society. We intend to lead the global steel industry, by winning development competition with Europe, the United States, China, and South Korea while also pursuing a virtuous cycle of environmental sustainability and corporate growth, and improving corporate value.
Efforts taken for swift recovery in profitability
After I became president in April 2019, swift recovery in profitability has been our first priority and we have made our best possible effort to achieve it, on both the hard side, such as equipment, and the soft side, such as management. The biggest challenge we faced was to free the domestic steel business from the constraint of a loss-making structure. Under the strong sense of crisis that radical changes in the profit structure, namely large-scale structural reform, are inevitable in order to turn the situation around, I had numerous direct dialogues with our people on the two workfronts, namely, those in manufacturing and those in sales. I worked with the management team and other staff to formulate action programs. The results of the study were announced in February 2020 as our first big step in structural reform. We have decided to significantly reduce fixed costs by no-holds-barred selective concentration on certain products and facilities, and focusing investment on competitive facilities.
According to our initial plan for fiscal 2020 (established in February 2020), we had a good prospect of getting out of the red, thanks to a significant reduction in fixed costs and improvement in variable costs. Unfortunately, in the first half, the collapse of economic activities, prompted by the COVID-19 outbreak, resulted in a significant deficit, but we returned to profitability in the second half, with a delay of six months. (Fig. 1) While we recorded a significant loss in the first half of fiscal 2020 due to the sharp decline in demand caused by the COVID-19 outbreak, I am pleased that we were able to respond promptly and move quickly to the minimum-cost operation stance we decided to take, calling for consolidating production facilities through structural reform. (Fig. 2)
Fig.1 Profit/loss, domestic steel
business of the parent (non-consol.)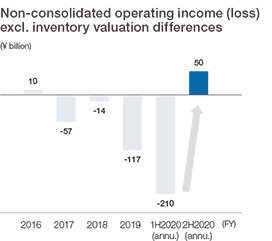 Fig.2 Prompt adjustment in blast furnace operations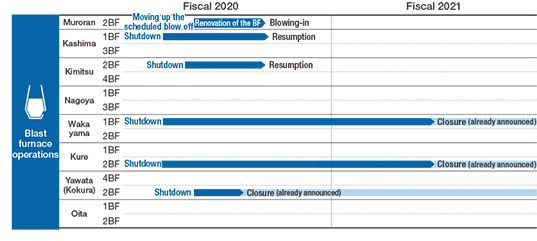 With regard to existing overseas businesses, we concentrated operations, narrowed our focus to certain businesses and withdrew from other businesses which would not be economically viable for us to continue, and focused on markets where demand is steadily growing or sectors where our technology and products are being utilized. Specifically, we acquired Essar Steel, an integrated steel mill in India, decided to build a new electric arc furnace at AM/NS Calvert in the United States, sold VSB, a seamless steel tube joint venture in Brazil, and consolidated the tin business. These efforts have resulted in generating record-high profits in the overseas business in the second half of fiscal 2020, making this part a major profit contributor. (Fig. 3)
As a result of these efforts to improve profits in domestic and overseas steel business, we achieved consolidated business profit of ¥110 billion for the full fiscal year 2020, despite a significant decrease in production volume, which was made unavoidable by the difficult environment. For fiscal 2021, we are forecasting consolidated business profit of ¥600 billion which will be record-high profits, renewing the post-integration high profits in fiscal 2014(since our business integration into the current form in 2012; (Fig. 4) ).While a post-COVID-19 recovery in demand is expected in fiscal 2021, the external environment seems worse than that of fiscal 2014. Despite the severe environment, we will strive for achieving record-high profits by ensuring a return to profitability. The driving forces are cost improvement by promoting new structural measures and stabilization of overseas business profits. With regard to our challenge to improve tied (long-term contract) sales prices*, we will continue to earnestly ask our customers for a fair allocation of cost burden for raw materials and commodities among players in the supply chain and reflection in steel prices of our high value-added product qualities and solutions to keep our stable supply of, and R&D and investment in high-quality products that customers demand.
* Prices of order-made steel products for customers
Fig.3 Profit contribution of overseas business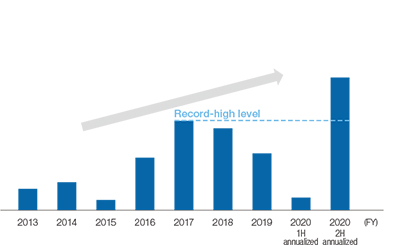 Fig.4 Consolidated business profit and loss
(incl,ex-Nippon Steel Nisshin)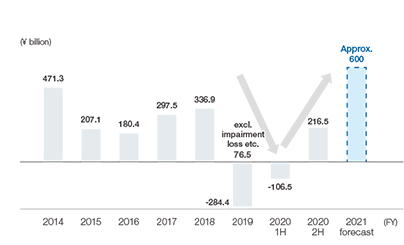 Changes in the steelmaking business environment and Nippon Steel's Medium- to Long-Term Management Plan
Medium- to long-term changes in the steelmaking business environment
Global steel demand is expected to steadily increase, particularly in the Asian region, including India (Fig. 5), with a significant growth in demand for high-grade steel, including demand derived from efforts on behalf of carbon neutrality. In Japan, however, steel demand is expected to continue decreasing due to the declining population and an increase in overseas local production by Japanese customers. Moreover, the COVID-19 pandemic has accelerated the trend of "local production and local consumption" and "favoring domestic production." The globally-connected markets are likely to reverse direction, shifting toward being divided. Competition in overseas markets is likely to intensify, mainly because demand in China, which accounts for 60% of the world's steel production, is peaking.
As global awareness of climate change is growing, the realization of carbon neutrality will be expressed in an all-out battle involving public and private sectors of various nations. We believe that the establishment of carbon neutral technology, ahead of other countries, will be a key to determine competitiveness, profitability, and brand strength in the future steel industry.
Fig.5 Steel demand forecasts
Global steel damand (100 MMT/Y)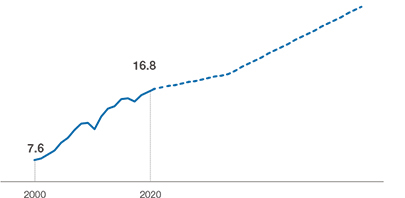 Steel product demand forecasts(MMT/Y)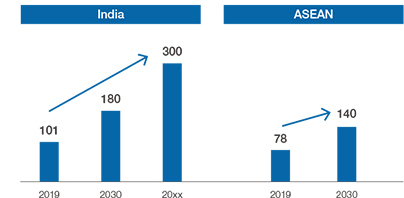 Nippon Steel Group Medium- to Long-Term Management Plan
In light of these changes in the business environment, we announced in March 2021 a new medium- to long-term management plan, with the aim of continually growing to become "the best steelmaker with world-leading capabilities" that contributes to Japan's industrial competitiveness from the present and into the future. The plan consists of four major strategies:
Rebuild domestic steel business and strengthen our group's management

The central policy here is the restructuring of our domestic steel business. It is an unprecedented large-scale structural reform, more drastic than the measures announced in February 2020 This is needed to build a resilient profit structure that will ensure profits even in the event of a further deterioration in the business environment.
We will reduce the number of blast furnaces from 15 to 10 and crude steel production capacity by 10 million tons, equivalent to approximately 20% of total capacity, and rationalize the workforce by more than 20% to improve labor productivity. The structural reform combined with the previously-announced measures is estimated to have an impact of around ¥150 billion. Although this is a very challenging plan, we had devised and developed it based on numerous direct dialogues with our people in manufacturing and sales. I firmly believe that we can complete it by fiscal 2025.
This series of measures is not intended to merely arrive at a lower equilibrium. We are now at the stage to invest a large amount of money, such as for renewal of aging facilities and for strategic investments aimed at supplying high-grade steel products, which is needed in a carbon-neutral society and we find it difficult to further reduce the total fixed cost. We will therefore continue to work toward a more advanced order mix with a higher proportion in high value-added products that ensures profitability to us. While the volume of domestic production will decrease, we plan to increase revenues and profit, and significantly improve labor productivity.
Let me share with you examples of our strategic investments. Electric vehicles, which are heavier than conventional vehicles due to batteries, require materials that contribute to weight reduction, and the need for high-grade electrical steel sheets for drive motors is greatly increasing. Our top-quality electrical steel sheets are also essential for electrical power saving. We have therefore decided to install a new next-generation hot strip mill at the Nagoya Works for stable, economical mass production of state-of-the-art ultra-high-tensile steel sheets, and to work on measures to improve the capacity and quality of electrical steel sheets at the Setouchi Works Hirohata Area and the Kyushu Works Yawata Area. The need for carbon neutrality and digital transformation is also robust and is unlikely to turn around and decline. By responding to new, non-reverting needs such as carbon neutrality and digital transformation, we will make the advanced order mix and a profit-generating production structure that is independent of production volume.

Promote a global strategy to deepen and expand our overseas business

By further deepening and expanding our overseas operations, along with the expansion of the consolidated profit base, we intend to establish global capability of 100 million-tons of crude steel production. In so doing, we will thereby maintain our position as a major player in the expanding global steel industry. Over the mid- to long-term, steel demand in Asia and other parts of the world will grow, while the COVID-19 pandemic has accelerated the trend of "local production and local consumption" and "favoring domestic production." In this environment, our main focus will be the integrated steelmaking business, which allows us capture the entire local demand as potential market. We will shift into high gear in full-scale overseas business that will ensure higher added value. With regard to ArcelorMittal Nippon Steel India (AM/NS India), an acquired integrated steelmaker in India, we consider to expand its capacity, including the construction of a second steel mill. In Asia, particularly ASEAN, acquisition of or equity participation in an integrated steel mill is under consideration. (Fig. 6)

Taking on the challenge of carbon neutrality

The Challenge of carbon neutrality has two aspects. One is the provision of our technology and products to those who can benefit from them, and can contribute to the realization of a green society. This also presents business opportunities to us. That is why we have decided, as advance investments, to implement measures to improve the capacity and quality of electrical steel sheets, and to invest in the construction of a next-generation hot strip mill in the Nagoya Works.
Another challenge is the development of a new production process that will promote CO2 emission reduction in manufacturing processes. Breakthrough technology development, including development in unexplored areas, is needed. With all integrated steelmakers using blast furnaces in the world including China, we face the enormous challenge of our connections to the environment. We are taking on this challenge as Nippon Steel's paramount priority issue and as an opportunity to reestablish outstanding industrial superiority by taking advantage of our world's best technology development capabilities and by implementing technologies ahead of other steelmakers.
We endeavor to provide "green steel" products to our customers at the earliest time.
This, we hope, will also further strengthen our position in customer relationships.
Through development and practical implementation of breakthrough technologies ahead of other countries, we aim to reduce CO2 emissions by 30% compared to 2013 in 2030 and achieve carbon neutrality in 2050 (Figure 7). Carbon neutrality, however, cannot be achieved by the efforts of the steel industry alone. As prerequisite, we need government support for research and development and equipment implementation, establishment of a hydrogen supply infrastructure, realization of carbon-free power supplies, and establishment of a system that enormous costs will be borne by society as a whole.

Fig.6 Toward global 100million-ton brude steel production structure

Fig.7 Nippon Steel's CO2 emission reduction scenario

Promote digital transformation strategies

We have been attentively collecting and analyzing the vast amounts of data generated at manufacturing and business sites to reduce costs and improve quality. These accumulated data are our strength. Aiming to become a digital advanced company in the world steel industry, we will make full use of our treasure chest of vast, sophisticated data and digital technologies, innovate our production and business processes, accelerate decision-making from the management level to our people on the frontline, and strengthen problem-solving capabilities.
In closing
We are committed to achieving both environmental sustainability and corporate growth. Specifically, we will steadily carry out the management plan and build a global 100 million-ton crude steel production structure that comprises our strong domestic and overseas local mills. At the same time, we will tackle the Nippon Steel Carbon Neutral Vision 2050 . Moreover, we will work on digital transformation to streamline operations and decision-making, and make earnest efforts toward diversity and inclusion to create a company where diverse employees feel proud and fulfilled.
We declare in our Management Principles that we are dedicated to pursuing world-leading technology and manufacturing capabilities, and to provide products and services that benefit society. This precisely echoes the concept of the Environment, Social, and Governance (ESG). I recognize that ESG initiatives are one of the priority issues and form part of the base that supports the very existence and growth of our company. We intend to steadily promote its execution and follow-up of our materiality in ESG issues, by checking the Key Performance Indicators (KPI), and to strive to contribute to achieving sustainable development goals (SDGs), as well as improvement of our corporate value.
I would like to thank all our stakeholders for their continued understanding and support of Nippon Steel Corporation.