Activities of Various Works and Group Companies
Nippon Steel has steelworks in various parts of Japan and highly values its partnerships with local communities.
In addition to environmental preservation activities tailored to the characteristics of each region, we actively foster environment-related activities with local residents.
Support to cultural and sport activities is another way we actively contribute to local communities.
Amagasaki R&D Center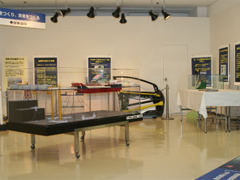 Held a special exhibition at the OSTEC Exhibition Hall
From August 4, 2010 to September 30, 2010, a special exhibition named "Make steel, make the future" was held at the OSTEC Exhibition Hall in Nishi Ward, Osaka. Real and replica steel products were placed on display, steel products and technology that contribute to society were presented, and how steel is related to human bodies, the earth, and daily life was introduced.
Kashima Works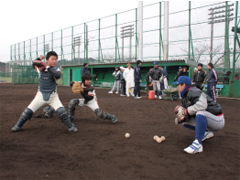 Hosting sports competition and sports classes
Kashima Works hosts various sports competitions each named "Nippon Steel Cup", for local elementary school and junior high school students, to promote sports at the local level and help develop healthy young people.
<Nippon Steel Cup events>
For junior high school students: Ping pong, softball, women's volleyball
For elementary school students: Mini-basketball
In addition, Kashima Works hosts baseball clinics, where members of ts baseball team coaches children, and the swimming class for children, jointly with Kashima City and local NPOs.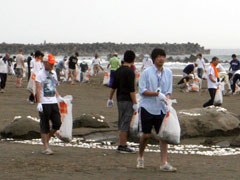 Participate in cleaning of the beach in Kashima City
Jointly with Kashima City, employees at the Kashima Works clean the beach before the swimming season. This program began in 1984. In addition to over 2,000 local residents, about 900 people from Kashima Works and affiliates join the event to care for the local environment.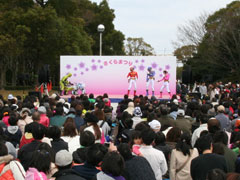 Nippon Steel Sakura Festival
With adjustments made each April to coincide with the time of blossoming of over 2,000 Sakura trees within the works grounds, the Nippon Steel Sakura Festival is one of our annual events. Various events planned for the enjoyment of residents in a wide age range, such as opening of food booths, plant tours, and performances on a specially set up stage, are held and about 10,000 local residents visit the works on that day.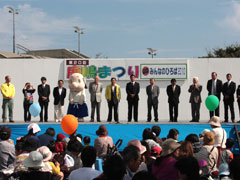 Participation in the Kashima Festival
The Kashima Festival is the biggest event of the year for Kashima City. Held in mid-October since 1991, it attracts 150,000 people for a two-day celebration. Kashima Works has been a member of the steering committee behind the holding of the event since the first festival.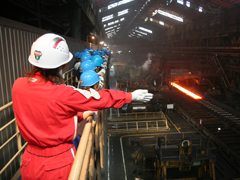 Hosting study sessions (plant tours for fifth-graders)
Since 1978, Kashima Works invites fifth graders of 45 local elementary schools to a plant tour, as a part of their social studies and for better understanding of ironmaking.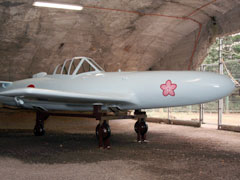 Providing public access to gardens
Kashima Works provides public access to the Sakura Garden and the Ooka (Cherry Blossom) Park within the works grounds. Within the Sakura Garden, we opened a herb garden, which has become a place for citizens to relax. In Ooka Park, a bunker and a replica of a wartime special attack weapon named "Ooka" are conserved and displayed, to encourage yearning for peace.
Kashima Works' other programs include the following:
Plant tours during summer vacation and winter vacation
Participating in the Kashima Art Gallery of Light, an illumination display that has become a tradition in the winter
Inviting people in welfare facilities to Kashima Antlers football games
Cleaning of roads surrounding the Kashima Works
Wakayama Works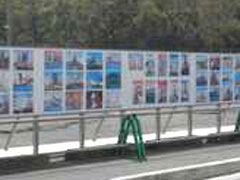 Sketch event for local primary school children
With the aim of being a steelworks that has blended with the local community and providing a sense of belonging, from time to time we invite primary school children to sketch scenery within the works grounds, where major facilities have been renewed. The selected pieces are displayed to encourage the children and for appreciation by local residents.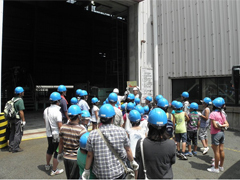 Plant tours during summer vacations
Plant tours during summer vacation are a popular event since 1982, for children and their parents.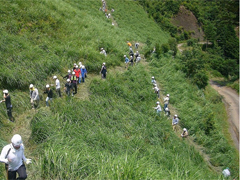 Participating in the "Company Forest"
Wakayama Works is participating in the "Company Forest" program for preservation of forest environments in Wakayama Prefecture. This program involves tree-planting and other volunteer work with the aim of preserving Wakayama's natural environment by maintaining local forests.
At a 2.52 hectare privately-owned forest we have borrowed in Nakahechi-cho, Tanabe-shi, a project named "Nippon Steel Forest" calls for planting and cultivating approximately 5,000 broad-leaf trees. Daily maintenance is entrusted to the Nakahechi-cho Forest Cooperative, while our employees participate in works such as underbrush cutting.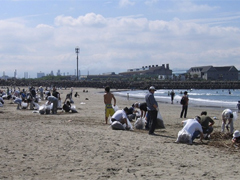 Cleaning of Isonoura beach
Wakayama Works, together with related companies, participate in cleaning the Isonoura beach before the summer swimming season. As local citizens, we also participate in clean-up activities hosted by the Ministry of Land, Infrastructure, Transport and Tourism, members of the community, and Wakayama City, and cooperate to beautify the environment as a part of awareness-building among employees on service and the environment, and in the spirit of expressing our gratitude for the local environment.
Wakayama Works also engages in other activities such as the Kishu dance event (named after the ancient name of the region).
Amagasaki Works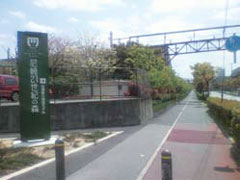 Participating in the Amagasaki 21st Century Forests Project
In agreement with the objective of Hyogo Prefecture and Amagasaki City that it is vital that "urban development co-exists with the environment where people can enjoy the comfort that comes with living in a natural environment among water and greenery," Amagasaki Works is working at increasing greenery within its grounds and received the first award of the Amagasaki 21st Century Forests Project in July 2009.
Osaka Steel Works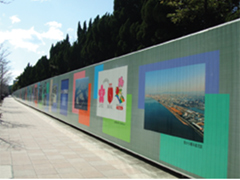 Display panels on the wall of the works, to enhance the landscape
The430-meter wall on the south side of the Osaka Steel Works is being used for display of large photos. In all, 140 photo panels show representative facilities and landscape in Osaka, historical scenes, and industries of local Konohana Ward, among others.
Osaka Steel Works is also engaged in other activities such as cleaning the streets from its nearby JR Ajikawaguchi train station.
Yawata Works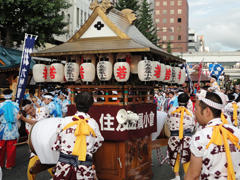 Participating in the Kokura Gion Daiko festival
Kokura Gion Daiko is a local festival which began in 1617 by feudal warlord Hosokawa Tadaoki who built Kokura Castle. The festival was meant to promote this castletown and pray for perfect health of the people. It is said to have imitated the famous Gion Matsuri (festival) of Kyoto. Some employees of Yawata Works has formed a club to participate in this event and received the Taiko Square Grand Prize in 2007.
Yawata Works is also engaged in other activities such as a clean-up campaign hosted by Kita-Kyushu City and cleaning of the streets surrounding the works.
Naoetsu Works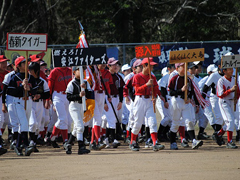 Youth baseball team competition
Naoetsu Works has hosted a local youth baseball team competition for 18 years. Every year, about 400 boys compete with one another for a crowning victory and receive enthusiastic cheers from supporters.
Naoetsu Works is also engaged in other activities such as participating in the Joetsu Festival.
Kashima Antlers FC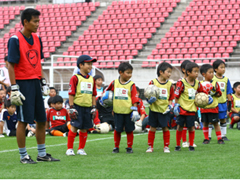 Hometown activities
In order to realize the "J. League One Hundred Year Vision" which aims at promoting sports in local communities, Kashima Antlers Football Club has strived to promote a variety of sports since 1994. To name a few, tennis, kendo, and rugby are included, in addition to football. A mini-basketball competition has been held since 1999. Moreover, Antler players visited all of 73 elementary schools of the five "hometowns" (in 2007 and 2008), their coaches give guidance to children at elementary schools, (from 2002), distribute free "Kids' Passes" to elementary school students in the "hometowns" (from 2006), invite residents in five "hometown" cities (Kashima, Itako, Kamisu, Namegata, and Hokota), 9 "friendly-town" cities and towns (Hitachi, Tsukuba, Inashiki, Kasumigaura, Miura in Ibaraki Prefecture, and Choshi, Tounosho-machi, Katori, and Narita in Chiba Prefecture) to the games, and participate in public service activities in those communities.
In addition to sports, Kashima Antlers commercialized an original beer cocktail "Red Eye" (using the character of "love" in Japanese as it is phonetically the same as "eye"), which blends Chutaro brand premium tomato juice made in Hokota, one of the Antlers' hometowns, with Suntory's Premium Malt's. The Antlers became more closely connected with this community by providing information on local products and other activities away from this community.
Nippon Steel Logistics Co., Ltd.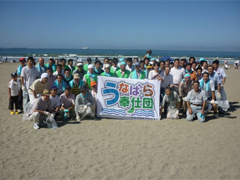 Unabara Volunteer Group
In 1975 Nippon Steel Logistics began to contribute to the local community under the policy of "beautifying the environment to create a bright society." Since then, the Unabara Volunteer Group has conducted a clean-up campaign within the city once a month for over 30 years and its efforts are highly regarded. The group received the Environmental Award of Wakayama Prefecture in 2002.