Water risk management
We use about 5.9 billion m3 of industrial water a year, of which approximately 90% is derived from recycled or reused water to reduce wastewater discharge, at all of our steelworks and factories combined. We try not to waste precious water resources, and to control wastewater discharge. To achieve this, we make daily efforts to maintain and improve the performance of wastewater treatment equipment, and the inspection and control of wastewater quality.
Our operational bases in Japan are evaluated by the World Resources Institute (WRI) Aqueduct to confirm that we are not to be prone to high-level water stress. Nevertheless, in preparation of the remote chance of a water intake restriction, some of our steelworks possess their own water reservoir. In certain circumstances, we contribute to easing water stress of the community by providing water for agricultural use or by cooperating in other ways.
Nippon Steel's water consumption (excluding power generation facilities)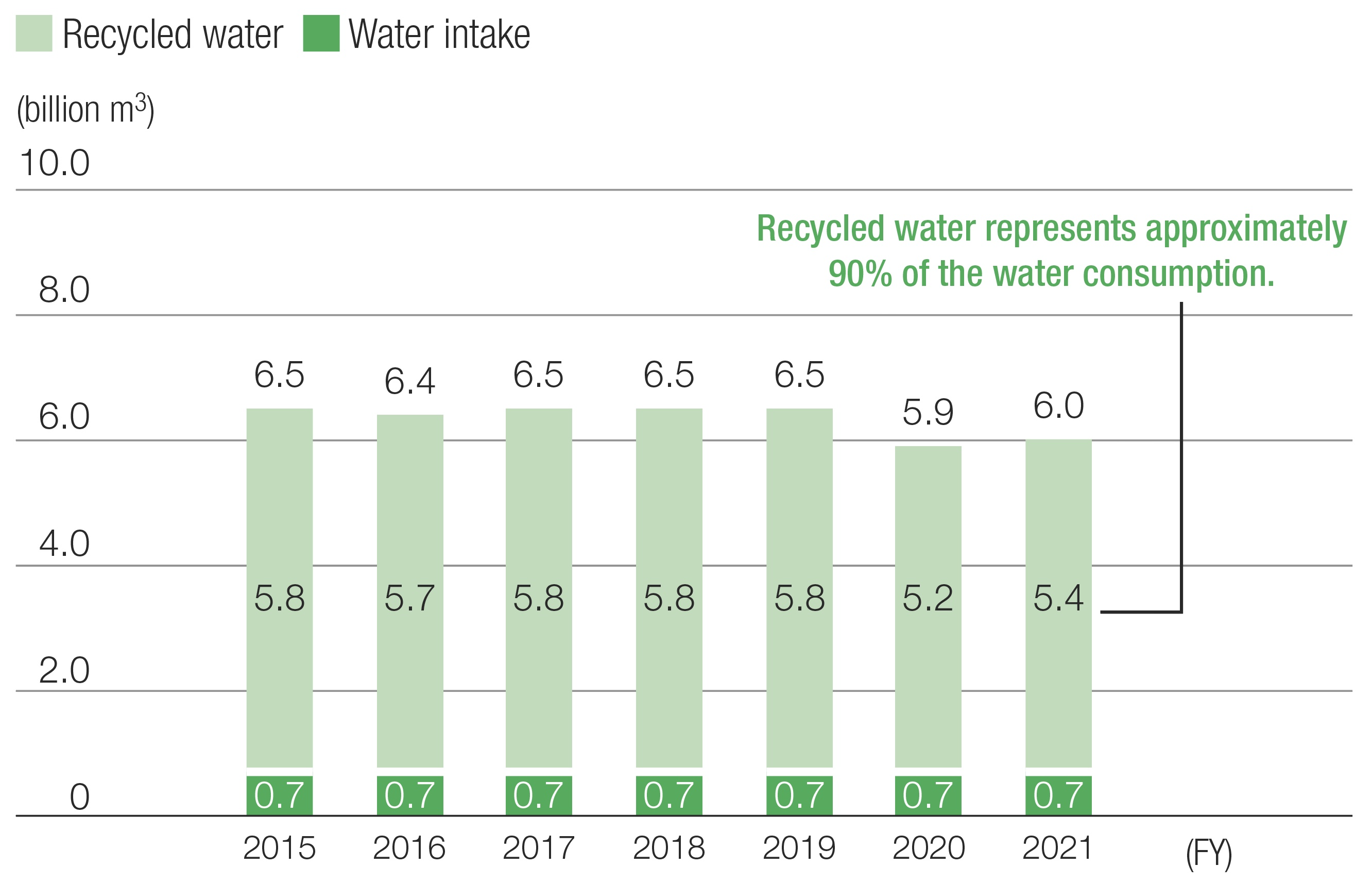 Seawater usage(billion m3)
*If you are viewing this document on a smartphone, swipe to the sides to flip the pages.
| | 2015 | 2016 | 2017 | 2018 | 2019 | 2020 | 2021 |
| --- | --- | --- | --- | --- | --- | --- | --- |
| Amount used | 2.3 | 2.3 | 2.2 | 2.2 | 2.2 | 2.0 | 2.0 |
Wastewater discharge(billion m3)
*If you are viewing this document on a smartphone, swipe to the sides to flip the pages.
| | 2015 | 2016 | 2017 | 2018 | 2019 | 2020 | 2021 |
| --- | --- | --- | --- | --- | --- | --- | --- |
| Total discharge(into sea etc) | 3.0 | 2.9 | 2.9 | 2.9 | 2.9 | 2.7 | 2.7 |
*Appropriate treatment according to water quality and discharge in compliance with wastewater standards
*Discharge to sewer except sea (about 0.01% of the total)
In consideration of the importance of complying with the Water Pollution Control Law and preserving the water quality in the sea area to which it is discharged, we ensure that in the event of an operational problem the drainage outlets will not release abnormal wastewater outside the steelworks. Water drainage automatic monitoring systems, water shutoff gates, emergency reservoirs, etc. are installed to prevent water pollution.
We also strive to check, repair, and maintain equipment in order to prevent water pollution, and to train our personnel in methods of checking of operations and controlling work procedures. Moreover, our steelworks have taken measures, such as to install a large storage tank so that water tainted with iron ore powder would not directly be released into the sea even if our steelworks were struck by a local torrential rain caused by weather abnormality.
If there is a crack in an embankment facing the sea, there is a risk of a leakage of groundwater with unknown contaminants. In order to prevent this, the embankment is regularly inspected from the sea side enabling us to maintain and manage it in a sound condition. In areas with potential risk of leakage of water which may exceed permissible levels of contaminants, a board or sheet water barrier may be installed so as to prevent leakage even if a crack develops on the embankment.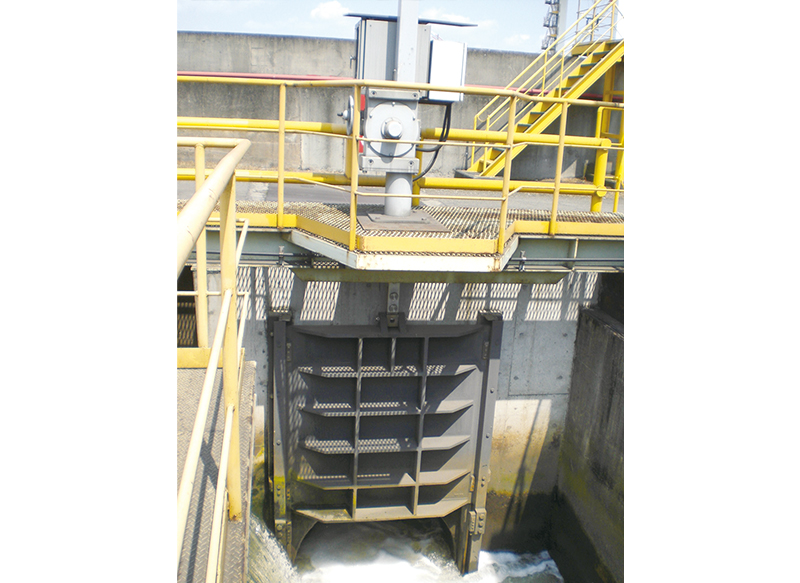 Emergency drain shutoff valve
(Setouchi Works Hirohata Area)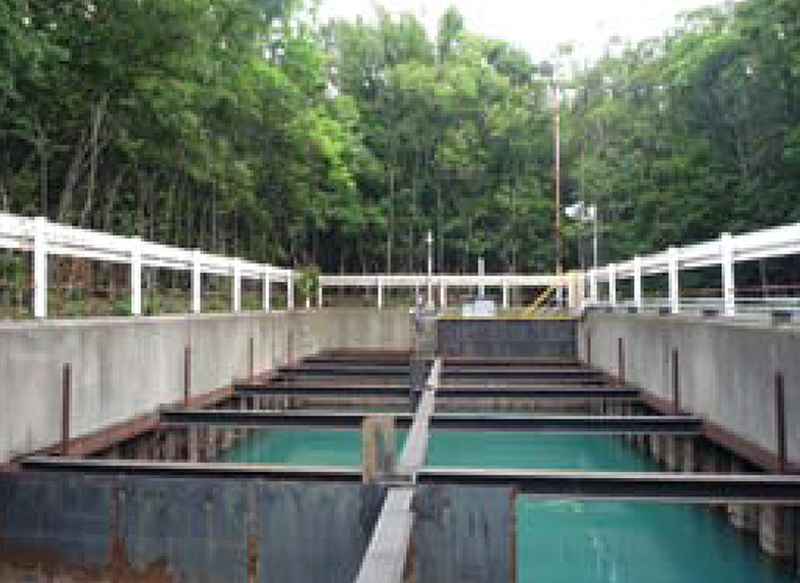 Emergency drain shutoff facilities
(Sakai Works)
Responding to water resource risk — a system for recycling of industrial water in steelworks
Nippon Steel reclaims and reuses most of the water used in the steelmaking process, with a small remaining portion to be properly treated and discharged out of the steelworks. In the case of recycling, water is cooled andcleaned once it is used, and various treatments are carried out depending on the application. We therefore thoroughly inspect and maintain each processing facility and control the water quality in daily operations.
*If you are viewing this document on a smartphone, enlarge the figure and use it.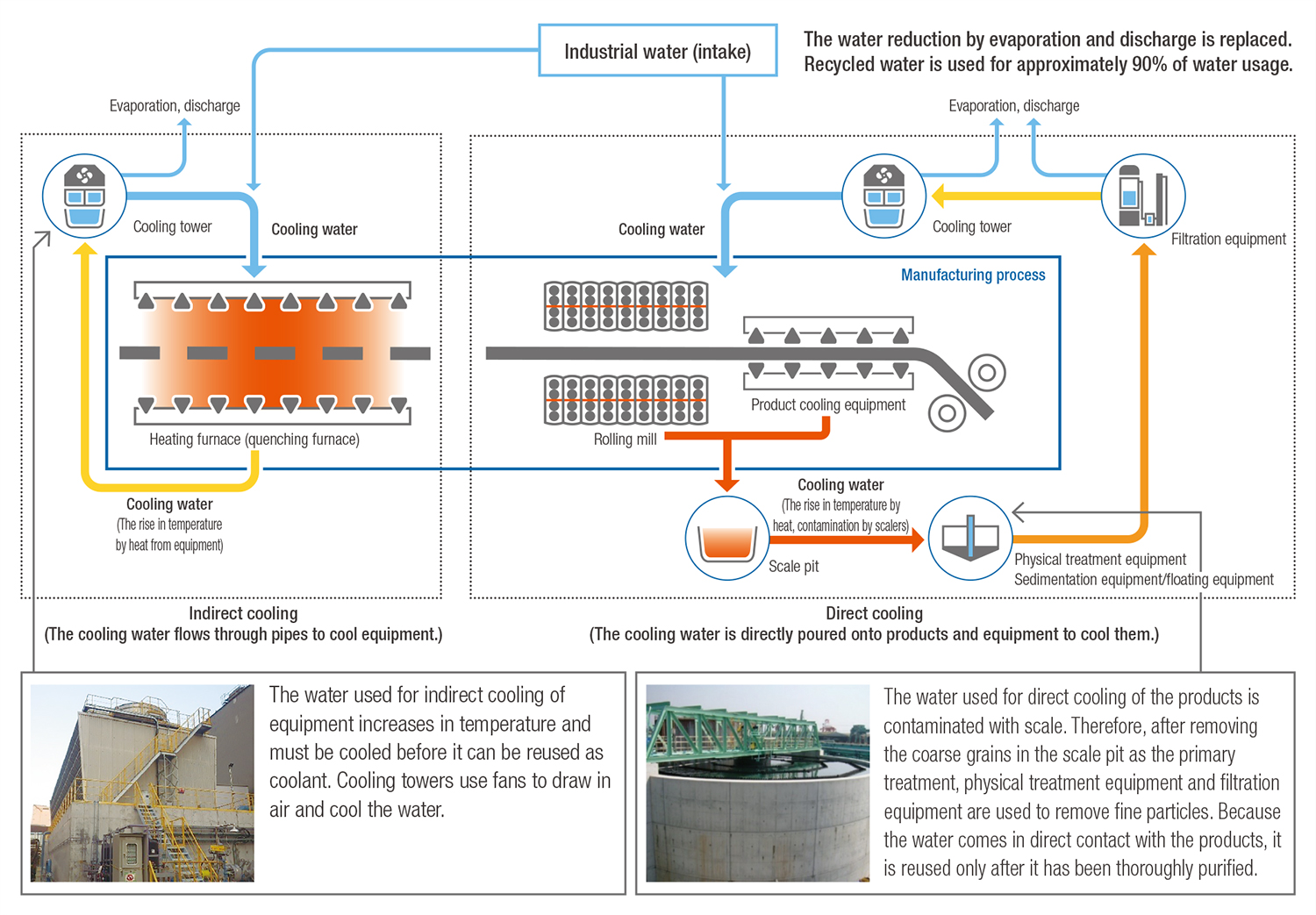 Environmental measures at steelworks
Water purification; prevention of abnormal waste water
Waste water coagulating sedimentation treatment equipment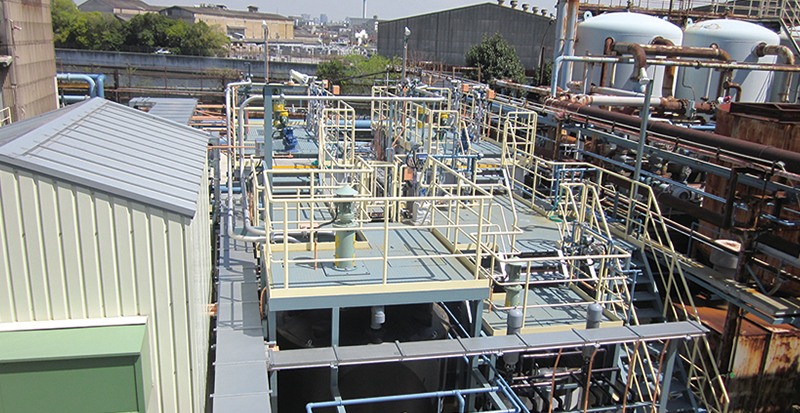 Fine undissolved matter is coagulated into bigger masses by chemical treatment, permitted to settle, and is removed.
Pressurized flotation system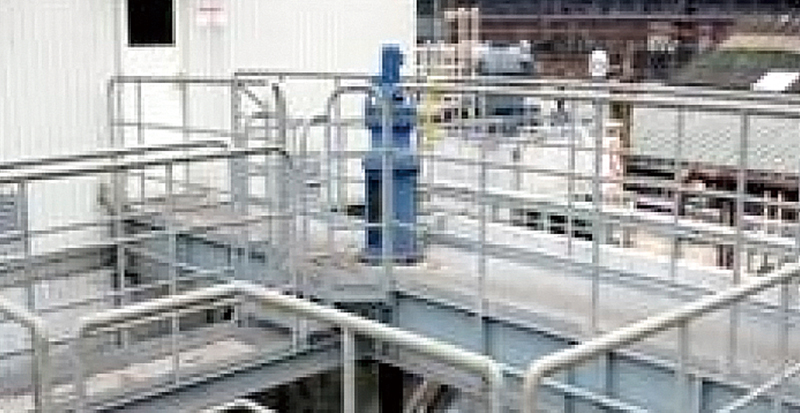 Floating oil is removed by tiny bubbles formed by released air.
Activated sludge treatment equipment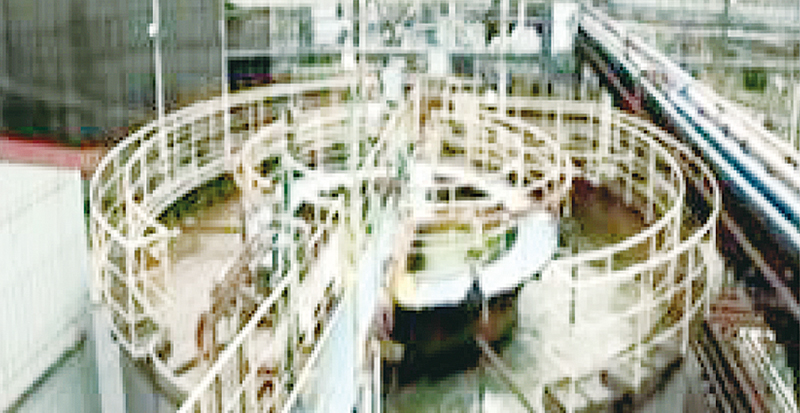 Organic matter is decomposed and eliminated by bacteria.
Filtration equipment (secondary treatment)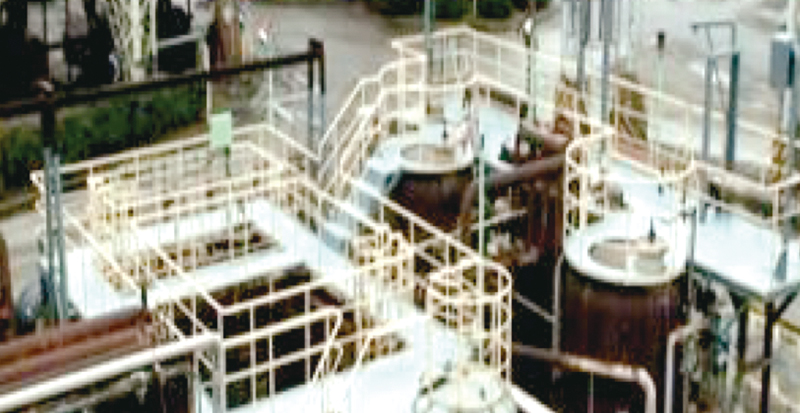 Undissolved residues in the treated waste water are filtered by a sand layer and removed.
Waste water automatic monitoring equipment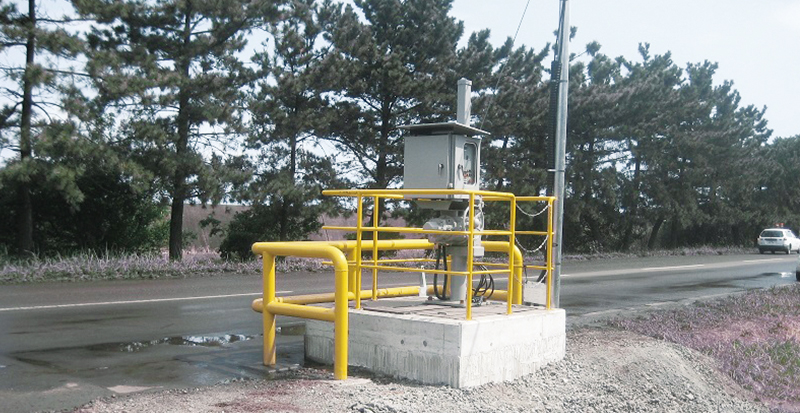 The water quality of waste water is automatically monitored.
Waste water closing gate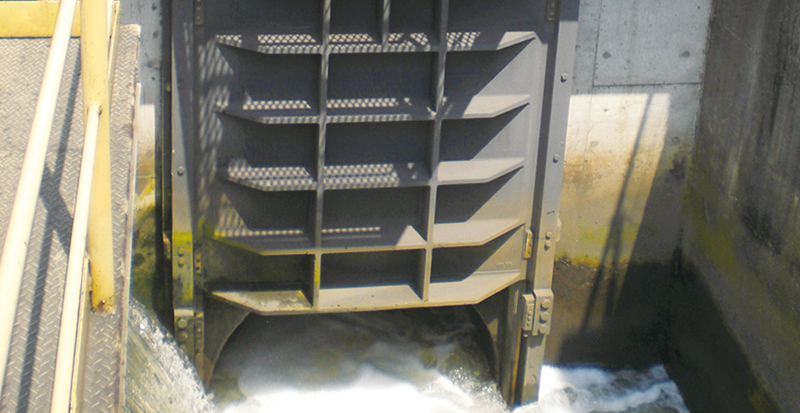 Waste water flow is shut in case of trouble.
Rainwater effluent treatment facility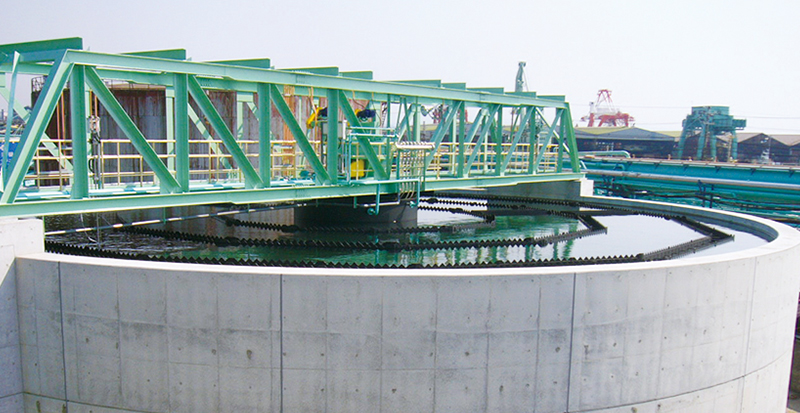 Undissolved residue from rainwater is coagulated and eliminated.
Checking of embankments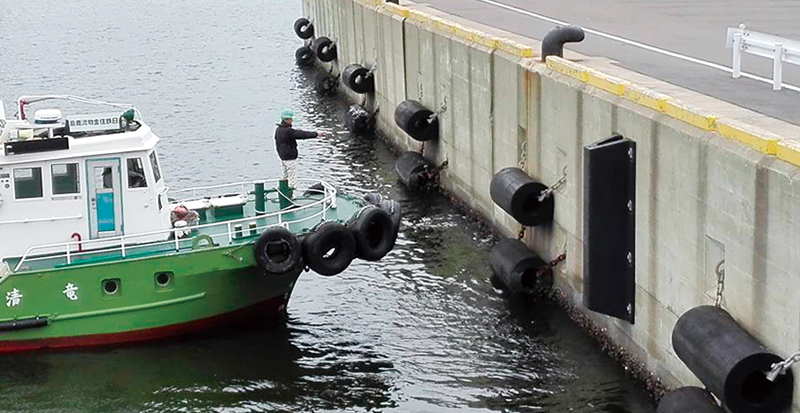 The embankments are regularly inspected from the sea side to find potential issues.
Repair of the damaged area of embankment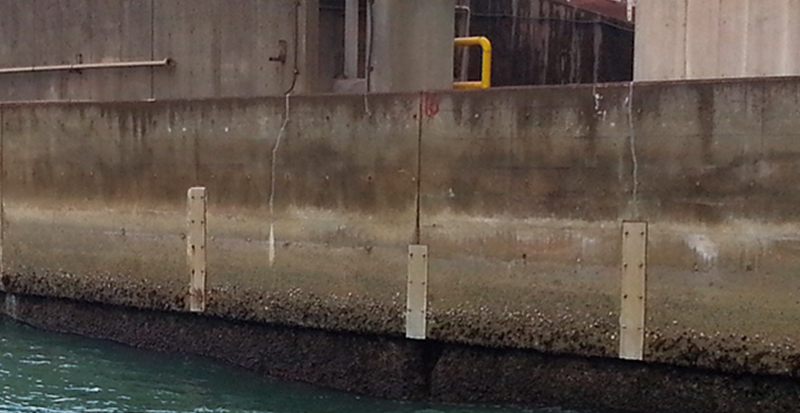 Damaged areas found by inspection are promptly repaired to maintain and manage the embankment in a sound condition.