Environmental Accounting
Costs associated with environmental conservation
(Environmental accounting)
Nippon Steel has adopted environmental accounting to be used as guidelines for corporate activities, and to accurately track the environmental costs and effects. Environmental conservation costs, which combine the costs of capital investment associated with environmental measures, energy-saving measures, and recycling measures, and expenses incurred to conserve the environment, totaled ¥148.7 billion in fiscal 2021: ¥16.3 billion for capital investment and ¥132.3 billion for environmental conservation. Details for environmental conservation costs are listed below.
It is difficult to quantify environmental preservation effects in monetary terms, since such calculation would require many assumptions. Therefore, environmental preservation performance is kept track of as effects taking environmental measures, which are reported in this report and on our website.
Environmental preservation costs
(¥ billion)
*If you are viewing this document on a smartphone, swipe to the sides to flip the pages.
Item
FY2021
Capital expenditures
Total expenses
Pollution Prevention Costs
Air pollution control (including measures against dust)
13.2
30.2
Water and soil pollution prevention, noise and vibration prevention
0.5
9.3
Global Warming Prevention Costs
Energy saving measures (including energy recovery facilities such as TRT and CDQ)
2.7
6.1
Costs of Recycling Resources
Recycling of resources and generated materials
-
47.1
Industrial waste treatment (including PCB)
-
10.8
Business-related general waste treatment, etc.
-
0.5
Environmental Management Activities Cost
Construction of EMS and acquisition of ISO14001 certification
-
0
Monitoring and measurement of environmental loads
-
1.5
Personnel expenditures related to environmental measures, etc.
-
2.6
Research and Development Costs
Development of Eco Products
-
5.9
Development of products which have low environmental impact during manufacture, etc.
-
12.6
Social Activity Costs
Beautification and greening of offices
-
1.2
Supporting environmental organizations, etc.
-
0.1
Other Environmental Costs
Environmental fines, etc.
-
4.4
Total
16.3
132.3
Cumulative Investments in Environmental Measures (0.1billion yen)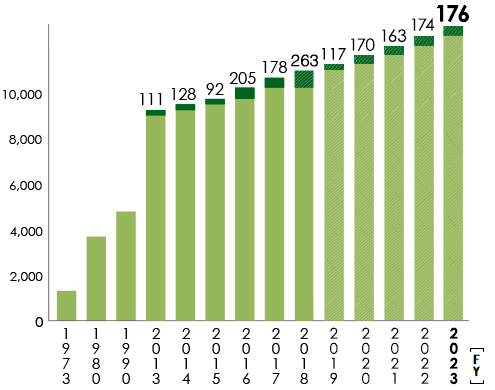 ※The figures above the bar graphs represent the amounts 6of investment made in each respective fiscal year.
Cumulative Investment in Energy- Saving Measures (0.1billion yen)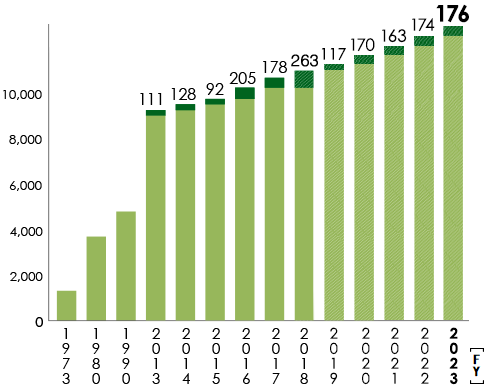 ※The figures above the bar graphs represent the amounts of investment made in each respective fiscal year.