Various Communication Activities
Participation in Eco-Products 2015
In December 2015, Nippon Steel exhibited various products and technologies at Eco-Products 2015, the largest ecological exhibition in Japan, which was held at Tokyo Big Sight. Our exhibition theme of this year was Nippon Steel Group Supporting Life & Lifestyle with Environment and Energy Solutions, and Taking A Step Forward. "We presented our initiatives of the three "ecos" of eco process, eco products, and eco solutions. We also introduced to visitors how we help rebuilding of the disaster-stricken areas in the Tohoku region. It is estimated that around 9,000 people, including primary school children, visited our booth.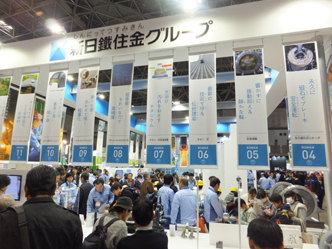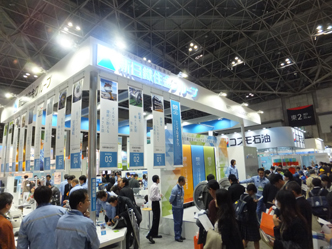 Publishing the illustrated book series "Understanding Iron and Steel"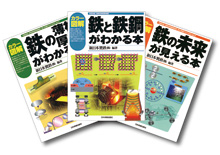 The "Understanding Iron and Steel" book (Nippon Jitsugyo Publishing, full color), which was compiled from the series of articles "Origin of Product Manufacturing—The World of Science" in a magazine we publish for general readers, has become an exceptional bestseller among scientific publications, with over 50,000 copies in print since it was first issued in 2004. The books "Showing the Future of Iron" and "Understanding Thick and Thin Iron Plates" from the same series are also very popular and have been reprinted many times. This series of books not only introduces steelmaking processes and major iron and steel products through the use of illustrations, but also explains in an easy-to-understand and friendly manner the scientific technology of steelmaking under such various subjects as "Battling Rust," "Advanced Analytic Technology," and "Iron and Steel Materials."
Support for the arts
Nippon Steel Arts Foundation operates the Kioi Hall (in Chiyoda-ku, Tokyo), holds classical concerts by Kioi Sinfonietta Tokyo (KST, the resident orchestra of the hall). The foundation makes the hall available for traditional Japanese music performances; there are few places where such performances are common. The objective is to help popularize traditional Japanese music. In 2016, in order to familiarize children and their parents with the fascination of such music, we held a participative program named "Welcome to the world of traditional Japanese music. Enjoy Japanese musical instruments!" in which people who were not musicians joined in Japanese musical instrument workshops with professional musicians.