Quality-related initiatives
Quality management is one of the most important aspects in obtaining the trust and satisfaction of customers in the provision of products and services. All of our relevant employees are responsible for thorough quality management. In coordination with product units and individual steelworks, the Company's Quality Assurance Department promotes measures to cope with Groupwide quality control and assurance issues.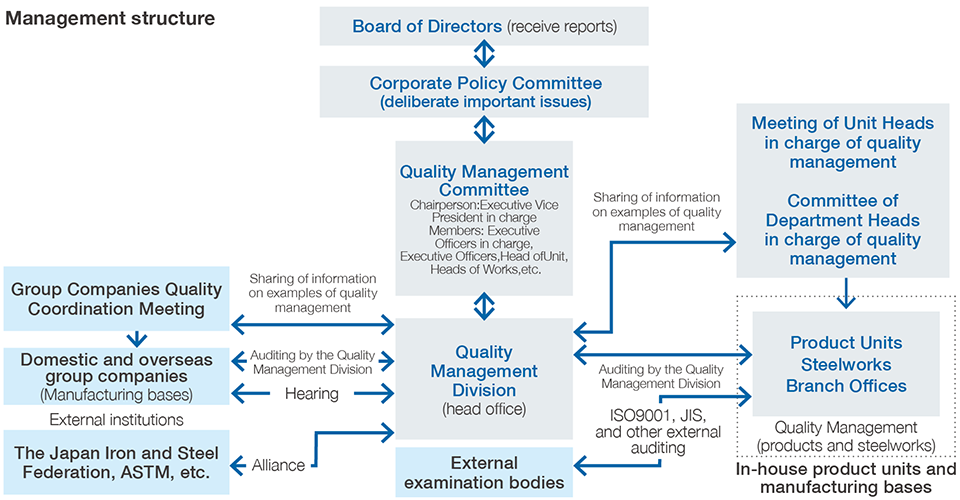 Activities aimed at strengthening the quality assurance system of the Nippon Steel Group
As a basic policy in line with the Japan Iron and Steel Federation's guideline, aimed at strengthening the quality assurance system, we are promoting
the enhancement of education on quality compliance (compliance with laws and regulations)
activities to reduce behavioral risks, and
advanced internal quality audit. Information on quality
related examples is promptly shared across the Group and at appropriate times measures are launched to resolve issues through standardization, systemization, automatization, and other action.
These measures are then implemented to enhance identification management of actual products and to improve reliability of testing and inspection. In addition, the five defined basic rules of quality behavior, formulated in fiscal 2021, have been made known to all employees, with a focus on improving the awareness in quality compliance and preventing quality problems to occur.
Specific initiatives
Enhancement of education on quality compliance

Enhancement of quality compliance education opportunities (ICT utilization, e-Learning)
Spread and retention of the five basic rules of quality behavior (posters in the workplace, education for all employees, preparation of a personal code of conduct)
Promotion of standardization and improvement in capacity of staff

Activities to reduce behavioral risks (risks of human intervention)

Enhanced identification management and reliability of testing and inspection by promoting automation and systemization
Follow-up on the effectiveness of the system to prevent rewriting of test results

Advanced internal quality audit

Periodic audit by the Quality Assurance Department of the Head Office
External audit by acquiring certification of ISO 9001, JIS, etc.
Promote own-initiative audits by educating internal audit staff and improving their capacity

Basic training on quality management