Partnerships with Shareholders and Investors
Nippon Steel is actively engaged in IR activities (investor relations): for its shareholders and investors. The company is making diverse efforts to enhance IR activities, by holding IR briefings and meetings for institutional investors in Japan and overseas; inviting shareholders to presentations and plant tours; and disclosing corporate information via its website, annual reports, shareholders' newsletters, and other means.
Plant tours and IR briefings
Nippon Steel invites shareholders on tours of our steelworks or mills twice a year, in spring and autumn. The tours have been well received by the participants who appear to enjoy to look at our world's state-of-the-art and dynamic manufacturing processes and to better understand our operations. In addition, we hold IR briefings in Tokyo, Osaka, and other major cities in Japan where we explain our business policies and general business performance to participants. Opinions and feedback from those participants are used for our future IR activities.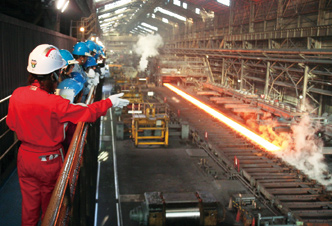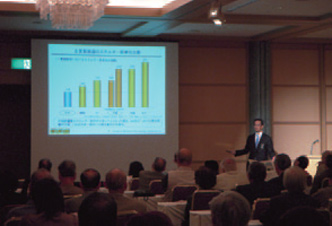 Improvement in conveying information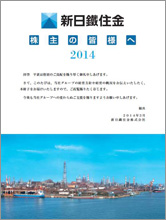 Following the merger of Nippon Steel and Sumitomo Metal Industries, the Investor Relations site on our website has been renewed. Documents and presentations used in IR briefings, stock and corporate bond information, and other information are available on our site. We intend to further improve our corporate information disclosure on our website, both in Japanese and English.
We also send an informational newsletter to all our shareholders holding one or more trading units. We intend to make it easy to understand and replete with various information, including a message from top management and business topics of the Nippon Steel Group. The electronic version of the newsletters is also available on our website.
Announcement of the Mid-term Management Plan
On March 13, 2013, we released our mid-term Management Plan. In order to be the "Best Steelmaker with World-Leading Capabilities" at an early stage, the plan is aimed at building an organization with world-leading competitive strength by 2015—when newly emerging steel mills in East Asia are expected to go into full-scale operation—through the early realization of maximum synergies made available uniquely to Nippon Steel by the business integration. While aiming to strengthen our competitive position and make our overseas business more competitive and show growth in profit earned, we are committed to grow cash flows and profitability, with the mid- and long-term minimum target in return on sales (ROS) of 5%. Our further goal is to establish an organization capable of achieving an ROS of 10%. (Further details of the plan are available on our IR site, including streaming video.)