Fostering Personnel and Personnel Policies
Based on the belief that the development of excellent personnel is a prerequisite for the production of excellent products, Nippon Steel is actively rolling out programs to strengthen the overall capabilities of each employee. Specifically, the identification of skills and capabilities required for certain worksites are being identified and corresponding on-the-job training is being planned and executed through dialogues between supervisors and their subordinates. In addition, training geared to specific career levels and various types of off-the-job training sessions are conducted to complement the basic plan. In addition to the corporate-wide training programs, we have a diversity of off-the-job training programs for each division and each works. In fiscal 2016, 7,000 employees attended a total of 205,000 hours of training sessions hosted by the Human Resources Division.

Our veteran employees are relaying their accumulated skills and know-how to the next generation of young workers in their manufacturing worksites. The method of transferring skills has been evolved by systemized teaching methods such as visualized work procedures and comprehension tests.

Fostering Personnel Who Work for Business Development Overseas
Nippon Steel is actively expanding business in overseas growth markets by using its world-leading technology. In overseas bases, many Nippon Steel employees are working on the projects together with local employees and joint venture partners. We are engaged in a wide range of businesses in Southeast Asia, including Vietnam, Thailand, and Indonesia, the Middle East, North and South Americas, and other regions. At these bases, including joint ventures, we are contributing to local community by creating job opportunities. In order to foster the development of the talents of the men and women who support our overseas expansion, we are making strong efforts in international education, such as training for better understanding of different cultures and holding programs to study abroad.

Examples of training sessions (mainly international education) hosted by the Personnel Divisions

| | |
| --- | --- |
| Training program | Outline |
| Training for better understanding of a different culture (China) | Important points in doing business in the China, negotiation simulations, etc. |
| Practical English training course | Class lessons, combined program of text study and Skype lessons |
| Overseas short-assignment program | Short-term assignment to overseas business companies |
| Preparation program prior to overseas assignment | Guidance for overseas assignment, study, and short-term assignment |
Hiring Activities
Nippon Steel carries out fair and impartial hiring activities, based on the Keidanren (Japan Business Federation) Charter for Good Corporate Behavior. Employees who retired from Nippon Steel for personal reasons accounted for 0.8% of the total employees in fiscal 2016.
Personnel and treatment system
Nippon Steel's administering of personnel policies aim at encouraging our employees to grow and develop their overall capabilities, from the time they join the company until they retire. We also find it important. to ensure consistent, fair treatment of all employees regarding their capability and achievement, by methods including through dialogue between supervisors and subordinates.

In April 2013, we implemented a "work at home" system to give employees time for child care, and a rehiring program for employees who previously left the company for child or elderly care and other reasons.

Other programs
As part of the workplace vitalization measures, JKJK is an acronym for jishu kanri (voluntary management). Small groups are formed on a voluntary basis to achieve selfactualization and pass skills and expertise on to future generations. Convention, skill triathlon games, and the Electric Instrumentation Section skills competition for the whole Nippon Steel Group are held for our employees and our business partners.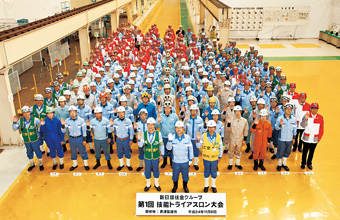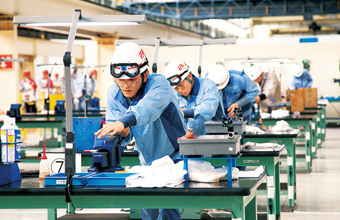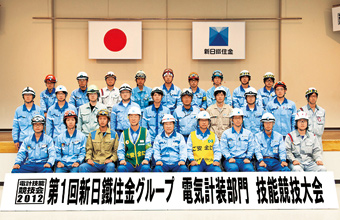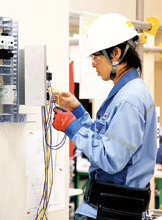 Furthermore, we have various measures that support our employees to balance their work with their family life. We have implemented a "work at home" system to give employees time for child care, and a rehiring program for employees who previously left the company for child or elderly care and other reasons. We opened a 24-hour childcare center for use by shift work employees in steelworks. We are enhancing support programs for our employees, who are raising children, in particular those shift work employees, who have a night shift.