Respect for Human Rights and Promoting Diversity
Respect for human rights
Respecting the international norms concerning human rights, such as the Universal Declaration of Human Rights, the Nippon Steel Group is engaged in creating and delivering value and attractive products, by respecting and utilizing our employees' diverse views and individualities. To discharge our corporate social responsibilities, we formulated the Nippon Steel Group Conduct Code, based on the United Nations' "Guiding Principles on Business and Human Rights." By adhering to the Conduct Code, we conduct business ethically, while paying full heed to human rights issues arising with the increasing globalization of the economy. Respect of all human rights, which include to respect rights of the workers and to eliminate forced labor and child labor, is basic to corporate activities. The Nippon Steel Group strives to eliminate discrimination based on factors such as nationality, race, religion, beliefs, sex, age, sexual orientation, and handicap. In developing overseas business, we also give full consideration to traditions, culture, commercial practices, and common labor practices that are inherent to each country.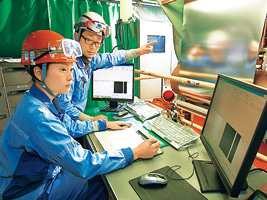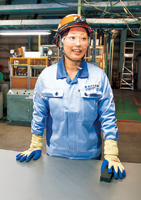 Prevention of Child Labor and Forced Labor
Nippon Steel adheres to the international norms regarding child labor and forced labor and, and, with the objective of contributing to the ending of both types of labor, conducts a regular monitoring survey of its group companies to prevent their occurrence in their business activities.
Respect of the right of association and the right to bargain
Concerning the right of association and the right to bargain in compliance to laws, regulations, and collective agreements, Nippon Steel seeks to have sincere dialogues with organized labor and build a healthy labor-management relationship. We regularly discuss with our labor union management issues such as safety & health and production, diverse labor conditions, including wages and balance of work and private life, among others. High-level management also joins such meetings, seeking to ensure close communication with the labor union through exchange of opinions with representatives of employees.
Promoting a good work-life balance
In compliance with labor laws and regulations of each country, Nippon Steel seeks to build a work environment that enables each employee to make best of his/her ability. In coordination with the labor union, we promote a good work-life balance, encouraging employees to take paid vacation days, and managing appropriate work hours for reduction of long-hour work. Concerning overtime work, we have set the limits in work hours per month and per year, according to the 36 Agreement (named after Article 36 of the Labor Standards Act) exchanged with labor representative by each office and works, and strive to make employees aware of it. We also thoroughly guide managers on labor-related laws and regulations and the company's views on management of labor hours through training sessions for managers, in order to prevent inappropriate labor hour management and abolish long-hour work. For the well being of our employees, we make them thoroughly aware of labor-related laws and regulations and with our compliance guidelines. We also have various benefit programs to assist employees in their private life. Our cafeteria plan of fringe benefits (work-life support program) is one such example. Each division also have its own initiatives, depending on its business conditions, to promote a work-life balance, such as to designate a no-overwork day. In addition to the above, we make use of good examples of other companies and convey opinions from our side as well. We participate in meetings of the Keidanren and other outside associations and exchange opinions on correction of long-hour work, work-life balance, labor-related laws and regulations, and other subjects.
Compliance concerning salaries
Adhering to laws and regulations concerning salary payment, Nippon Steel sets salaries at or above the minimum wage stipulated by each country or region and by industry. Concerning wages including bonus payments, we regularly research their circumstances in each country or region and industry, hold candid discussions with labor unions, and, with due consideration to operating situations and performance, appropriately return earnings to employees.
Addressing risks related to human rights and labor
Every year, Nippon Steel holds a regular, corporate-wide, enlightenment and promotion conference on human rights and anti-discrimination and decides on policy to respond to human rights issues. Based upon this, we undertake activities to raise employees' awareness of the issues. Training sessions led outside lecturers is one of such activities. We also participate as officers in organizations and activities for enlightenment on human rights, hosted by public associations in municipalities, such as Kita Kyushu City, to deal with issues related to enlightenment of human rights, jointly with communities.

In case of doubts over human-rights abuse, including harassment, and problems on labor-management relationships, recourse can be made to a system we have established with engagement by our Compliance Consultation Contacts and other divisions, enabling us to take appropriate action upon investigating the matter. Specifically, we make sure that a whistleblower will not suffer a disadvantage during the investigation process and in case that harassment or other human-rights abuse is ascertained, we proceed with disciplinary punishment, according to the employees' rules of employment. Such cases are made known to the Risk Management Committee to prevent similar incidences in the future. When launching a new business, we carry out due diligence, including a check on human rights, and strive to prevent occurrence of problems concerning human rights and labor.
Communication concerning human rights with internal and external stakeholders
In order to cope with human rights risks, Nippon Steel finds it important to communicate with internal and external stakeholders. Specifically, we have set up a Compliance Consulting Room to receive notifications or inquiries concerning harassment and other human-rights abuse from the group employees, their family members, employees of business partners, and others. Notifications and inquiries from various stakeholders can be made by use of an inquiry form on Nippon Steel's website. (and are kept confidential). To respond to each notification or inquiry, we seek external advice, such as from lawyers and outside specialized agencies, if needed, and then take appropriate steps, while giving guidance and training to people concerned.

Corporate philosophy and Employee Action Guidelines
Following the merger, the Nippon Steel Group Corporate Principles were adopted. It consists of the "basic principles," which articulate the meaning of the existence of the Nippon Steel Group and represent our most important values, and "management principles," which shows our management's important stance and policies in realizing such values. Moreover, in order to realize our corporate philosophy, Employee Action Guidelines were established to serve as the basis of individual employee's attitude, stance, and judgment.
Corporate Philosophy
Our Values
Nippon Steel Corporation Group will pursue world-leading technologies and manufacturing capabilities, and contribute to society by providing excellent products and services.
Management Principles
1.

We continue to emphasize the importance of integrity and reliability in our actions.

2.

We provide products and services that benefit society, and grow in partnership with our customers.

3.

We pursue world-leading technologies and manufacturing capabilities.

4.

We continually anticipate and address future changes, innovate from within, and pursue unending progress.

5.

We develop and bring out the best in our people to make our Group rich with energy and enthusiasm.
Employee Action Guidelines
What we strive for:
Creativity, Innovation and Growth 
We constantly seek self-improvement, pursue ambitious goals with enthusiasm, and continuously challenge ourselves to do better.
What we value most:
Self-empowerment, Workplace and Essentiality
We observe rules, keep our promises and pierce to the heart of matters by actively investigating the facts.
What we encourage:
Dialogue, Collaboration and Sharing of Knowledge
We build mutual trust through dialogue and collaboration, and seek to pass on our spirit and skills to the next generation.
We will be guided by these principles, and act fairly and equitably throughout the world.