Bridges
Bridges are an infrastructure essential for people's lives.
The NSSMC Group supports bridge building at the global level with the world's highest technologies.
Building bridges
Protecting bridges
Weathering steel COR-TEN™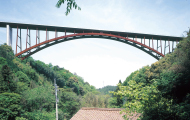 Weathering steel can be used without coating. Eliminating the need for a coating coat including re-coating contributes to reduction in life-cycle cost. The feature is "to prevent rust," which is the weakest point of iron due to "rust." At first, rust is generated similarly to normal steel, but dense protective rust is eventually formed on the surface with the function of alloy elements. In this way, progress of rust is controlled. An esthetic effect whereby the subdued color of protective rust matches the scenery in Japan and that it is loved as a local landmark may be expected.
More Information
Nickel-based weathering steel NAW-TEN™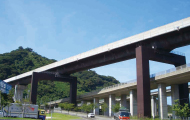 For bridges using weathering steel, reduction in life-cycle cost is evaluated and it accounts for about 30% compared to steel bridges. However, salt environments adversely affect weathering steel, limiting its use. NSSMC has developed its original high-weathering steel NAW-TEN™, which showed improved salt damage resistance better than general weathering steel by addition of nickel. This technology received the Ichimura Industrial Award and the Contribution Award in FY1999 and received the Monozukuri Nippon Grand Award, Excellence Prize in FY2009.
More Information
CORSPACE™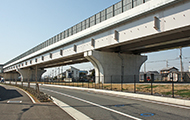 NSSMC found that progress of rust at a coating defect was controlled by adding a trace of alloy to steel. Based on this idea, strength or weldability equivalent to conventional steel was obtained. New weathering steel for coating bridges was put on the market (CORSPACE™). The maintenance cost is reduced by extending the period until re-coating or reducing the need for re-coating.
More Information
Duplex stainless steel footbridge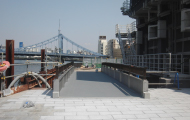 A footbridge using duplex stainless steel as the main material featuring high strength and high corrosion resistance. Duplex stainless steel makes re-coating maintenance of the bridge unnecessary and contributes to reduction in life-cycle cost. In particular, it achieves no maintenance in environments where salt damage is a problem.
Nippon Steel & Sumikin Stainless Steel Corporation
More Information
NS cover plate™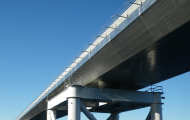 Exterior material for bridges using metal skin material (3 types: titanium, stainless steel, and coated steel sheet) with high corrosion resistance. The bridge is protected from external corrosion factors such as wind/rain, solar radiation, salt, etc. and a high corrosion preventive function protecting from corrosion factors such as condensation greatly extends the period until re-coating. In this way, the maintenance cost can be reduced. Since the panel itself has strength, it can be used as a scaffold to perform safe and definite short-range visual inspection.
Nippon Steel & Sumikin Engineering Co., Ltd.
More Information
Bridge using square piping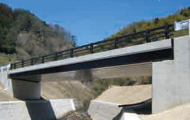 New-type metal slab bridge using square piping for a short-span bridge (within 15 m) as the main girder. In comparison with the PC bridge, substructure reaction is reduced by about 20% to make the substructure compact. Since the girder height is low, the existing substructure can be reused when the superstructure is renewed and it is suitable for bridges on rivers in cities, and bridges having multi-level crossings with main roads or railways. Panels are produced in a factory and built on the site. Construction is fast and simple and construction in narrow places can be performed with a heavy machine.
Nippon Steel & Sumikin Engineering Co., Ltd.
More Information
Water pipe bridge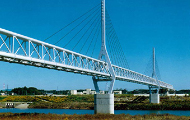 A water supply channel is an important facility for water business. Most of the piping is buried under the ground. In crossing rivers, the presence is shown as a water pipe bridge. It is necessary to be safe under all conditions and to be functional over a long period of time. An esthetic element that has good harmony with the construction environment is also an important item.
Nippon Steel & Sumikin Pipeline & Engineering Co.,Ltd.
More Information
Ultrasonic impact treatment (UIT)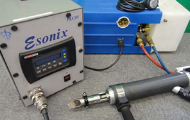 UIT of Nippon Steel & Sumikin Technology Co., Ltd. is a system by which the fatigue strength of steel members is improved. The impact pin attached to the end is vibrated at high speed to apply impact to the weld area. It is effective for extension of the fatigue life at a weld toe and it contributes to reduction of the maintenance cost. We have a proven record exceeding 100 including the D runway of Haneda Airport.
Metal coating method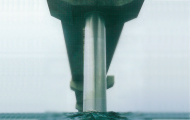 The metal coating method protects the surface of the steel sheet by titanium sheet or stainless steel sheet with very high corrosion resistance/durability. It is used for piers of the Tokyo Bay Highway and the D runway connecting bridge of Haneda Airport, and it meets the needs of corrosion resistance life of 50 years or more. As an anti-corrosive repair method for steel materials, Nippon Steel & Sumikin Anti-corrosion Co., Ltd. is implementing the TP method, which provides a protection cover with a titanium plate over the anti-corrosion treatment by petrolatum tape, or the method that improves anti-corrosion property by affixing titanium foils in areas where coating film deterioration or corrosion may easily occur to prevent entry of corrosion factors.
NIPPON STEEL Corporation
&Nippon Steel & Sumikin Anti-Corrosion Co., Ltd.
More Information