Civil engineering
We have various construction methods and products, which excel in measures against noise and vibration, environmental measures, or quake resistance, shortening of construction periods or reduction of costs.
NS ECO-PILE™
Roads and Railways
Ports and rivers
Construction and building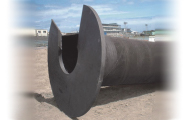 Eco-friendly piling method :Low noise and low vibration,no waste soil,no ground pollution
High reliability and quality:Large bearing capacity and pulling resistance capacity,thanks to the helical blade
Highly applicable to severe construction conditions:Small area,nearby existing structure, requirement for small foundations
More Information
Submerged Strut method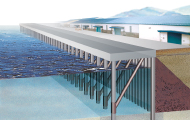 The improved performance of the structure makes it possible to reduce the number of piles used.Further, using the prefabricated structural members,reduced structure occupancy width,and reduction in the soil improvement area, speedy and space-saving construction is possible.
Applicable to construction in which quay walls are to be deepened or reinforced while facilities behind river revetments are left untouched,as well as to aseismic retrofitting of quay walls.
More Information
U-type sheet piles
U-type sections have been widely used for various types of permanent and temporary structures,and are one of the most familiar sheet piles among both designers and users.
NS-SP-Ⅱ,Ⅲ,ⅢA,,Ⅳ,ⅤⅬ and ⅥⅬ are solidly designed.These sections are especially suitable for repeated use,and have acquired high market acceptance from users.
U-type sections offer section modulus ranging from 874 ㎤/m to 3,820 ㎤/m.
More Information
Hat-type sheet piles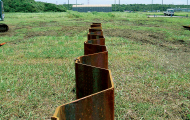 Hat-type sheet pile is 900mm in width.
Superb drivability:The large sectional area of the Hat-Type sheet pile realizes superior drivability.
High structural reliability:No reductioon is required in sectional properties to consider the possible lack of shear force transmission at the interlocks,which is true for U-type steel sheet piles.
Excellent cost-effectiveness:The amount of steel per unit wall can be reduced,resulring in improved total cost.
More Information
Hat-type and H-shape combined high stiffnes steel sheet piles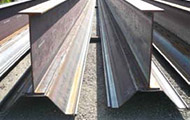 Availability of numerous sectional properties:Hat-type and H-shape combined high stiffness steel sheet piles come in combination of Hat-type sheet piles which have four types and H-shape sections which have many types.Eventually they provide more than 200 types of economical properties(Section modulus per meter of wall:Approx.2,320 to 19,970㎤/m)
Ease of Installation:An ordinary vivratory hammer is directly applicable for driving.The Hat-type and H-shape combined high stiffness steel sheet pile,having higher moment of inertia per pile compared with Z-type and other type piles,is very easy to work with.
Straight web-type sheet piles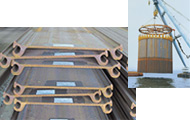 High joint strength:This type of sheet pile boasts extremely high tensile strength at its interlocking sections,up to 5.88MN per linear meter of joint length,and is suited for use in celluar-type structures,such as quay walls,manmade island seawalls,cofferdams,and other similar projects.In addition,we can provide the longest product currently possible :a maximum of 38.0m.
Large deviation angle:This sheet pile has large deviation angle at interlocks(the interlock swing),the maximum angles for the combination of the identical types of straight web-type sheet piles are respectively 10.0 and 12.5.
Steel Pipe Sheet Pile Foundation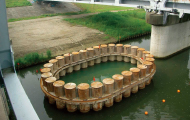 Foundations possibile to be used both for temporary cofferdams and for permanent foundations can reduce construction periods and costs.A group of steel pipe sheet piles moves together,which can provide high horizontal resistance and vertical bearing capacity,along with reducing the occupied area at the same time.Using the interlocks of high shear strength can further reduce the size of foundations.The foundation can also be ued for aseismic retrofitting of bridges.
More Information
NS-SUPERGRIP™ (stepped steel pipes)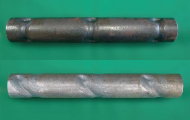 Steel pipes with a design strength of 400 N/mm2 for building construction. Using this product enables rational and economic structural designs.
More Information
NS-SUPERGRIP™ (dimpled steel pipes)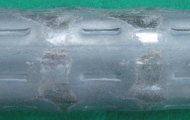 These are steel pipes having small and shallow depressions in the axis and circumference directions. Their cement-bonding properties have been significantly improved while their structural performance such as compression and bending properties is maintained. They can reduce costs and construction periods and can enhance the reliability of structures.
More Information
TOUGH GUARD™ series
Ports and rivers
Construction and building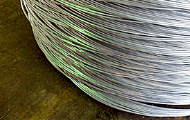 The TOUGH GUARD™ series are new types of plated wires having corrosion resistance approximately five times that of conventional zinc aluminum alloys. TOUGH GUARD™ FROST was developed exclusively as a base material of wire mesh for river bank protection. Soft steel wire rods with a rough surface do not easily slip.
More Information
Lean Duplex Stainless Steel (NSSC2120™ and SUS323L)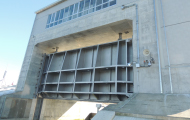 This is a new type of stainless steel optimum for measures against tsunamis and water control measures such as dams, floodgates, and gates. The two-phase metallographic structure has achieved strength approximately twice that of the conventional type (SUS304). This is resource-saving stainless steel with less Ni and other alloy elements while its corrosion resistance is higher.
Nippon Steel & Sumikin Stainless Steel Corporation
More Information