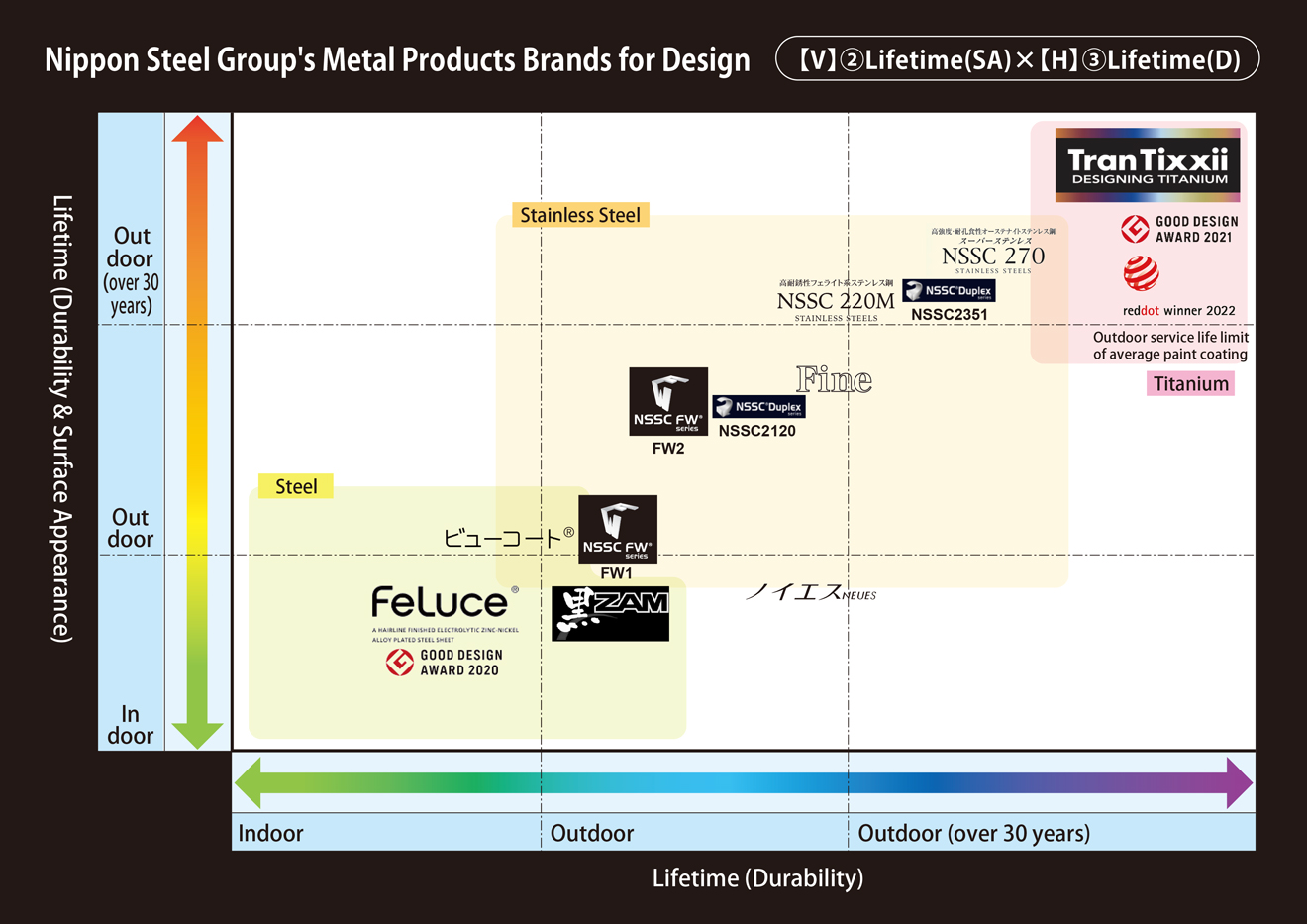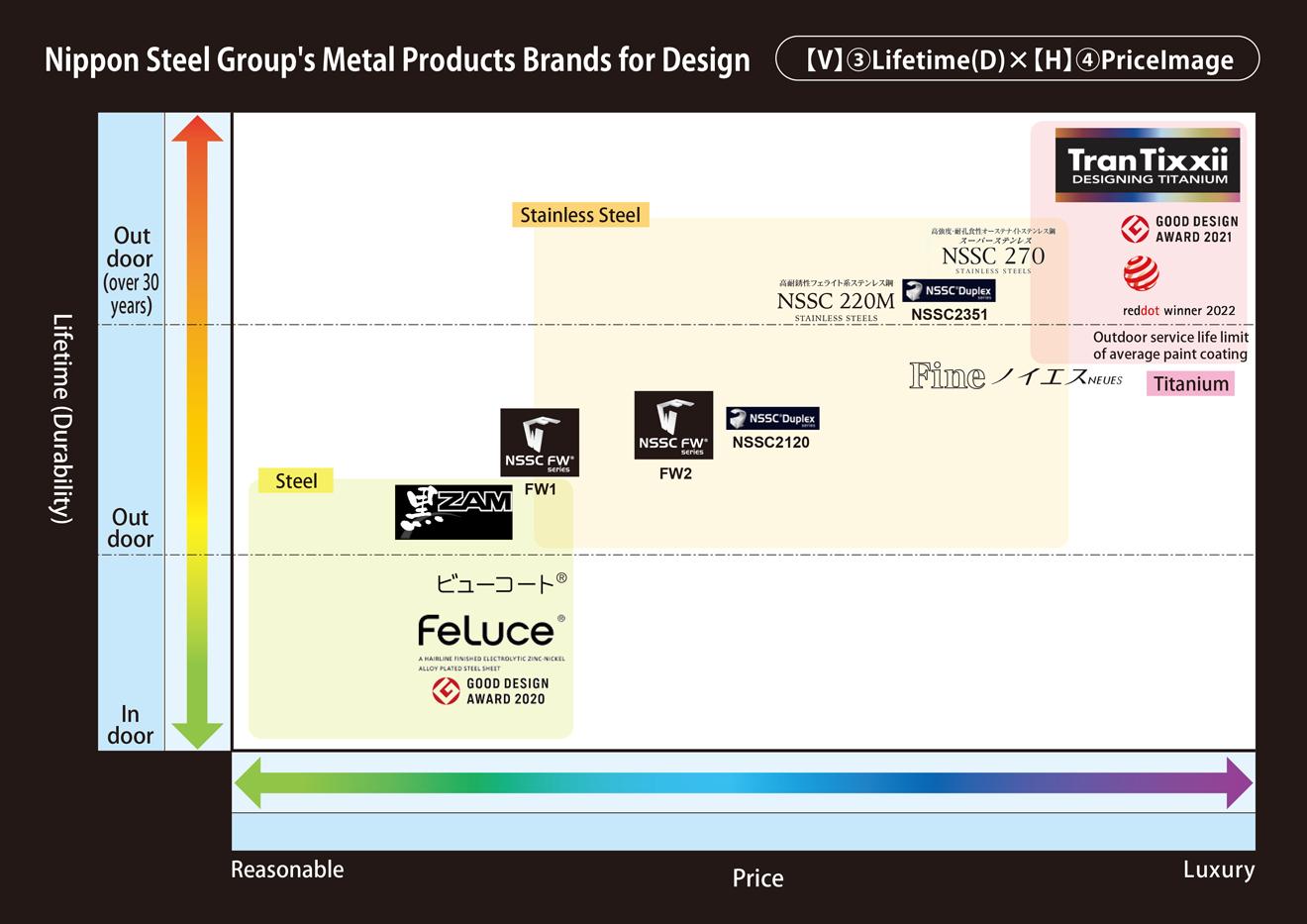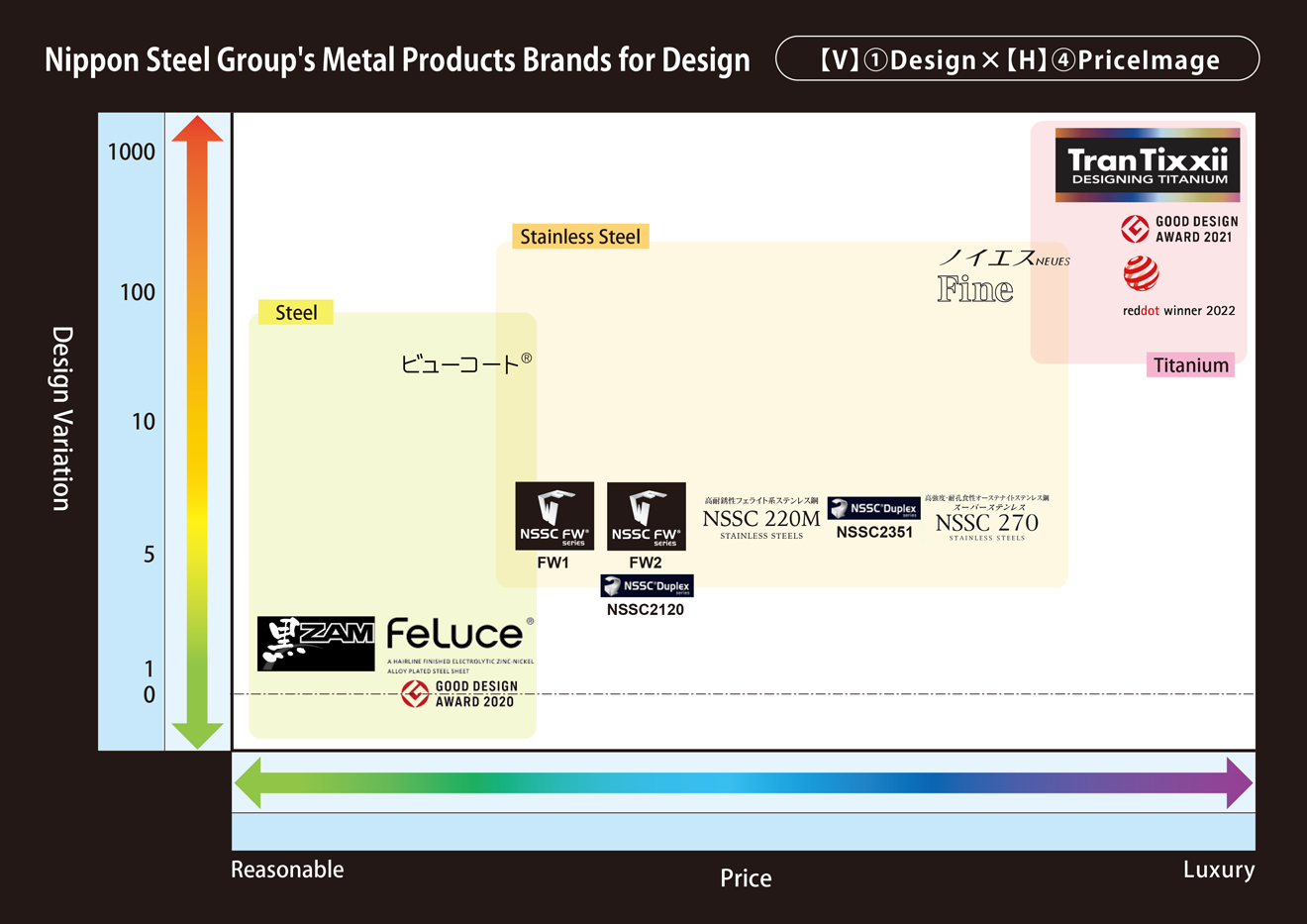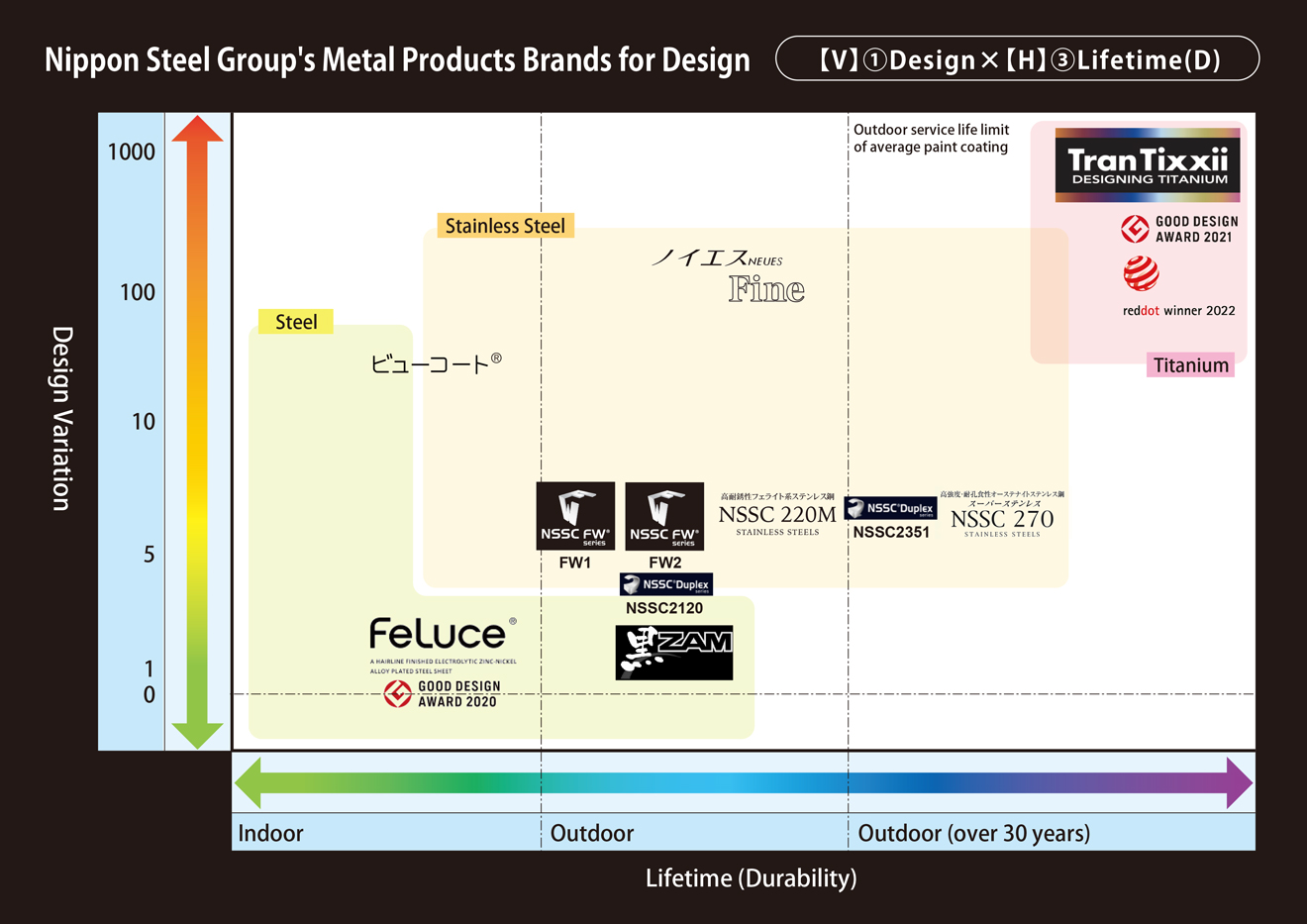 Titanium&Titanium Alloys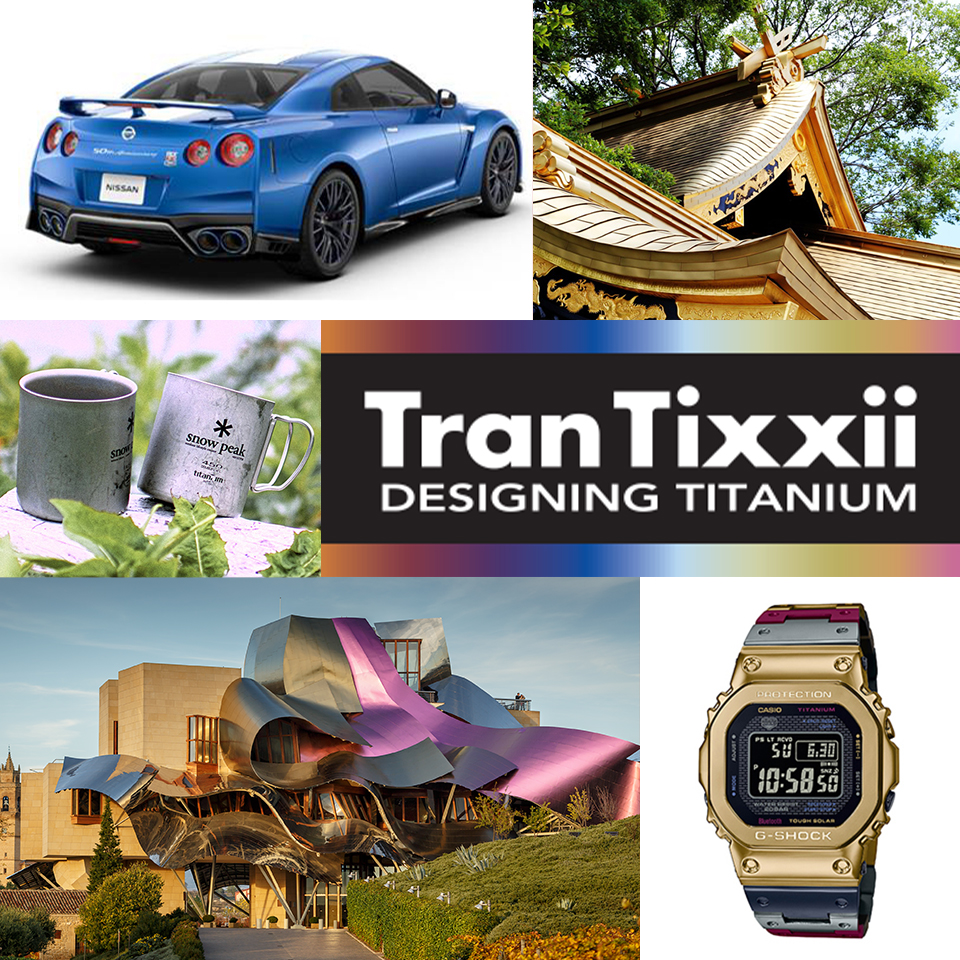 Designing Titanium TranTixxii®Brand (Titanium Material for Design&Luxury)
Winner of the Good Design Award in 2021 (nonferrous metal/world's first). 2022 Reddot Design Award (metal material/world's first).

TranTixxii® is a Titanum material for Design&Luxury, which combines Titanium's characteristics(long life (over 100 years), light weight, high strength, and excellent environmental performance), with World's Only1&No.1 cutting-edge Technology of Aesthetic Expressions (color beauty, color tone beauty, and over 1000 design variations).

Boasting material variations that combine workability, strength, heat resistance, and other performance characteristics that suit the application, TranTixxii® is used in a wide range of processing and application scenarios, from large-area architectural exteriors to watches, fixtures, sports cars, and works of art.
From traditional beauty to cutting-edge contemporary product design, TranTixxii® has been highly evaluated by the world's leading architects and designers for its high expressive power.

The TranTixxii brand contributes to "beauty" and "emotion" through time, from prestigious traditions to the great expressions of masters and cutting-edge high performance.
stainless steel
Steel sheet (Galvanized steel sheet, Painted steel sheet)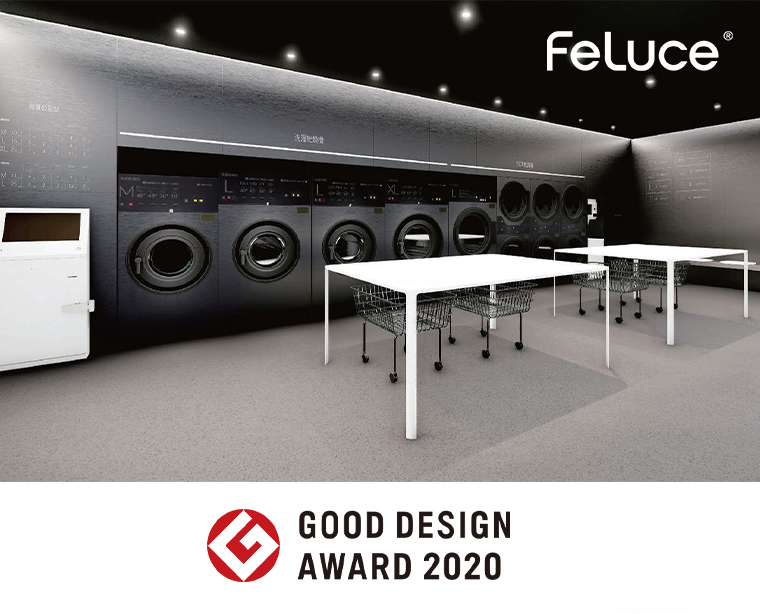 New Possibilities in Product Design
Winner of the Good Design Award 2020.
A new steel sheet created by an innovative manufacturing process that adds design to the plating layer itself, which is applied to ensure anti-corrosion performance. Available in black and silver.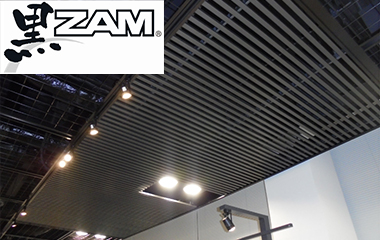 Black finish that preserves the texture of the material itself
Black finish is achieved while retaining the texture of the material, which cannot be achieved by painting. It is possible to create a design that gives a sense of serenity to the interior.
At the same time, the material is expected to reduce costs and CO2 emissions by eliminating post-painting.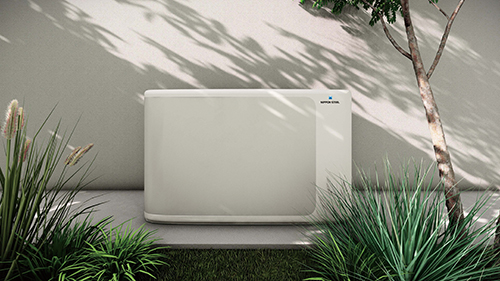 Nippon Steel's VIEWKOTE® pre-coated steel sheets are made possible by our revolutionary coating facilities, which allow us to offer products adapted to everyone's needs by combining various coatings and base steel sheets that we have independently developed.
---
To prevent temperature rise due to heat generation inside the product, a high heat-absorption type view coating was developed, in which a steel plate used for the inside of the housing is coated with a film with excellent heat absorption properties to allow the heat to escape to the outside. This coating is used in audio products, flat-screen TVs, TV tuners, and other products
By making the pattern look like the surface of yuzu, it is possible to make scratches on the surface of home appliances less noticeable. It also meets the increasingly sophisticated appearance needs of home appliances by creating beautifully fine and uniform unevenness by precisely controlling the unevenness rather than randomly. It is used for outdoor units of air conditioners and side panels of refrigerators.
In addition to making it easier to discharge charged static electricity and thereby preventing dust from being attracted, we have developed an antistatic type VIEWKOTE that has the effect of suppressing charging itself due to friction. Compared to conventional coated steel sheets, the antistatic VIEWKOTE has succeeded in reducing the electrostatic voltage to one-fourth, and is used for side panels of refrigerators.
We have developed a sloped coating film that hardens only the surface layer of the coating and softens the interior. Furthermore, the surface of the coating film is designed to be easily absorbed by water so that water can easily penetrate between the contaminant and the coating film, thereby achieving self-cleaning, whereby the contaminant is easily washed away by rainwater, etc. It is used for outdoor air conditioner units and heat pump water heaters installed outdoors.
| Products | Company | Inquiries |
| --- | --- | --- |
| Designing Titanium TranTixxii® (Titanium Material for Design&Luxury) | NIPPON STEEL Corporation | |
| FINE COLOR | NIPPON STEEL Stainless Steel Art Corporation | |
| Neues | NIPPON STEEL Stainless Steel Art Corporation | |
| NSSC FW® Series | NIPPON STEEL Stainless Steel Corporation | |
| Super Austenitic Stainless Steel (NSSC®270) NSSC®270. | NIPPON STEEL Stainless Steel Corporation | |
| Highly weather-resistant ferritic stainless steel (NSSC®220M) NSSC®220M | NIPPON STEEL Stainless Steel Corporation | |
| NSSC Duplex(NSSC2120®・NSSC®2351) | NIPPON STEEL Stainless Steel Corporation | |
| FeLuce® | NIPPON STEEL Corporation | |
| Black ZAM | NIPPON STEEL Corporation | |
| VIEWKOTE® | NIPPON STEEL Corporation | |