Nippon Steel published EcoLeaf Environmental Product Declaration (EPDs) for the Process Omission Steel Bar and Wire Products
Jun. 01, 2022
Nippon Steel Corporation
Nippon Steel Corporation (Nippon Steel) has published the EcoLeaf Environmental Product Declarations (EPD*1), which is provided under the Japan EPD Program by SuMPO, a certification program operated by the Sustainable Management Promotion Organization (SuMPO), for our process-omission steel bar products and process-omission steel wire products (process-omission steel bar and wire products). (Prior to these latest achievements, in February 2022, Nippon Steel received certifications for our bar & bar in coil, wire rod, bar & bar in coil (building materials), and wire rod (building materials), which represent all product categories.)

The EcoLeaf EPD is an EPD (*1) certification program that uses the Life Cycle Assessment (LCA) method to quantitatively visualize the environmental information of products throughout their life cycle stages, from the extraction of resources to manufacturing/assembly, distribution, use, and discarding/recycling. This allows our customers to objectively assess the environmental burden throughout the life cycles of the products they use.

The process-omission steel bar and wire products are high-performance steel materials that enable customers to eliminate some of the multiple and diverse steel processing steps (heat treatment, wire drawing, finishing, etc.). In manufacturing steel products, the steel processing steps, which are performed to satisfy quality requirements for final products and parts, consume a considerable amount of energy and emit CO2. As efforts to address these issues, Nippon Steel has successfully eliminated some of the steel processing steps (e.g., heat treatment) for our customers by bringing out the properties of steel through the application of our proprietary heat treatment process, special control measures for manufacturing processes, and addition of trace elements, etc. during the internal manufacturing stage at our company. Moreover, the process-omission steel bar and wire products successfully reduce CO2 emissions throughout the supply chain including Nippon Steel and our customers.
As society and the market increasingly expect companies to reduce CO2 emissions, CO2 emissions reduction initiatives utilizing our process-omission steel bar and wire products, which have recently been certified with the EcoLeaf environmental label, will enable our customers to advertise their GHG Protocol Scope 1 (*2) emission reductions to the public. Nippon Steel will proactively respond to and support requests and needs regarding CO2 reduction realized by our process-omission steel bar and wire products.

Since first published the EcoLeaf EPDs for our H-shapes in December 2019, Nippon Steel has thus far published a total of 35 EcoLeaf EPDs for variety of products, covering most of our steel products. As initiatives for carbon neutrality accelerate worldwide, customers are evaluating companies from an increasing number of aspects including the materials that they use, too. Nippon Steel will continue to support our customers' international competitiveness by providing high-performance steel products that help reduce CO2 emissions for all of society including in the processing stages, such as process-omission steel bar and wire products.

Nippon Steel will pursue world-leading technologies and manufacturing capabilities while actively disclosing the environmental performance of our steel products, which are highly recyclable, environmentally friendly, sustainable, and in compliance with the Sustainable Development Goals (SDGs) adopted by the United Nations.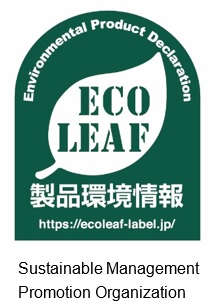 (*1) EcoLeaf EPD
A "Type III environmental declaration", known as EPD (Environmental Product Declaration), compliant with the ISO 14025 standard. EPD quantitatively discloses the information on emissions to environment etc. of the declared products from resource mining, transportation, manufacturing etc. and recycling potential. The program is operated by the Sustainable Management Promotion Organization (SuMPO) in Japan. The declaration provides quantitative information for the corporate climate action.

(*2) GHG Protocol Scope 1
The GHG Protocol is an international standard for calculating and reporting greenhouse gas (GHG) emissions.
Emissions are classified into three scopes, and the sum of Scopes 1, Scope 2, and Scope 3 emissions indicates the total CO2 emissions from the entire supply chain. Scope 1 emissions are direct GHG emissions from sources that are owned or controlled by an organization.

Reference1: News release on February 2022 ("Nippon Steel Obtains EcoLeaf Environmental Product Declaration (EPD) Certifications for Steel Bars and Wire Products")
https://www.nipponsteel.com/en/news/20220202_100.html

Reference2: SteeLinCTM brand website
https://www.nipponsteel.com/en/steelinc/proposal/


For inquiries
• Inquiries related to this press release:
Public Relations Center: +81-3-6867-3419
• Inquiries related to products and business:
Bar & Wire Rod Technology Dept., Bar & Wire Rod Technology Div.: +81-3-6867-6748