TranTixxii® (Designing Titanium) wins the Red Dot Design Award 2022 -The world's first metal material to receive the award-
Apr. 27, 2022
Nippon Steel Corporation

Nippon Steel Corporation (Nippon Steel) has been awarded the Red Dot Design Award 2022 for our
Designing Titanium TranTixxii®. This is the world's first metal material to receive this award.

The Red Dot Design Award is an international product design award sponsored by Germany's Design Zentrum Nordrhein Westfalen. Candidates are judged on nine criteria, including their design innovation, functionality, ergonomics, ecology, and durability, with outstanding candidates selected for awards.
The Red Dot Design Award is recognized as one of the three major design awards in the world, along with the iF Design Award (Germany) and the IDEA (USA).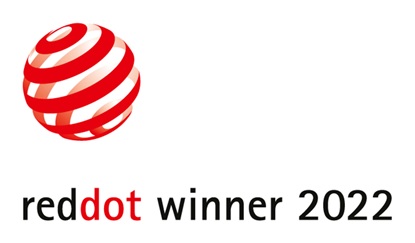 Currently, Nippon Steel has been enhancing PR and sales activities for TranTixxii® in developed markets such as Europe and North America, where many world-renowned designers and design firms are located, and this award is believed to contribute towards a heightened level of recognition of TranTixxii®. Nippon Steel will continue to promote the TranTixxii®brand and offer sustainable contributions toward architecture and product design across the globe through its superior functionality and design.

The Nippon Steel Group offers a wide variety of Metal sheet products for Design Use , including the Designing Titanium TranTixxii®, the Designed Steel Sheet Feluce®, and Stainless Steel Sheet Products for Design Use (NIPPON STEEL Stainless Steel Corporation, NIPPON STEEL Stainless Steel Art Corporation), that contribute to the improvement of Architectural and Product Design. With the spread of these products, Nippon Steel shall continue to contribute toward urban development and the enhancement of living environments.


Award details
Subject of award Designing Titanium TranTixxii
(Latest product lineup (updated 2021))

Award details Red Dot Design Award 2022
Red Dot Product Design
Certification authority Design Zentrum Nordrhein Westfalen
Design collaboration Osamu Ieda (brand design)
Other collaborations: Osamu Ieda/ OKAYA & CO., LTD./OKAYA EUROPE GMBH


▼ "TranTixxii®" brand website
https://www.nipponsteel.com/en/product/trantixxii/
▼ Download the "TranTixxii®" catalog
https://www.nipponsteel.com/en/product/trantixxii/catalog/
For inquiries
Public Relations Center Tel.: +81-3-6867-3419
Automotive & Construction Material Marketing Dept. Tel.:+81-3-6867-5611