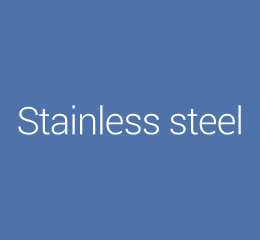 NAR-600
Nickel base alloy which is resistant to corrosion by high temperature alkali and high temperature water and has excellent oxidation resistance.
[Chemical Composition 15Cr-75Ni] [ Corresponding Standard NCF600 / ASTM UNS N06600] (INCONEL Alloy 600 equivalent)
Chemical Composition (mass%)
Typical example
C
P
S
Cr
Ni
Fe
≦0.15
≦0.030
≦0.015
15
remnant
8
Mechanical Properties
0.2%-Proof Strength
[MPa]
Tensile Strength
[MPa]
Elongation
[%]
Hardness
[HRB]
Specification
≧245
≧550
≧30
≦89
Typical example
364
666
35
88
Features
This nickel alloy can be used in various intense corrosive environments at high temperatures.
This alloy shows excellent oxidation resistance up to 1180 ℃.
In addition to excellent corrosion resistance and oxidation resistance, this alloy has both high strength and workability, and can be strengthened by cold working.
This alloy shows excellent mechanical properties even at low temperatures.
Anti-stress corrosion cracking due to chloride ion and corrosion resistance to pure water are good, so this alloy is used for parts for nuclear reactors.
This alloy has excellent corrosion resistance against alkali at high temperature.
Example of the service temperature of NAR-600 for various atmospheres
Conditions
Allowable temperature
Gas atmosphere

Atmosphere (Sulfide atmosphere)

Max 1150℃
Max 810℃

CO2gas
Atmosphere (Sulfide atmosphere)

Max 1150℃
Max 810℃
Max 510℃
Max 480℃

Water vapor
Carburizing atmosphere
Nitriding atmosphere

Max 980℃
840 - 980℃
480 - 560℃
Moltern salt, Neutral salt bath
NaOH
840 - 950℃
Max 816℃
Liquid metal Na, K (still state)
Hg (still state)
Max 700℃
480 - 560℃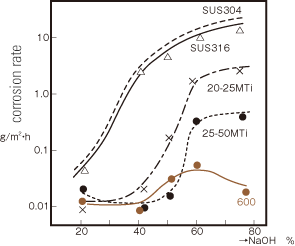 Product Form
Examples of use
Muffle for heating furnace, electronic equipment parts, heat exchanger component, chemical/food equipment, carburizing basket, nuclear reactor parts, caustic soda manufacuturing equipment, sheath heater, expansion joints.
List of Nickel and Nickel alloy products
Contact Information
For further product information
Product Quotes, and inquiries without complete information required in inquiry form may not be responded to. Selection of inquiries for reply online is at the sole discretion of NIPPON STEEL. We appreciate your understanding.