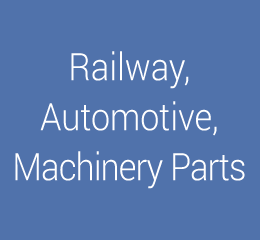 Crankshafts and front axle beams
We have a proud tradition of manufacturing die-forged products since the founding of us. Our production facilities include the largest mechanical press in the world, our 16,000-ton high-speed forging press line, a 10,000-ton high-speed forging press line, a 6,500-ton high-speed automatic forging press line, a 5,000-ton high-speed automatic forging press line, and a 35-ton-meter hammer line, a 50-ton-meter hammer line. We use these facilities to manufacture approximately 4 million crankshafts annually. The proprietary manufacturing technologies that we have established are also highly evaluated by our many customers.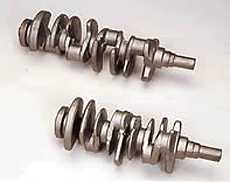 Characteristics
Superb manufacturing technology and facilities
We have a variety of forging, heat treatment and testing facilities for all types of applications. All the products produced with these facilities are guaranteed to be state-of-the-art and of consistent quality.
High dimensional accuracy
Using high-precision forging presses, we can provide products with high dimensional accuracy, even for complex shapes.
Integrated quality control system
Using high-quality steel supplied by our own steel works, all processes are conducted under an integrated quality control system, right up to delivery of the products.
Selection of optimum material for each application
Using our own steel for all products, we can select the best-suited material for each application.
CAE-driven product design
We can provide CAE-based design evaluation technology to assist customers with their product design.
Well-developed functional evaluation technology
We can make various evaluations of the crankshafts, including single-component fatigue tests, material tests and so on.
Production range
| Major products | Weight [kg] | Overall length [mm] |
| --- | --- | --- |
| Crankshafts | 5 to 2000 | 300 to 3000 |
| Front axle beams | 30 to 150 | 700 to 2000 |
| Aircraft landing gear | 35 to 500 | − |
We can manufacture various sizes of crankshafts for use from automobiles to industrial machinery.
Explore
Crankshafts for passenger cars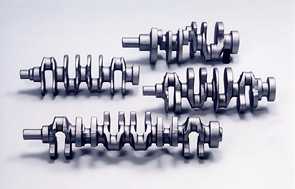 Crankshafts for trucks and buses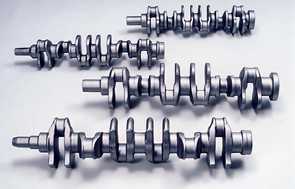 Front axle beams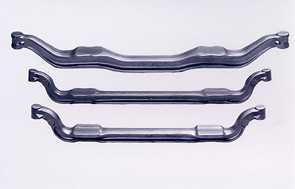 Landing gear for aircraft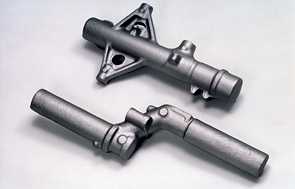 Contact Information
For further product information
Product Quotes, and inquiries without complete information required in inquiry form may not be responded to. Selection of inquiries for reply online is at the sole discretion of Nippon Steel. We appreciate your understanding.