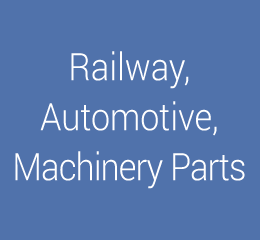 Axles
In terms of safety, the axle, together with the wheels, is one of the most important wheelset components. We began manufacturing axles in 1916. As the speed of rolling stock has increased and resulting service conditions have become harsher, we have developed induction-hardened axles with extremely high safety standards. These are used in a wide range of high-speed and high-load applications, including the Shinkansen bullet trains. We have also developed hollow axles to significantly reduce unsprung mass, which has greatly contributed to improved energy savings and a smoother ride.
We currently boast an annual production capacity of 18,000 axles, the superior quality of which is recognized not only in Japan, but through the world as well. Taking full advantage of an integrated iron and steel manufacturing system, we cooperate closely with our steel works to select the most suitable materials for each product. We constantly strive to develop and promote new products and technologies, thus ensuring our continued ability to meet customers' diverse requirements.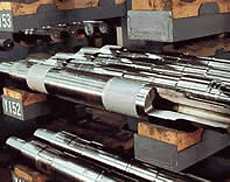 Characteristics
Superb manufacturing technology and facilities
We operate extensive steelmaking facilities suited to the manufacture of a variety of products. Our facilities include those with forging, heat treatment, machining and testing capabilities, and they utilize sophisticated manufacturing technologies developed through years of experience. We can assure both consistent quality and a high level of dimensional accuracy.
High-quality forging stock
Our forging stock is manufactured using Numerical Control (NC), resulting in superior uniformity. Performing simultaneous forging in four directions at once makes it possible to manufacture products with consistently high levels of quality.
High dimensional accuracy
Equipped with a full range of automated, high-output machining equipment for lathing, grinding, and finishing the end faces of axles, we can achieve high dimensional accuracy by using the most suitable machining tools for each shape.
Integrated quality control system
Using high-quality ingots and billets supplied by our own steel works and electric furnaces, we carry out manufacturing under a stringent, integrated quality control system in all processes from raw material to final shipment.
Explore
Drive axle for electric train

Trailing axle for electric train

Hollow axle
Developed to reduce unsprung mass, the hollow axle achieves weight reduction of around 20% per unit.
The hollow structure also enables ultrasonic flaw detection from the inside, making inspection easy and accurate.

Induction-hardened axle
Induction-hardened axles are subjected to induction hardening on the axle surface, resulting in a great increase in fatigue strength.
They are widely used for high-speed, heavy-load rolling stock.

Trailing axle for freight cars

Contact Information
For further product information
Product Quotes, and inquiries without complete information required in inquiry form may not be responded to. Selection of inquiries for reply online is at the sole discretion of Nippon Steel. We appreciate your understanding.