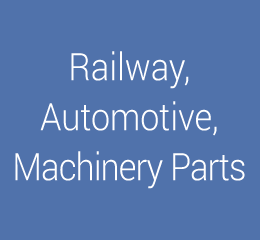 Driving mechanism
In 1919, we built a gear factory, and until the middle of the 20th century we manufactured gears for various machines and railway trains, beginning with gears for nose-suspension drives for railway trains. Then we began manufacturing parallel cardan and perpendicular cardan drive units, and since then have been steadily engaged in the design and manufacture of railway train drive units and gear couplings. Our products currently are used by customers in Japan and abroad, in cars such as those used for the Shinkansen bullet train. This is thanks to our original designs that incorporate measures for high performance, solid construction and easy maintenance, as well as our use of sophisticated manufacturing technologies and facilities.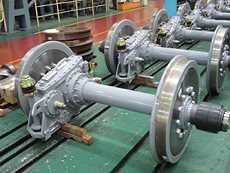 Characteristics
Optimal design
Based on our years of experience and performance, we offer total design of parts and components, including gears, gear cases and bearings, suited to each user's applications. In particular, in recent years, as new types of trains such as the Shinkansen are being built to run at higher speeds, we have continued to strive to incorporate improved weight, quietness, and safety performance into our development and design work in order to meet clients' expectations.
Superior testing facilities
Final inspection rolling rig testers, as well as a variety of other types of test equipment, such as high-speed loaded spin test equipment exclusively for drive units, normal- and low-temperature starting testers; and a swaying coupling load tester, allow us to provide optimized assessment and evaluation results.
Sophisticated manufacturing technology and facilities and an integrated quality control system
We are also equipped with steelmaking facilities, forging and heat treatment facilities, as well as gear machining and honing facilities, to supply a variety of high-quality gears under an integrated quality control system. In addition, our gear cases are highly precision-machined, and then assembled and inspected in a fully equipped cleanroom under strict control systems.
Explore
Gear assemblies for traditional railway cars (mono-block gear case)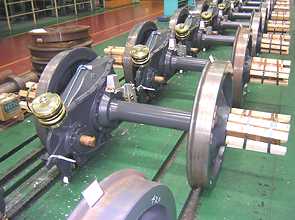 Gear assemblies for traditional railway cars (split gear case)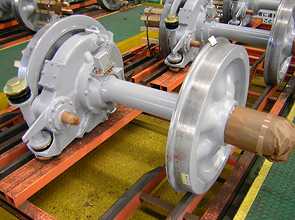 Gear assemblies for Shinkansen bullet train cars (Aluminum gear case)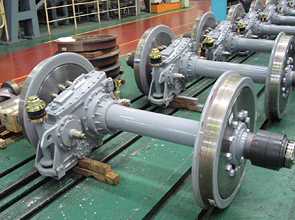 Gear Coupling
Drive unit mechanism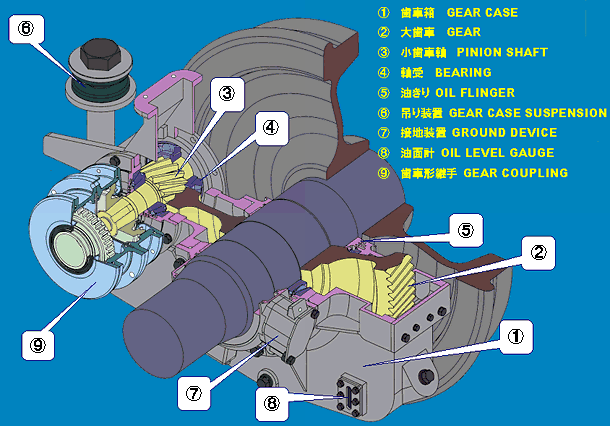 GEAR CASE
GEAR
PINION SHAFT
BEARING
OIL FLINGER
GEAR CASE SUSPENSION
GROUND DEVICE
OIL LEVEL GAUGE
GEAR COUPLING
Contact Information
For further product information
Product Quotes, and inquiries without complete information required in inquiry form may not be responded to. Selection of inquiries for reply online is at the sole discretion of Nippon Steel. We appreciate your understanding.