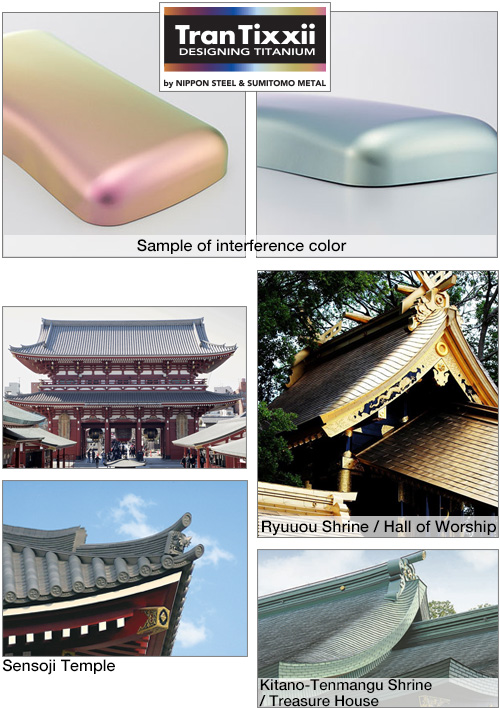 Nakasaki:
Steel, aluminum, and copper have been widely used as metallic building materials for a very long time. Recently, titanium, which has different features than those of these materials, has evolved as building material and has been replacing conventional materials in some areas. With the aim of promoting more use of titanium, there is an ongoing titanium project, in which architect
Kengo Kuma
was invited to get involved.
 Today, I am pleased to have this opportunity to hear from representatives of three companies participating in this project, as well as Mr. Kazuhiko Miyazawa who is in charge of the project at Kengo Kuma & Associates. I am delighted to learn about titanium and to explore the potential of titanium in future architecture, together with you.
Chiken: Titanium is a relatively new material compared to copper with about 6,000 years of history, steel with 4,000 years, and aluminum with 200 years. Only about 70 years have passed since the industrial production of titanium began. While titanium ore was found before that, it was so difficult to extract the material, as being suggested by its naming after Titans, who were imprisoned in the underworld in Greek mythology. Use of titanium in architecture began merely about 45 years ago.
 As a metal, titanium has three distinctive features of being lightweight, rust-resistant, and highly-durable, and is mainly used for products for aerospace, special industrial plants, and certain equipment such as heat exchangers.
 "Being lightweight" helps ensure safety and (important for some countries) quake-resistance, and helps reduce burden in processing and construction. "Being rust-resistance" means to contribute to reduction in the life cycle cost (LCC), as compared to metals it replaces there is no need for maintenance and no limitation in where it is to be used. Finally, "being strong" enables, for example, a titanium sheet to be thinner than an aluminum sheet for the same application. Titanium imparts virtually no impact to the environment. As titanium is also a biocompatible material, it has been adopted in medical applications for artificial bones and artificial joints.
 Moreover, as a great design-related feature, titanium shows interference colors. Titanium does not rust due to the protective, colorless, and transparent oxide layer that forms on its surface but various colors are produced due to light interference phenomena when the light passes through the film. In case of exterior cladding made of titanium, the wall colors change with differences of incident light in the morning, at noon, and in the evening, and depending on where you stand and look at the material. Such interesting effects can be created with titanium.