Example of use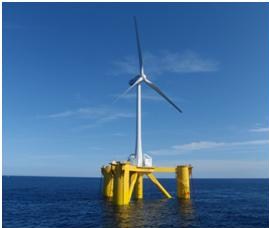 NS Wind Power Hibiki (70.9% ownership by Nippon Steel & Sumitomo Metal Engineering) has completed a wind power plantat a total project cost of approximately 3 billion yen. The plant operation and selling power in March 2003.
Generating power of approx. 10,000 general households
This wind power plant consists of 10 Germany-made windmill generators, each of which has a rated power of 1,500 kW, and it generates annual power of 35,000,000 kWh.
This is the equivalent of the electricity consumption of approximately 10,000 average households. The reduction in CO2 output by provided by this plant is approximately 13,000 tonnes/year.
During construction of this wind power plant, NS Wind Power Hibiki was able to leverage the the abundant experience of Nippon Steel & Sumitomo Metal Group gained from steelmaking and steel structures in the areas of marine steels, and new light and strong materials.
Japan's first Wind power generation business in a harbor district
This Wind power generation business is the first time such an endeavor has been undertaken in a harbor district in Japan. This area faces Hibikinada of Kitakyushu City and is located in a greenbelt adjacent to the Yellow Sea rim zone hub port, which Kitakyushu City is constructing.
Hibikinada of Kitakyushu City is the center area of the "Kitakyushu City International Logistics-specific District," and is also close to "Kitakyushu Eco-town," where recycling enterprises gather. In this area, various approaches are being executed to aim at the realization of a smart community, and NS Wind Power Hibiki will position and operate this wind power plant as a "symbol of clean energy" in the eco-town enterprises that are being promoted in this area.
Used in the following applications
Contact Information
For further product information
Product Quotes, and inquiries without complete information required in inquiry form may not be responded to. Selection of inquiries for reply online is at the sole discretion of NIPPON STEEL. We appreciate your understanding.