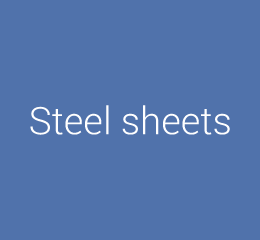 Hot-Rolled Steel Sheets and Coils
Hot-Rolled Steel Sheets and Coils
Nippon Steel's Hot-Rolled Steel Sheets and Coils are applied to a wide range of uses such as, automobiles, electrical appliances, construction materials, containers, and steel pipes, and receive high acclaim from our customers for its excellent quality.
Cold-Rolled Steel Sheets and Coils
Cold-Rolled Steel Sheets and Coils
Nippon Steel's Cold-Rolled Steel Sheets and Coils are extensively used as basic materials in automobiles, electrical appliances, steel office equipment, various types of containers, and numerous other products closely connected to our daily lives.
Steel Sheets for Vitreous Enameling
One of the features of our steel sheets for vitreous enameling is excellence in both workability and enamelability (excellent shscaling resistance, fewer defects in vitreous enamel coating layers, such as air bubbles, black spots, and blisters, and excellent coating adhesion).
Coated Steel Sheets
DURGRIPTM Galvannealed
DURGRIPTM – which is an alloyed hot-dip galvanized steel sheet – affords superior coating and welding performance than existing hot-dip galvanized steel sheet, and is widely used in vehicles, electrical equipment, and construction materials, etc.
DURGRIPTM Hot dip galvanized sheet steel
DURGRIPTM - which is hot-dip galvanized steel sheet - is a familiar product that is deeply ingrained in our daily lives. This material has a long history of application that covers a wide range of fields, including building construction, civil engineering, electric appliances, automobiles and household articles.
High corrosion resistant coated steel sheets
(ZAMTM-EX,ZAMTM,SuperDymaTM)
ALSHEETTM
ALSHEETTM is a cold-rolled steel that has been hot-dipped in an aluminum/silicon alloy. It offers the attractive surface of processed steel sheet that simultaneously affords some of the features of aluminum, such as resistance to corrosion, attractive appearance, coupled with superior heat resistance and heat reflection, cold-rolled steel's mechanical attributes and other physical characteristics.
ECOKOTETM-S
ECOKOTETM-S is a steel sheet that has been coated with an alloy of tin and zinc and is used in the manufacture of fuel tanks. ECOKOTE™-S harnesses the excellent corrosion-resistant properties of tin and zinc and offers superior corrosion-resistant performance compared with conventional metal products.
ZINKOTETM
ZINKOTETM, NIPPON STEEL's electrogalvanized steel sheet, is used over a wide range of fields, extending from various electric appliances, office machines, and steel furniture to automobiles, building materials, and components for railway vehicles. Various special chromate-free films provide ZINKOTE with properties suitable for every application.
SUPERNICKELTM
Nippon Steel has established a new setup for producing SUPERNICKELTM -nickel precoated steel sheets. We are confident in the excellent properties (such as corrosion resistance and workability) of its nickel precoated steel sheets realized through its unique manufacturing processes and quality management.
Color Coated Steel Sheets
VIEWKOTETM
Our Prepainted VIEWKOTETM Steel Sheets are manufactured to fit the wide-ranging needs of our customers. These sheets offer innovative design and improvements in productivity, thanks to our leading-edge painting facilities as well as the effective combination of our independently developed broad range of paints and base steels.

Electrolytic Tinplate
EZPTM
EZPTM is the trademark for our chromate-free tinplate, which was named after the words "feel easy" and "product," to reflect our wish that this product will make its users "feel safe." The green leaf in the product logo indicates that it is a safe and eco-friendly product. Recognized for its high safety as a food container material, EZPTM has been officially certified as a Food Contact Substance in the USA (FDA/FCA No.1253) and in the EU.
Electrolytic Tinplate
Nippon Steel conducts extensive R & D programs to assure customers that our tinplate is a product of the most advanced facilities and technology and that it is of unsurpassed quality.
Tinfree Steel
Nippon Steel's Tinfree Steel is chromium plated steel sheet. Developed by Nippon Steel as a highly economical, high quality replacement for tinplate, it is now the world's most widely used tinfree steel. Tinfree Steel offers outstanding corro-sion resistance, workability, lacquerability, lacquer adherence as well as printability.
Electrical Steel Sheets
Non-Oriented Electrical Steel Sheets
Nippon Steel's HILITECORETM, HOMECORETM and HIEXCORETM offer superb magnetic and other properties with only minimal deviation. This has been made possible by Nippon Steel's advanced production equipment and technology.
Grain-Oriented Electrical Steel Sheets
Nippon Steel's Grain-Oriented Electrical Steel Sheets quality is stable. Use of the most advanced manufacturing equipment and strict quality control ensures a product of stable quality every time.
Contact Information
For further product information
Product Quotes, and inquiries without complete information required in inquiry form may not be responded to. Selection of inquiries for reply online is at the sole discretion of Nippon Steel. We appreciate your understanding.