Nippon Steel Obtained EcoLeaf Environmental Product Declaration for Steel Sheet Pile Products
Apr. 18, 2023
Nippon Steel Corporation
The EcoLeaf Environmental Product Declaration(*) for steel sheet piles (including NS-PACTM Sheet Piles) was published by Nippon Steel Corporation ("Nippon Steel"). The EPD program is operated by Sustainable Management Promotion Organization ("SuMPO").

Nippon Steel's steel sheet piles are used in construction fields, including river revetments, port and harbor structures, roads, retaining walls and cofferdams, and widely appreciated in the market for their excellent quality and drivability. Drawing on a wealth of accumulated technical expertise for rolling, fabrication and utilization in these fields and taking advantage of the quality characteristics of its steel sheet piles, Nippon Steel has developed various new products, such as hat-type sheet piles with superior drivability and cost-effectiveness and NS-PACTM Sheet Piles with high corrosion protection that is required for port and harbor structures.

EcoLeaf is an EPD(*) certification system that uses the Life Cycle Assessment (LCA) methodology to show quantitative environmental information covering the entire life cycle of a product, from the raw material supply, transportation, manufacturing, assembly, use, waste processing and recycling. This allows our customers to assess the environmental impact throughout the life cycles of the steel sheet pile products. By using our steel sheet piles, our customers can obtain benefits such as labor-savings in construction, lighter weight, and longer service life, reducing CO2 emissions throughout the supply chain to help their efforts toward carbon neutrality. Our customers can also respond to the movement toward indicating CO2 emissions for publicly procured goods, which is expected to attract attention in the future.

Since December 2019, when Nippon Steel first obtained the EcoLeaf environmental product declaration for H-shapes, we have thus far obtained total of 43 EPDs for various products, covering most of our steel products. As the movement toward carbon neutrality is accelerating worldwide, growing numbers of customers of various sectors evaluate the materials they use.

Nippon Steel will pursue world-leading technologies and manufacturing capabilities while aggressively disclosing the environmental performance of steel products, which are highly recyclable, environmentally friendly, sustainable, and in compliance with the Sustainable Development Goals (SDGs) adopted by the United Nations.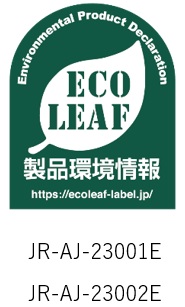 (*) SuMPO Environmental Label Program EcoLeaf Environmental Product Declaration
A Type III environmental declaration in accordance with the ISO 14025 standard, also known as Environmental Product Declaration (EPD). EPDs provide quantitative environmental information on the life cycles of declared products, from the extraction of resources to manufacturing/assembly, distribution, use, and discarding/recycling. EcoLeaf Declaration is operated and administered by the Sustainable Management Promotion Organization.

For inquiries
Inquiries related to this press release
Public Relations Center, General Administration Division +81-3-6867-3419
Inquiries related to products and business
Domestic customers: Infrastructure & Construction Products Marketing Department, Plate & Construction Products Marketing Division +81-3-6867-5421
Overseas customers:
Shaped Steel Global Marketing Department, Flat Products, Rail & Shape Global Marketing Division +81-3-6867-5409