Nippon Steel published EcoLeaf Environmental Product Declarations (EPDs) for Steel Sheet Products
Apr. 21, 2022
Nippon Steel Corporation
Nippon Steel Corporation (Nippon Steel) has published the EcoLeaf Environmental Product Declarations (EPD*) [*1] verified by Sustainable Management Promotion Organization's SuMPO Environmental Label Program covering eleven declarations for seven steel sheet products (hot-rolled steel sheets, pickled steel sheets [*2], cold-rolled steel sheets, cold-rolled steel sheets (full hard), electrogalvanized steel sheets [*2], hot-dip galvanized and aluminium alloy coating sheets [*2] and color coated steel sheets [*2]).

EcoLeaf Environmental Product Declaration Program is a verification and registration program based on Life Cycle Assessment (LCA) to communicate quantitative environmental information covering the entire life cycle of a product, from resource mining up to manufacturing etc. as well as recycling potential. This allows our customers to assess the environmental burden throughout the life cycles of the products they use.

The published declarations follow those of steel sheets for packaging such as tinplate, tin-free steel and laminated steel sheets published previously. The steel sheets this time are used in wider variety of applications such as automobiles, home appliances, building and lifeline infrastructures. As a leading manufacturer of steel sheets, Nippon Steel supplies a wide variety of reliable, quality products and contributes to customers' reduction in CO2 emissions and environmental burden through manufacturing products of light-weight and high-strength as well as process-saving.

In construction products, those with EPD achieve one point in the LEED certification [*3], a green building rating system, if the builder use certain amount of such products. The EcoLeaf EPDs for construction [*2] contribute to helping customers achieve the LEED certification.

Since Nippon Steel first published the EcoLeaf EPDs for H-shapes in December 2019, we have published a total of 33 EcoLeaf EPDs for variety of products, covering most of our steel products. As the movement toward carbon neutrality is accelerating around the world, more and more areas are being evaluated by our customers, including even the materials they use.


By expanding the scope of EcoLeaf EPD products to include steel sheets, our customers using Nippon Steel's steel sheets will be able to assess the environmental burdens in the lifecycle of their sheet sheets more easily with verification.

Nippon Steel will continue to pursue the world's best technology and manufacturing capabilities while
proactively communicating the environmental performance of our steel products, which are highly recyclable, environmentally friendly, sustainable and in compliance with the Sustainable Development Goals (SDGs) adopted by the United Nations.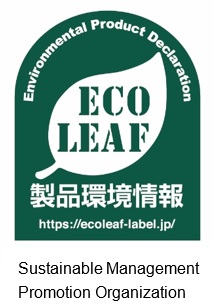 [*1]: EcoLeaf EPD
A "Type III environmental declaration", known as EPD (Environmental Product Declaration), compliant with the ISO 14025 standard. EPD quantitatively discloses the information on emissions to environment etc. of the declared products from resource mining, transportation, manufacturing etc. and recycling potential. The program is operated by the Sustainable Management Promotion Organization (SuMPO) in Japan. The declaration provides quantitative information for the corporate climate action.

[*2]: EcoLeaf EPDs for construction
As for pickled steel sheets, electrogalvanized steel sheets, hot-dip galvanized and aluminium alloy coated sheets and color coated steel sheets, EcoLeaf EPDs for construction were also published.

[*3]: LEED (Leadership in Energy and Environmental Design)
A green building certification program developed by the non-profit U. S. Green Building Council and operated by Green Business Certification Inc.


For inquiries
• Inquiries related to this press release
Public Relations Center: +81-3-6867-2146 , 3419
• Inquiries related to products and business
Flat Products Unit, Flat Products Planning Dept.: +81-3-6867-6855