Nippon Steel Receives 2021 Award for Excellence in Corporate Disclosure (27th) in Steel/Non Ferrous Metal Industry Category from Securities Analysts Association of Japan Two Years in a Row
Oct. 11, 2021
Nippon Steel Corporation
Nippon Steel Corporation ("Nippon Steel") has been selected to receive the "2021 Award for Excellence in Corporate Disclosure (27th)" in the Steel/Non Ferrous Metal Industry Category, sponsored by the Securities Analysts Association of Japan ("SAAJ") two years in a row.

The SAAJ has established objective review criteria to determine the relative excellence of companies' disclosure based on their quality, quantity, timing, and other factors. On this basis, the SAAJ has created the Award for Excellence in Corporate Disclosure for the purpose of promoting and improving companies' information disclosure and has given out the award to selected companies annually since 1995. In fiscal 2021, a total of 283 companies in 17 industries were screened for the award.

The review criteria consist of five areas:

Management's involvement in investor relations, the function of the company's investor relations department, and the company's basic approach to investor relations

Disclosure in briefings, interviews, presentation materials, etc.

Efforts aimed at fair disclosure

Disclosure of information related to corporate governance

Voluntary disclosure of information befitting the circumstances of each industry

In the "management's involvement in investor relations" area, Nippon Steel received the highest rating and was recognized that top management offered information more frequently than before and that the company's top message is clear and expressing its management strategy honestly and frankly. The company was highly evaluated for its medium- to long-term management plan and Carbon Neutral Vision 2050, sufficient explanation for the progress and specific measures to achieve them along with the disclosure of non-financial information in its integrated report that would lead to the enhancement of medium- to long-term corporate value. The ratings improved in four criteria from the previous year, resulting in the company's receipt of the 2021 Award for Excellence in the industry category.

As stipulated in its statement of corporate values, "Nippon Steel pursues world-leading technologies and manufacturing capabilities, and strives to contribute to society by providing excellent products and services." We will also continue to contribute to the development of society by implementing activities that match the United Nations' Sustainable Development Goals (SDGs).

We intend to further enhance timely, appropriate, and fair information disclosure and constructive dialogue, and meet the expectations of all stakeholders, in order to achieve sustainable growth and mid- to long-term improvement in our corporate value.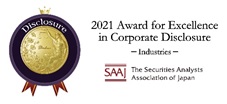 [Reference]
Corporate Disclosure, the Securities Analysts Association of Japan
For inquiries
Public Relations Center  Tel.: +81-3-2135, 2146, 2977, 3419