Nippon Steel's High Alloy OCTG Seamless Pipe Selected by CCS Project in the North Sea
Jul. 20, 2021
Nippon Steel Corporation
High alloy OCTG seamless pipe from Nippon Steel Corporation ("Nippon Steel") has been selected by Equinor, as service provider to the Northern Lights Joint Venture*1, a carbon dioxide capture and storage (CCS)*2 value chain operator in the North Sea in Europe (Headquarters: Kingdom of Norway).

In this large-scale development, CO2 emitted from industrial facilities in Norway and other European countries will be collected and transported to an intermediate storage facility, before it is transported by pipeline 100km offshore before injected into a subsurface reservoir 2600 meters under the seabed. The high concentrated and liquefied CO2, requires the steel pipe to be extremely resistant to corrosion. The high alloy OCTG by Nippon Steel has been applied to the oil and natural gas production in very severe conditions all over the world for many years and has been ranked as the world's top share in this field. The product has been proven to perform the world's best corrosion resistance and can be used in a high concentration CO2 environment without causing corrosion. The construction has already started for the go-live in 2024, and Nippon Steel has so far supplied nearly 130 pieces (1,550 m) of carbon steel seamless pipe. Recently, high-alloy OCTG has also been ordered by the project, and we plan to start supplying approximately 120 pieces (1,390 m) in October 2021.

Nippon Steel has announced Nippon Steel Carbon Neutral Vision 2050—A Challenge of Zero-Carbon Steel in March this year, in which we declared our decision to actively work to address global-scale climate change issues as an important issue that forms the basis of our management. Through a long-term supply contract on OCTG and a strategic partnership, we have been supplying our OCTG pipe and its auxiliary services to Equinor for over 30 years. Going forward, together with Equinor and other energy companies all over the world, Nippon Steel will actively strive to resolve climate change and other issues.
 
*1: Northern Lights JV
Northern Lights is the transport and storage component of Norway's Longship project, which includes capture of CO2 from industrial point sources in the Oslo region. Northern Lights ships the CO2 to an onshore terminal on the Norwegian west coast and, from there, transports the liquefied CO2 by pipeline to a subsea storage location in the North Sea. It will also offer companies across Europe the opportunity to store their CO2 safely and permanently deep under the seabed in Norway. When Northern Lights starts operations in 2024, it will be the first ever cross-border, open-source CO2 transport and storage infrastructure network. Northern Lights was incorporated in March 2021 as a partnership between Equinor, Shell and TotalEnergies.. Equinor is the service provider for the execution and operation of the Northern Lights onshore and offshore facilities.
The project is scheduled to be operational in 2024.

*2: Carbon dioxide Capture and Storage (CCS)
The carbon dioxide capture and storage technology to collect CO2 emitted from power plants, chemical plants, etc. after isolating it from other gases and then store and inject it deep underground.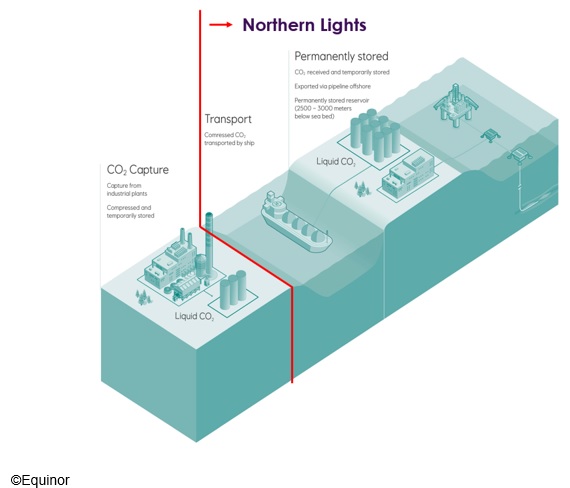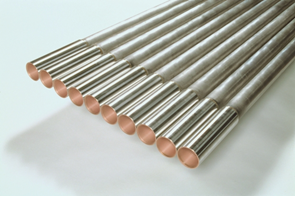 Nippon Steel always pursues the world's best technology and manufacturing capabilities and will continue to contribute to the development of society through activities that are in line with the Sustainable Development Goals (SDGs) adopted by the United Nations ("Affordable and Clean Energy" and "Industry, Innovation and Infrastructure").

For inquiries
Public Relations Center  Tel.: +81-3-6867-2977