Nippon Steel Obtains EcoLeaf Environmental Product Declaration (EPD) Certifications for Oil Country Tubular Goods (OCTG) & Line Pipe First for Steel Pipe Products Manufactured in Japan
May 26, 2021
Nippon Steel Corporation
Nippon Steel Corporation (Nippon Steel) has obtained "EcoLeaf" Ecolabel (shown at right) certification from the Sustainable Management Promotion Organization (SuMPO). This certification complies with ISO 14025 and was obtained for Nippon Steel's OCTG and Line Pipe products, which are intended for use as steel pipes for energy exploitation and transportation. These are the first steel pipe products manufactured in Japan to receive this certification.

EcoLeaf is an Environmental Product Declaration (EPD) certification program in Japan for disclosing quantitative environmental information in view of the entire life cycle of a product, from the mining of ores and manufacturing of steel products to disposal and recycling. This allows customers to assess the environmental impacts of products objectively and quantitatively.

In the global trend toward CO2 emissions reduction, the energy industry is also further promoting zero-carbon emissions. Customers are also requesting that we disclose the quantitative data of CO2 emissions throughout all of our product processes, from raw materials procurement to product shipment (cradle to gate). To satisfy such customer needs, Nippon Steel has obtained this EcoLeaf ecolabel certification for its seamless OCTG and Line Pipes, which are manufactured by its Kansai Works (Wakayama area), and for its high-frequency welded (HFW) OCTG and Line Pipes , which are manufactured by its Kyushu Works (Oita area [Hikari]).

The EcoLeaf certification obtained by Nippon Steel includes the following features.

1. Ecological program based on the ISO 14025 standard (Environmental labels and declarations − Type III environmental declarations − Principles and procedures)
EcoLeaf is a type III ecolabel program that discloses quantitative environmental impacts within the life cycle of a product, including in ore mining, manufacturing, transportation, use, waste disposal, and recycling. EcoLeaf is based on the ISO 14040 standard (Environmental management - Life cycle assessment - Principles and framework) and the ISO 14044 standard (Environmental management - Life cycle assessment - Requirements and guidelines), as is the case with Carbon Footprint of Products (CFP), which is stipulated in the ISO 14067 standard. CFP targets only impacts on global warming, while EcoLeaf (EPD) targets multiple environmental aspects and can evaluate the product life cycle more comprehensively.

2. Complying with standards, including ISO 20915 (Life cycle inventory calculation methodology for steel products)
EcoLeaf for steel products allows for various evaluations (including those involving the effect of the scrap recycling of steel products), and these evaluations comply with ISO 20915:2018, published in 2018, and JIS Q 20915:2019 "Life cycle inventory calculation methodology for steel products," published in June 2019. Nippon Steel manufactures OCTG and Line Pipes via the blast furnace method. The environmental impact during manufacturing via this method is higher than that via the electric furnace method, which involves many scraps. However, considering the environmental value of scraps, the environmental impact of the two methods for the entire life cycle is the same. This concept, established by the World Steel Association (worldsteel), is well understood in the steel industry and has been widely adopted in the EPDs of overseas steel companies. The Product Category Rule (PCR) of EcoLeaf, as the EPD certification program in Japan, is also based on this concept.

Nippon Steel regards the realization of a carbon-neutral society by 2050 as the most-important business task under its original project for climate change issues, i.e., the "Nippon Steel Carbon Neutral Vision 2050 – A Challenge of Zero-Carbon Steel." Nippon Steel also actively discloses the certified environmental impacts of its various steel products, all of which are sustainable and in compliance with the Sustainable Development Goals (SDGs) adopted by the United Nations. This has been achieved in order to work toward realizing a carbon-neutral society in tandem with customers around the world who also work hard to solve climate change issues.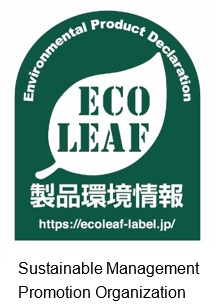 For inquiries
Public Relations Center  Tel.: +81-3-6867-2146, 2977, 3419, 2135