Nippon Steel's New Titanium Alloy Super-TIX(TM) 20AFG is Used in the New G-SHOCK Watch Model for Casio
Mar. 10, 2021
Nippon Steel Corporation
Nippon Steel Corporation's newly developed Titanium Alloy Super-TIXTM 20AFG by TranTixxii" will be adopted in the new G-SHOCK watch to be sold by Casio Computer Co., Ltd. ("Casio" hereafter) in April 2021.

G-SHOCK is a leading Casio watch brand, characterized by shock-resistance capabilities. Numerous G-SHOCK models are released every year. Nippon Steel's newly-developed titanium alloy has been decided to be used for the new model GMW-B5000TR bezels and bands.

Titanium is about 60% lighter than stainless steel, has a high-quality feel, is corrosion resistant to sweat and seawater, and is biocompatible to the human body enabling it to be used for artificial joints and pacemakers. Although the use of titanium has been adopted to watches and other precision equipment, there has been a limitation in that titanium is less reflective and workable than stainless steel. The new TranTixxii Super-TIX 20AFG alloy, jointly developed by both companies for the new G-SHOCK model, has achieved the same surface reflectance property as stainless steel, and its excellent workability has contributed to the realization of elegant watch exteriors. Additionally, for models equipped with GPS functions, it was also a challenge to ensure radio reception characteristics. While satisfying all properties of surface reflectance, workability, and radio reception had long been regarded difficult in case the conventional titanium materials, Nippon Steel developed the Super-TIX 20AFG alloy, which satisfied all these properties by combining optimum blending of chemical composition with fine metal structure control in microns.

Casio is expanding sales worldwide by increasing the ratio of G-SHOCK watches made of metal. Nippon Steel's TranTixxii provides elegance and robustness as expressed in its brand concept "Materials transcending ages." The company will continue to vigorously develop materials that meets the needs of Casio' products.


■G-SHOCK GMW-B5000
The G-SHOCK watch, made by Casio since1983, has achieved the unique shock-resistance capabilities. It redefined what was considered to be durability and vulnerability to impact. To date, more than 100 million watches have been shipped worldwide. G-SHOCK watches are constantly evolving as the only brand that goes beyond the genre of watches. The GMW-B5000 has the design of the first G-SHOCK model, with a full-metal case. The model also has unique designs in a variety of the CMF (color, material, and finishing).

■ TranTixxii Designing Titanium
TranTixxii is the first titanium brand in the world, which can be made with a variety of colors and color tones, thanks to Nippon Steel's advanced technologies. The colors and tones can be sustained with the excellent corrosion and color permanence properties of titanium. Nippon Steel's Titanium TranTixxii, owing to its functionality, design-friendliness, and formability of the material, is being used widely in architectural applications such as roofs and walls that both protect and decorate homes and buildings, as well as louvers, doorplates, creasing, and other building components.

Nippon Steel's TranTixxii Designing Titanium website
https://www.nipponsteel.com/product/trantixxii/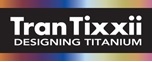 For inquiries
Public Relations Center, General Administration Division, Nippon Steel Corporation Tel.: +81-3-6867-2977
Titanium Sales Division, Automotive & Building Materials Division Tel.: +81-3-6867-5611