Garbage Pickup in Kawasaki, the forth joint activity with NPO 'green bird' Saturday, January 25, 2020
Jan. 27, 2020
Nippon Steel Corporation
Nippon Steel Corporation ("Nippon Steel") jointly conducted the fourth garbage pickup initiative with a certified non-profit organization (NPO) green bird ("green bird"), which Nippon Steel supports, from 10 am on Saturday, January 25, 2020 around the east area of Kawasaki Station.

This is the fourth such event since Nippon Steel started supporting green bird. About 60 people participated in the event to clean up the east area of Kawasaki Station including the shopping arcade, raising people's awareness for the clean city.

Previous Garbage Pickups with green bird
Harajuku Omotesando, Saturday, May 11, 2019

Shibuya, Saturday, September 7, 2019

Nishiki, Naka-ku, Nagoya (Sakae Plaza), Wednesday, December 4, 2019

Details of the fourth Garbage Pickup
Participants:
Fukuda, Representative, Certified NPO green bird,
Tamura, Leader, Kawasaki Station Team of green bird, and staff of the team,
Yasuhara, General Manager, Head of Div, Tin Mill Products Div., and other staff of the division, around 60 people in total wearing the original bibs created jointly by Nippon Steel and green bird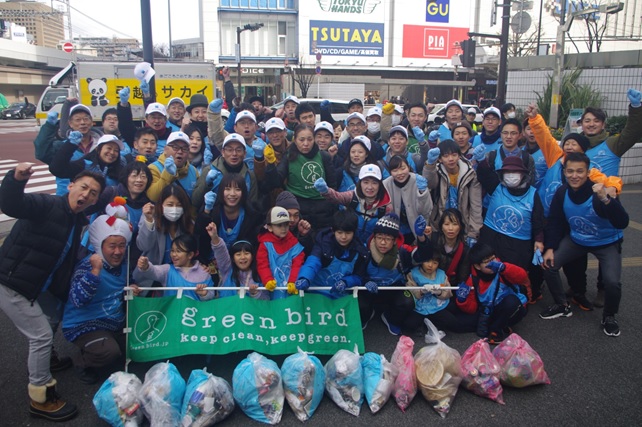 Commenting Keisuke Fukuda, Representative of green bird, said:
"The green bird's garbage pickup has involved various people, from children to adults, and been an opportunity to connect each other. We are happy to be able to make everyone at Nippon Steel aware of garbage problems in towns and everyone at green bird aware of the recyclability of steel through this activity. In addition to picking up garbage, we also want to strive together to achieve Zero Waste, not generating garbage."
Commenting Masaru Yasuhara, General Manager, Head of Div, Tin Mill Products Div., said:
"The warm hearts for the environment of the participants of the green bird's activities support the high recycling rates of steel cans. I am very glad if we can let everyone know steel and steel cans are environmentally friendly that can be recycled into various kinds of steel products, again and again. Nippon Steel continues to expand its environmentally friendly activities."
The recycling rate of steel cans in Japan is 92.0% in fiscal 2018, according to the Japan Steel Can Recycling Association, and has exceeded 90% for these eight years. We believe such a high recycling rate comes from everyone's awareness on environmental issues such as no litter with finite resources.
Green bird is spreading the idea around the world and Nippon Steel would like to share the idea with the people joining the green bird activities making them realize steel is used everywhere and familiar material. At the same time, Nippon Steel hopes more people become aware of the sustainable and attractive steel as packaging. Looking at the life cycle, from production to use and after its end of life, steel is more environmentally friendly than other materials. We continue the joint initiatives to promote the sustainability of steel.
Steel is a material recycled into any steel products, again and again.
Nippon Steel provides various kinds of steel products for various use such as automobiles, ships, construction, home appliances and packaging. Even after the end of the use of such products, the life of steel does not end. All the steel products are collected as steel scrap, separated from other materials with magnets automatically and recycled to new steel products again and again. Steel achieves infinite closed loop recycling unlike other materials that are landfilled, incinerated or recycled into downgrade materials. Steel is the champion of environmentally friendly materials.
To build a sustainable society, life cycle thinking is important. In each of manufacturing, use and recycling phase and also in life cycle total, steel is most environmentally friendly compared to other materials in most cases. Nippon Steel contributes to build a sustainable society through the supply of steel with low environmental impact at the highest level in the world.
The Nippon Steel Group is pursuing the world's highest technology and manufacturing capabilities in steel. Providing products and services, we contribute to development of the society to achieve the Sustainable Development Goals (SDGs) adopted by the United Nations.

About Certified NPO green bird
Representative: Keisuke Fukuda
Established: 2002 (acquisition of Certified NPO approval: December 2018)
Main activities: Inspiring awareness on environment through the garbage picking up program 'Littering is not cool !' mainly by young people including children at 74 locations in Japan and 15 locations overseas   
For more information about green bird please visit:
http://www.greenbird.jp/
For reference, Nippon Steel presents "Steel for all of us and the Earth":
https://www.nipponsteel.com/en/company/video/lca.html
For inquiries
Public Relations Center, Tel: +81-3-6867-3419