International Crankshaft Receives 2015 Excellence in Value from American Honda Motor Co., Inc
May. 12, 2016

Nippon Steel & Sumitomo Metal Corporation


International Crankshaft Receives 2015 Excellence in Value
from American Honda Motor Co., Inc

International Crankshaft Inc. (ICI), NSSMC's crankshaft forging subsidiary in the U.S., received "2015 Excellence in Value" from American Honda Motor Co., Inc. ICI received the award for its outstanding contributions for cost competitiveness on April 29, 2016.
There are three categories in Honda Excellence Awards: quality, delivery and value. Twenty seven suppliers out of 650 Honda suppliers in North America received the Excellence in Value this year. It is the first time for ICI to receive it. ICI has been consistently forging high-quality crankshafts for 24 years in Georgetown. It was ICI's technology and process innovation that earned the award by contributing to value creation in Honda.
ICI is a part of NSSMC's global crankshaft forging business network that has 10% global share in auto crankshaft with an annual capacity of twelve million three hundred thousand crankshafts. The group has forged and sold more than two hundred million crankshafts worldwide so far.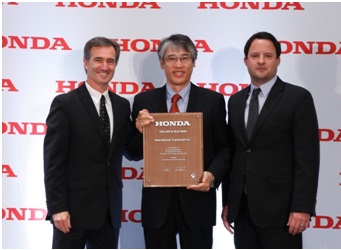 From left: Mr. Bill Easdale, Senior Vice President of Honda of Canada Manufacturing;
Nobu Masuda, ICI President, Bryan Walker, ICI Senior Manager