International Crankshaft Receives 2016 Business of the Year Award from Georgetown Chamber of Commerce
Apr. 22, 2016

Nippon Steel & Sumitomo Metal Corporation


International Crankshaft Receives 2016 Business of the Year Award
from Georgetown Chamber of Commerce
International Crankshaft Inc. (ICI), NSSMC's crankshaft forging subsidiary in the U.S., received "2016 Business of the Year Award" from Georgetown-Scott County Chamber of Commerce on Friday 15 April of 2016. ICI received the award for its outstanding contributions for the civic, governmental and business activities in the community. It is first time for ICI to receive the award.
ICI has been forging crankshafts since 1992 for 24 years in Georgetown. It started with only one line with fifty team-members; ICI has consistently grown since; it has four lines, forged and sold more than 2.8 million crankshafts with approximately three hundred team-members in 2015. Its annual capacity of four million crankshafts is capable of supplying approximately one third of the engines built in the U.S.
ICI is a part of NSSMC's global crankshaft forging business network that has 10% global share in auto crankshaft with an annual capacity to forge twelve million three hundred thousand crankshafts and forged and sold more than two hundred million crankshafts worldwide so far.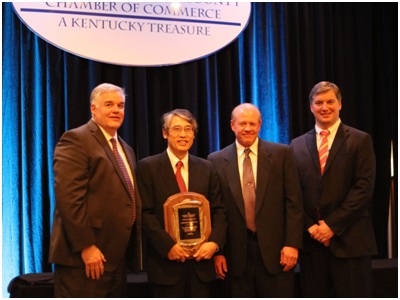 From left:Mark Walls, Market Region President Whitaker Bank, Whitaker Bank, Nobu Masuda (ICI's President), Bill McCurley (ICI's Vice President), William Haugh (Chamber President)