Ultra-high-tensile steel, Given the Nissan Global Supplier Award
Jul. 09, 2014

Nippon Steel & Sumitomo Metal Corporation


Ultra-high-tensile steel, Given the Nissan Global Supplier Award
Nippon Steel and Sumitomo Metal Corporation received Nissan Global Supplier Award – Innovation Prize for the development of high-formability ultra-high-tensile steel sheet of the 1.2GPa class. We were awarded this Prize for the first time, also becoming the first steelmaker to receive this honor in the world.
Nissan conferred this award in recognition of the development of ultra-high-tensile steel sheet, which enables sufficient high formability for automotive body structure application , while also having 1.2GPa (gigapascal)-class strength, and the fact of its world's first application to Nissan vehicles.
Through the development and production of eco-friendly steels, contributory to automotive weight reduction, we continue efforts to respond to requests of customers and society.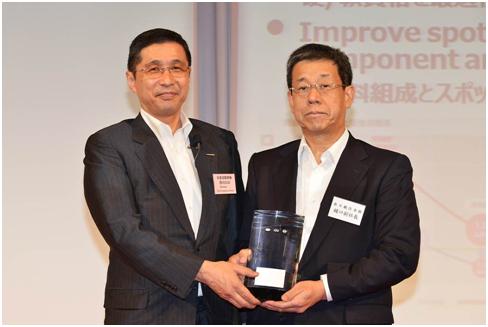 Left: Mr. H. Saikawa, Representative Board Member & CCO, Nissan Motor
Right: S. Higuchi, Representative Director & Executive Vice President, NSSMC
For inquiries, contact:
Public Relations Center, General Administration Div.
Tel: +81-3-6867-2135