Expansion of Crankshaft Forging Business in the U.S. International Crankshaft Inc. will build No.4 Forging Press Line
Dec. 19, 2013

Nippon Steel & Sumitomo Metal Corporation
Sumitomo Corporation

Expansion of Crankshaft Forging Business in the U.S.
International Crankshaft Inc. will build No.4 Forging Press Line
International Crankshaft Inc. ("ICI"), a joint-venture subsidiary of Nippon Steel & Sumitomo Metal Corporation ("NSSMC") and Sumitomo Corporation ("Sumitomo Corp.") that forges crankshafts in the U.S., decided to build a new forging press line.
The car sales in North America are expected to grow by 7% for the next five years. Japanese and Korean automakers are shifting their production to North America from their home countries. Detroit three automakers are shifting from cast crankshafts to forged ones as they downsize and improve the performance of the engines to meet higher fuel efficiency requirements.
ICI, after operating in the U.S. for twenty years, currently runs its three forging press lines at full capacity to respond to robust North American demand, producing approximately 2.7 million crankshafts per year. ICI decided to add a fourth forging press line to meet the customers' demand. With this investment, ICI's annual capacity will grow from current 2.7 million crankshafts to 4 million per year.
NSSMC forges crankshafts at four sites globally: Japan, US, China and India. Its combined annual capacity is approximately 11 million crankshafts with a estimated global market share of 10%. NSSMC will continue to meet the growing car market demands, improve its technological innovation capability and cost competitiveness, and accelerate its global business development.
| | |
| --- | --- |
| | |
| Overall View of ICI | No.3 Press Line (6,000-ton high-speed press) |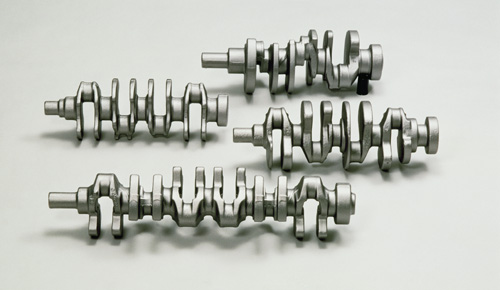 Crankshafts for passenger cars
Specifications of No. 4 forging press line
(1)Capital Expenses: Approximately US$46 million (46 billion yen)
(2)Production Facility: one 5,000-ton forging press line
(3)Production Capacity: Approximately 1.3 million
crankshafts per year
(4)Start of Operations: November 2015 (scheduled)


Outline of ICI (as of the end of November 2013)
Place of Business: 101 Carley Court, Georgetown, Kentucky 40324, U.S.A.
Date of Foundation: February 1990
Start of Operation: April 1992
President: Nobuaki Masuda
Capital: 22 thousand US dollars
Owners: NSSMC 80%, Sumitomo Corp. 20%
Production Facilities: No.1 Forging Press Line (6,000-ton press)
No.2 Forging Press Line (7,000-ton press)
No.3 Forging Press Line (6,000-ton high-speed press)
Production Capacity: Approximately 2.7 million crankshafts per year
Number of Employees: 227
For inquiries, please contact:
Nippon Steel & Sumitomo Metal Corporation, Public Relations Center Tel: +81-3-6867-2977,
+81-3-6867-2135
Sumitomo Corporation, Public Relations Team Tel: +81-3-5166-5607