NSSMC's Active Suspensions for Railway Cars Are Adopted for Kyushu Railway Company's Cruise Train "Seven Stars in Kyushu"
Oct. 11, 2013

Nippon Steel & Sumitomo Metal Corporation


NSSMC's Active Suspensions for Railway Cars Are Adopted for
Kyushu Railway Company's Cruise Train "Seven Stars in Kyushu"
Railway vehicles' active suspensions made by Nippon Steel & Sumitomo Metal Corporation (NSSMC have been adopted for railway cars of Kyushu Railway Company's Cruise Train "Seven Stars in Kyushu," which will begin operation on October 15, 2013. This type of suspension has already been adopted elsewhere in Japan; this is the first application for railways in Kyushu.
Cruise Train "Seven Stars in Kyushu"
Photo by Kyushu Railway Company



Lounge cars in which NSSMC's active
suspension was adopted.
Photo by Kyushu Railway Company


The active suspension developed by NSSMC controls the horizontal movement of railway cars. An onboard computer detects car body movement from a sensor attached to the car body, makes an actuator generate power in the reverse direction, and controls the car body by offsetting out the movement. This superior technology substantially improves ride quality. Since the first commercial adoption to the E2 series (note 1) of the Tohoku Shinkansen in 2001, NSSMC's active suspension has been adopted and highly evaluated in the E3 series (note 2) of the Akita Shinkansen and the Yamagata Shinkansen as well as the limited express trains of the conventional lines operated by East Japan, Keisei Electric, and Odakyu Electric railway companies. More recently, Kintetsu Corporation's Shimakaze Sightseeing Limited Express has adopted the NSSMC active suspension and comfortable ride it provides to passengers has been highly appraised.
Moreover, the Hokuriku Shinkansan, due to begin operation at the end of 2014, has decided to have this active suspension in the new type of trains of both East Japan Railway Company and West Japan Railway Company. In addition, our electric active suspensions have been adopted for the E5 series (note 3) of the Tohoku Shinkansen and the E6 series (note 4) of the Akita Shinkansen.
The Cruise Train "Seven Stars in Kyushu" is a luxury sleeper train that consists of one locomotive and seven passenger cars. It departs the JR Hakata Station and serves tourist attractions of Kyushu such as Yufuin, Kagoshima, Miyazaki, Aso, and Nagasaki for a one-night and two-day trip or a two-night and three-day trip. The passenger cars consist of sleepers of regular suites and deluxe suites, a lounge car, and a dining car. The interior is gorgeously decorated by combining traditional and modern styling in Japanese and Western designs.
NSSMC's active suspension provides passengers with comfort in the lounge car (No. 1 lead car) and the deluxe suites (Car No. 7).
NSSMC will continue to help realize more comfortable, safer train rides and contribute to the worldwide development of railways.
Notes
| | |
| --- | --- |
| 1: | The E2 series of the Tohoku Shinkansen are operated under the names of Hayate and Yamabiko. |
| 2: | The Akita Shinkansen and the Yamagata Shinkansen are operated under the names of Komachi and Tsubasa respectively. |
| 3: | The E5 series of the Tohoku Shinkansen are operated under the names of Hayabusa, Hayate, Yamabiko, and Nasuno. |
| 4: | The E6 series of the Tohoku Shinkansen are operated under the name of Super Komachi. |
Active Suspension's Structure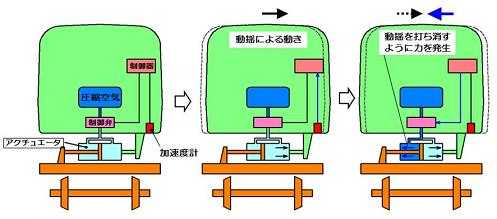 For inquiries: Public Relations Center  Tel.: +81-3-6867-2977