NSSMC receives orders for steel pipe pile with inner ribs for ICHTHYS LNG PROJECT in Australia
Apr. 18, 2013

Nippon Steel & Sumitomo Metal Corporation


NSSMC receives orders for steel pipe pile with inner ribs
for ICHTHYS LNG PROJECT in Australia
NIPPON STEEL & SUMITOMO METAL CORPORATION (Chairman & CEO: Shoji Muneoka; hereinafter, the company is referred to as NSSMC) and its steel pipe pile joint corporation in Vietnam, NIPPON STEEL & SUMIKIN PIPE VIETNAM CO., LTD. (President: Kenichi Kanezaki; hereinafter, the company is referred to as "NPV") have recently received orders for large volumes of steel pipe pile with inner ribs for the INPEX-operated ICHTHYS LNG PROJECT which is currently under construction in Darwin, Australia.
Received through a joint effort with METAL ONE CORPORATION, the order covers 18,000 tons. This volume is the biggest for NPV equal to FORMOSA HA TINH STEEL PROJECT in Viet Nam.
NPV, founded through capital participation of 51% by NSSMC, 10% by VIETNAM STEEL CORPORATION, 20% by METAL ONE and 4.75% each by Sumitomo Corporation, Marubeni-Itochu Steel Inc., Hanwa Co., Ltd. and Nippon Steel Trading Co., Ltd., has successfully been operating its plant since the commencement in May 2011. NPV has already acquired certifications of JIS, ISO9000, ISO14000 and OHSAS18001, an international occupational safety management system and is expected to further enhance its operation system.
In the construction of this project, pillars of the buildings are driven direct into the foundation piles for combination, and a special type of steel pipe piles with projections in the upper inner surface are required. NSSMC have many experiences and records about this special type of steel pipe piles. So,NSSMC transferred technology to NPV include quality control. NPV's total capabilities including the procurement of materials from NSSMC have been highly valued.
As conventional method to build foundation for plant, concrete footing process is essential after piling several piles with small diameter. This connecting method a) eliminates the need to make a footing, and b) Reduces waste soil by utilizing a small number of large diameter piles. These characteristics are well-suited to the Australian market which has strict environment regulations and high labor costs.
As there are many oil and gas projects in Australia, demand for Steel Pipe Pile is expected to increase. NPV has already received several steel pipe pile orders for the Australia market, including this order. NPV is determined to actively develop its products for construction also in Southeast Asia and Oceania while further improving its foundations of production and quality management.
<Fig 1. Sample Application for Pile Pile with inner rib/ Left: Without rib Right: With rib>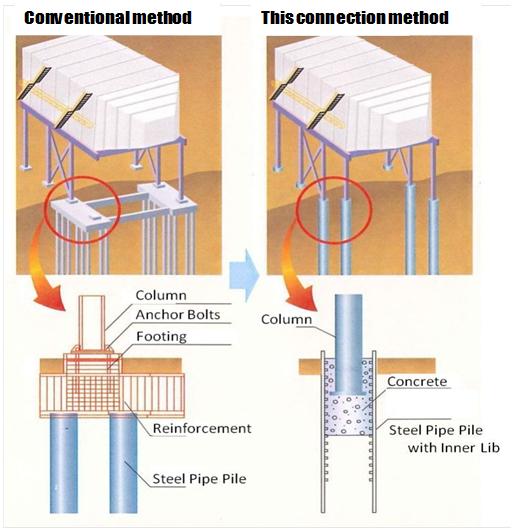 <Fig.2 Steel Pipe Pile with inner rib>
<Fig.3 Products before shipment>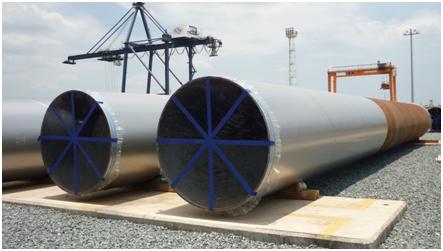 For inquiries

| | |
| --- | --- |
| Public Relations Center | Tel.: +81-3-6867-2146 |
| Construction Products Global Marketing Dept. | Tel.: +81-3-6867-5409 |