NSSMC's Active Suspension for Railway Cars Are Adopted for Kintetsu Corporation's Shimakaze Sightseeing Limited Express
Mar. 25, 2013

Nippon Steel & Sumitomo Metal Corporation


NSSMC's Active Suspension for Railway Cars Are Adopted
for Kintetsu Corporation's Shimakaze Sightseeing Limited Express
Railway vehicles' active suspension made by Nippon Steel & Sumitomo Metal Corporation (NSSMC; Chairman & CEO, Mr. Shoji Muneoka) has been adopted for all railway cars of Kintetsu Corporation's sightseeing limited express Shimakaze, which began operation on March 21, 2013. This was the first application for railways in the Kinki Region and Shimakaze was the first railway other than Shinkansen which adopted our active suspension for its entire vehicle cars.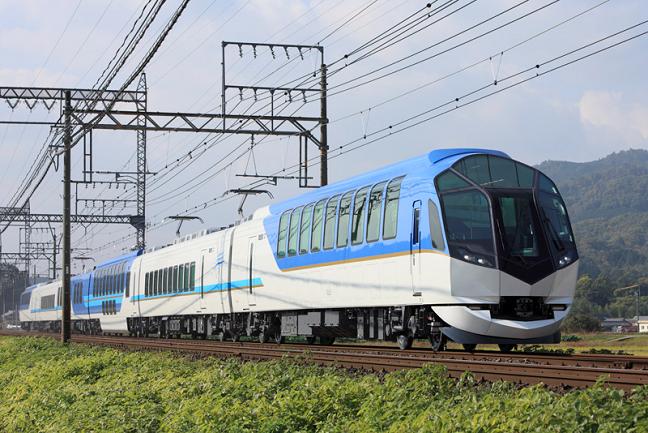 Shimakaze sightseeing express - Photo by Kintetsu Corporation

The active suspension developed by NSSMC controls the horizontal movement of railway cars. An onboard computer detects body movement from a sensor attached to the car body, makes an actuator generate power in the reverse direction, and controls the car body by canceling out the movement. This superior technology enables to improve ride quality. Since the first commercial adoption to the E2 series*1 of the Tohoku Shinkansen in 2001, NSSMC's active suspension has been adopted and highly evaluated by the E3 series*2 of the Akita Shinkansen and the Yamagata Shinkansen as well as by the Narita Express, the Keisei New Skyliner, the Odakyu Romance Car VSE, and limited express trains such as the Joban Line new limited express train series E657.
The Shimakaze express train runs from Osaka to Ise-Shima via Nagoya. The train is furnished with high-grade interior fixings and has special attendants on board. The three-row independent real-leather seats are furnished with an electrically-powered leg rest supporting calves and a lumbar support air cushion with a relaxation function. The latter was applied for the first time for railway cars in Japan. Moreover, unique gorgeous comfortable rooms such as a two-level cafeteria and Japanese-style and Western-style private rooms for group customers are provided to make the trip itself a great experience. NSSMC has supplied railway wheels, axles, and couplers to Kintetsu Corporation for many years but this is the first time to supply control equipment to them.
NSSMC will continue to help realize more comfortable, safer ride and contribute to the worldwide development of railway.
*1 The E2 series of the Tohoku Shinkansen are operated under the names of Hayate and Yamabiko
*1 The Akita Shinkansen and the Yamagata Shinkansen are operated under the names of Komachi and Tsubasa respectively.
For inquiries
Public Relations Center  Tel.: +81-3-6867-2977