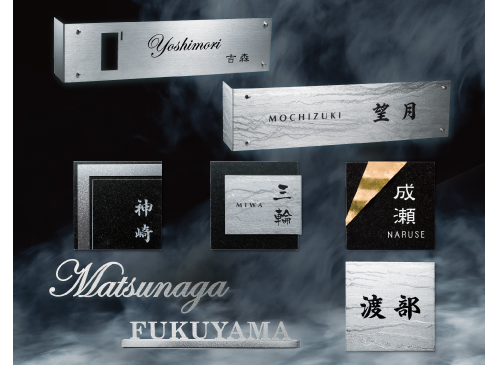 ©Fukucyo Co., Ltd.

In present day, almost all houses have a nameplate at their entrance, but 40 years ago, when we became a full-fledged company, not many houses had nameplates on display.

Although there are many theories on how nameplates came into fashion, this unique custom is fairly new—it is said that the start of the postal system in the Meiji era and the Great Kanto Earthquake in the Taisho era were major triggers in the nameplate movement.

The role nameplates had at that time was to simply communicate people's names to mail carriers and visitors.

Most nameplates were made from natural materials such as marble, granite, and natural wood.

As time went on, houses evolved to incorporate styles from many different countries, and nameplates started to incorporate diverse materials such as stainless steel, aluminum, iron, glass, and ceramics to keep up with these trends. In light of this, we fused ideas and technology to release many different types of innovative nameplates. As nameplates saw a wider range of designs, styles and variations, more and more users started to focus on expressing their originality through these plates.

I believe we can say that in current day, nameplates are no longer just "objects for showing people's names"—they have evolved to "objects that express people's originality."